Home offices are becoming more necessary as remote working increases worldwide. Also, it's now necessary to create a space where you can work and store items such as books and other office materials. So, it's definitely time to come up with some creative bookshelf design ideas for your home office!
It's common to have bookshelves in offices, and you might already have one but perhaps it's not adequate. Regardless of what kind of bookshelf you have, the way you decorate this space can make or break how your office looks. If you're not satisfied with how your current ones look, there are 3 ways to style bookshelves to match your aesthetic.
But if you're looking for a more unique and creative bookshelf style, we invite you to continue reading for five excellent and creative bookshelf design inspirations.
Need Shelves For Your Home Office? Here Are 5 Creative Bookshelf Design Ideas!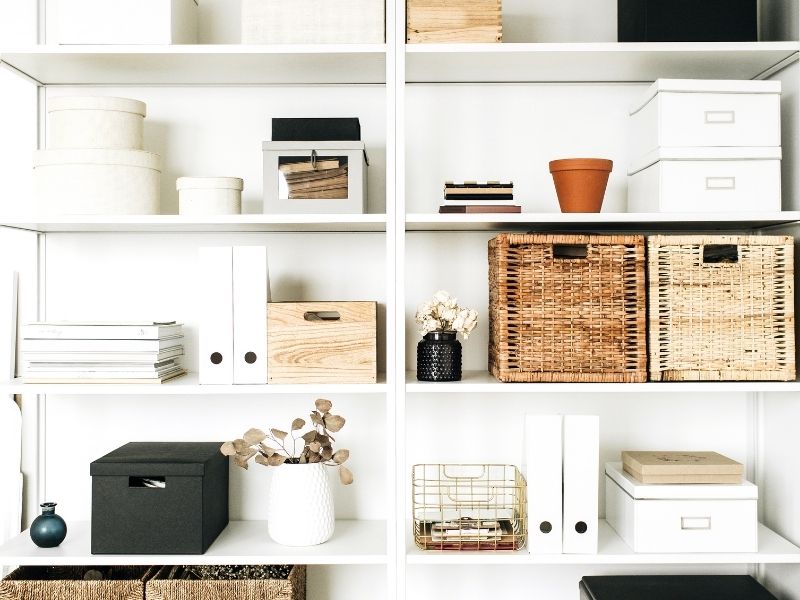 1. Wire sculpture bookshelves.
When it comes to creative designs, you can't go wrong with anything that resembles a sculpture. Some more modern artistic bookshelves you can get are ones that look like wire sculptures. These can provide you with a storage option and, at the same time, a work of art.
Like RJ Living's floating bookshelves and similar pieces from other retailers, these shelves made from sturdy wires are also popular additions to blank walls. If you have a smaller office, hanging wire sculpture bookshelves can help you add storage and style and manage space. 
2. Bookshelves with a built-in reading light.
Furniture and appliances that have more than one purpose are extremely practical and handy. Some dual-purpose bookshelves have a built-in reading light. These are great for offices where a gentle light might be more pleasant as you work in front of a computer.
But it's also fantastic for bedrooms, especially right above your pillow. That way, you could read right before you doze off at night.
3. Wooden sculptural bookshelves.
As mentioned, bookshelves that look like sculptures are great because they add an artistic and unique element and can store books or other items at the same time. However, wood has a warm element that fits nicely with most homes, unlike wire sculpture bookshelves that might look better with industrial and modern homes. 
For many homes, wooden sculpture bookshelves might be a better fit. In fact, they're great if you want to fill up your personal library. You might not even need to add too much decor in your office because wooden sculpture bookshelves can draw attention.
4. Bookshelves from repurposed materials.
Now that more people are repurposing old and used materials into something new, including furniture, it's amazing to see which items can be made into bookcases. You can make these shelves yourself from old wood, crates, and even hard guitar cases. However, there are also some shops online and some repurposed furniture stores to find these unique and creative styles.
With these types of shelves, you can get away with a variety of decor styles. You can try to tone it down, especially if the piece itself is already eye-catching. But you can't go wrong with even more eccentric organization and display pieces, especially when you're going for the quirky and uncanny.
5. Bookshelf dividers.
Some bookshelves function as dividers too. But you can always try to use some standalone shelves into dividers. These are great if you don't have a private room for an office because they can give you some privacy as you work, which is great for focusing and being productive.
Some artists and manufactures often add creative designs to these bookshelf dividers. Some are formed with irregular-sized spaces and slots to put your books or display pieces. You can also have them installed, so they're fixed to the walls in your home. Not only do they help segment open floor plans such as studio apartments, but they also give your office a smart option for storage. 
In conclusion. 
When setting up a home office, it's important to store books and items that often belong in the study or work areas. However, some shelving options tend to be basic and boring, which can make your office drab. This can even affect your productivity levels as you work.
While styling plain bookshelves in a way that looks pleasant and creative is possible, you can simply get shelves that are designed so uniquely that you might not need to decorate them at all. The great thing about shelves is that they come in all kinds of styles and materials, so you can even get floating shelves if you have limited space or wooden ones if that's the material you prefer.
Images Courtesy of Canva.
If you have any questions or suggestions, we always love to hear from you in the comments below. Also below are links to more fantastic articles about ALL things DESIGN for your home or business.
Other Posts You Might Enjoy:
6 Tips for Setting up a Home Office
Top Tips to Set Up the Perfect Home Office
8 Tips In Choosing A Home Office Sit-Stand Desk
Share This Story, Choose Your Platform!