As working at home becomes the norm, you might want a new office space. In fact, it might be time to consider a home office sit-stand desk. It might no longer be enough to work in your bedroom or dining room, after all.
One of the most significant investments you might think about is the desk. An excellent desk helps you focus and keeps you comfortable. But there are many kinds such as writing desks, executive desks, computer desks, and others.  
One of the desks you might like in is a sit-stand desk. The flexibility of a sit and stand desk provides several benefits, such as being healthy as well as physical and mental stimulation, among others. When shopping for this kind of desk, there are some things to keep in mind. So, if this interests you, we invite you to continue reading to learn what you need to know about sit-stand desks.
8 Easy Tips to Choose a Home Office Sit-Stand Desk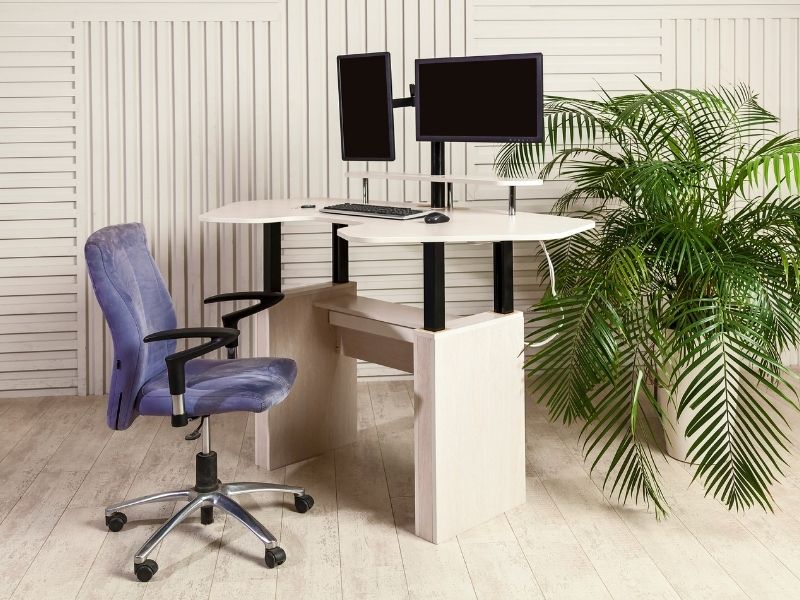 1. Prioritize your sit-stand desk needs. 
Since you will regularly use the sit-stand desk, it helps if you list what you want. For instance, you might be looking for a desk that has storage space. Or, you might be looking for one that is easy to move.  
Whatever you're looking for, jot it down to help simplify shopping for a sit and stand desk.
2. Think of how you work. 
When redesigning your office or buying a desk, you must consider is how you work. This is important because it affects how specific desks fit your body. So, first, you must measure the desk for ergonomic to ensure and comfortable lifetime of use.
However, every person works differently, and it is helpful to think about it before deciding which desk to buy. 
3. Double-check the dimensions.
Measuring the space for your sit-stand desk is important, especially if you have a smaller area. This helps you avoid the returning the sit and stand desk if it's not the size you need. Taking the time to measure the dimensions saves you more time later.
4. Pay attention to its adjustable features. 
While looking at the desk's dimensions, don't forget to look for its adjustable features. One of the main perks of sit and stand desks is that you adjust their height to work while standing. First, you must measure the ideal size you need while standing. Then, buy a desk that reaches that height or possibly higher.
5. Ensure the quality of build of your sit-stand desk.
A sit and stand desk might look similar to any other desk, but they're built differently. The additional mechanism that allows it to become adjustable is something to check. If there are flaws, especially in that part of the desk, you wouldn't want to waste your money. Also, check the overall quality of the rest of the desk to ensure that it's sturdy and well-made. 
6. Think intently about the design and function.
Function is an integral part of a workspace, but the design is also helpful. Depending on your tastes or existing interior design, pick a desk that fits the aesthetic. A modern home office theme is different from a rustic theme. Take the design, material, and color into consideration so that it matches nicely with your office theme. 
7. Consider its costs.
The price is also one an important considerations. However, it's not just because of budget limitations. Comparing prices helps you decide whether to buy or not. Keep in mind that the costs won't always reflect the worth of a product. Therefore, you must check for quality as well.
8. Find one that's easy to operate.
As mentioned, the mechanism to adjust the desk's height is the most important component. Consider whether it's easy to operate the height adjustment or not. If it's difficult to use, you might not need the adjustable features. So, take your time to look at how different desks work and which one works bests for you. 
In conclusion.
You spend a lot of time in your office, so create a space that's comfortable, healthy, and enjoyable for you. Moreover, because you use the desk so much, invest in one that's worth it. However, it might take some time for you to find the perfect one. If you have any questions or suggestions, we always love to hear from you in the comments below. Also below are links to more fantastic articles about ALL things DESIGN for your home or business.
Images Courtesy of Canva.
Other Posts You Might Enjoy:
3 Steps to Designing the Home Office of Your Dreams
4 Essential Rules for Designing a Home Office
4 Steps to an Artisanal Look in Your Home or Office
Share This Story, Choose Your Platform!