When you find yourself having to work from home, there are a few points that you are going to have to consider to make sure that you are able to work effectively and comfortably. Here are some top tips for setting up the perfect home office.
Your Guide to the Perfect Home Office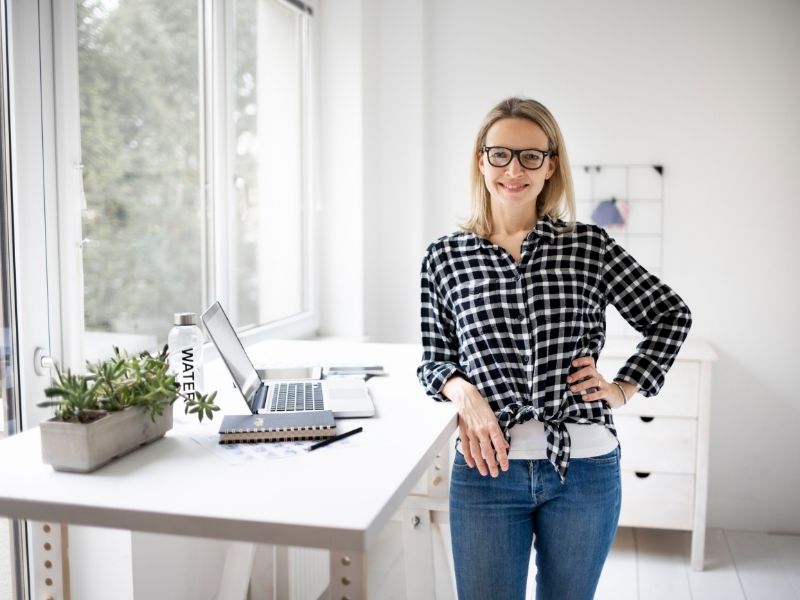 ⎆ Keep it Separate
The first point you ensure is that your workspace is entirely separate from your home spaces. It might be tempting to make use of some extra space in your living room but what you have to remember is that association is a powerful concept. If you don't have a dedicated space that you associate entirely with working, then it can have a negative effect on both your work and relaxation levels.
You might find that you can't fully focus on your work because of the entertainment options present in the room, or you could find that you can't stop thinking about work at the end of the day. Either way you're going to struggle to keep your work and home life separate. This is, at its core, why you need to dedicate a space entirely to your work.
⎆ Make Sure You're Comfortable
When you find a space that you are happy to dedicate to your work, the next task is to make sure that you are going to be comfortable. You are, after all, going to be spending hours at a time working in this space and you want to avoid being uncomfortable as you do so. Below, you will find a list of important things to consider.
1. Room for a Workspace 
Measure out the space carefully and make sure there is plenty of room to accommodate a workspace, anything you need to work with, and yourself. If there isn't room, or if it looks like it's going to be tight, then you might want to consider another area for your office.
2. Get Plenty of Light 
Sunlight is a very important aspect of your health and, when you spend the majority of your time in one space, you are going to want to be sure that you get plenty of light in your office space. Take the time to see how much sunlight you get in the room. Do you need custom made plantation shutters to maximize your sunlight exposure without compromising your ability to work? Make sure to consider every angle that it takes to ensure you get the sunlight you need in order to stay healthy while you work.
3. Maintain a Comfortable Temperature 
Similarly, how is the temperature in the room? Do you need to install an AC unit or invest in a space heater to keep the temperature comfortable? Your comfort is of utmost important when it comes to your office, so take your time to make sure you get the conditions right for you.
4. Get the Right Furniture
Finally, you are going to want to ensure that you get the right furniture for the space. Now that you've considered the space you're using so closely, you should have a good idea of what you want in the room—just be sure to get yourself a good desk and an even better chair. Plus, a place to store your important documents is always useful.
In conclusion.
Here's to your outstanding set up for the perfect home office. If you have any questions or suggestions, we always love to hear from you in the comments below. Also below are links that will take you to more fantastic articles about ALL things DESIGN for your home or business.
Images Courtesy of Canva.
Other Posts You Might Enjoy:
8 Tips In Choosing A Home Office Sit-Stand Desk
DIY Home Office: 5 Signs You Need a Desktop Replacement
4 Essential Rules for Designing a Home Office
Share This Story, Choose Your Platform!