We all look for different things in a new home. Some of us want a house that's ready and raring to go. Others like the idea of a project. If you're in the latter group, you're in luck! We're going to look at how to go about getting that project up and running as soon as possible. Shopping for a house that needs work is a different kettle of fish to any other kind of home shopping. In a lot of ways, it's more freeing. Let go of any preconceptions about getting a 'feeling' for a house the moment you walk in. Buying a project involves looking with your head, not your heart. It may seem like an alien concept, but buying with your head is the only way to shop for a fixer-upper project. Think about location, size, and price. You're sure to tick all those boxes much easier if it's a project you're after! Of course, the work doesn't stop when you find the house you want. It never does, does it? There are a lot of considerations to make before that house becomes your home. Here's a list of the stages you don't want to miss out on!
Steps to Buying a Fixer-Upper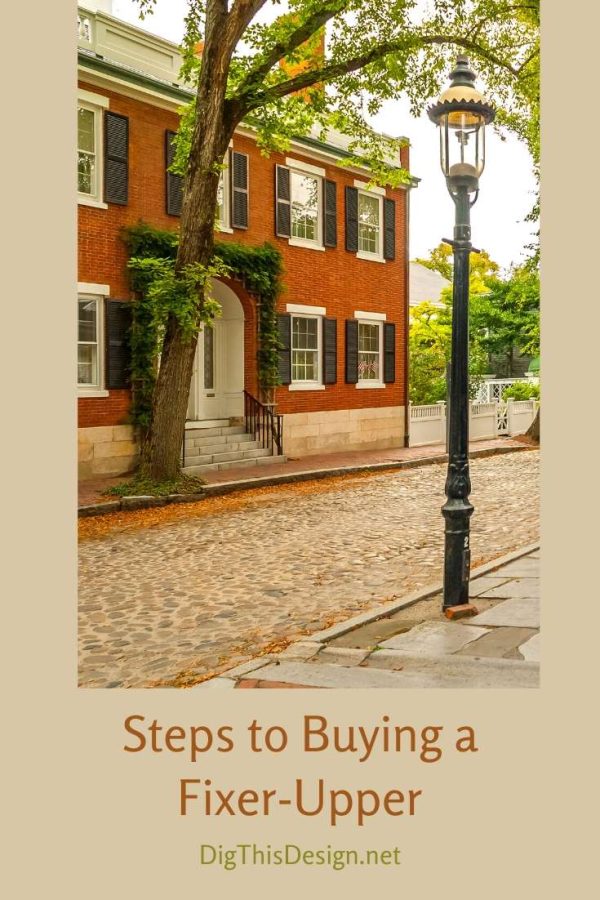 When Considering a Fixer-Upper Make a List
Before you make an offer on any house, it's important you get a good idea of how much work needs doing. Don't be afraid to visit the house a few times before you make up your mind on which fixer-upper is the best buy. On the first visit to any property, your attention should be on the house itself. Don't worry about the fine details to start with. Even when looking at the house as a whole, you should be able to get some idea of the work that needs doing. Look at the walls, floor, and ceiling. Take a mental note of any damage that will need repairing. These first observations should give you an idea of the extent of the project. On a second visit, take a tape measure and notepad. Make extensive notes about the work you would be undertaking. Measure each of the rooms, and start building a picture of what purpose each room would serve. Look at any damage in more detail, and make notes about that, too. Take pictures if necessary, so that you can assess the damage in your own time. The more you know about the extent of work you're taking on, the better idea you can have of whether the property is worth your time and money. Remember, you're not after that 'gut' feeling that a property is right, here. All you're doing is making unbiased notes about what's in front of you.
Estimate the Cost Involved
The main reason for taking those notes is to get an idea of how much that work will cost you when thinking about buying a fixer-upper. This isn't always easy to judge beforehand. More often than not, you'll end up spending more on a project than you intend. Even so, getting some idea will allow you to judge whether the property is worth the money you spend on it. For the most part, a renovation project should work out cheaper. Take a look, too, at the prices of other, similar houses in the area. Remember, this is an investment. The work you do in your house is going to increase the value in the long run. Knowing how much will show you, again, whether the project is worth your time. Though you'll only be working in estimates, it's important to do this groundwork. You don't want to buy a project and then run out of money while you're working on it! Talk to the homeowner and see if it would be possible to get some builders in to give quotes. If they're keen to sell the property, they shouldn't mind. Most of the time, with project properties, they will be keen! Share the information you get with the homeowner and give them some idea of the amount you'll be paying for repairs. That way, you have leeway for working out a bargain price on the property.
Figure Out the DIY Portion of the Project
To save repair costs, work out what you can do yourself in your new home. The amount you'll be able to do depends on the state of the property when you buy it. If the damage is only superficial, there may be more you can do than you'd think! As well as saving you money, doing work yourself ensures you can make your new home yours. Taking a closer look at the work that needs doing will give you an idea of how deep any damage goes. Do a little research and see whether the issues are ones you can rectify alone. Be careful here. Don't take on impossible projects if you don't think you could achieve them. Only take on work you feel confident of. Taking on a task too large could result in further costs if something goes wrong.
Bring In a Professional
The chances are, there's going to be work you can't do yourself. For those jobs, don't hesitate to get the professionals in. From luxury bathroom renovations to kitchen refits, it's important you know your own limits! Get a few quotes before you decide on which company to use. Prices will vary, and it's worth getting the best deal possible. Even so, you don't want to opt for a company who cuts corners. Take a look at any customer reviews available for each building company you talk to. If possible, get personal recommendations from friends.
Other posts you might enjoy:
When Your House is No Longer Enough – Move or Redesign?
Kitchen Remodel Advice – Best Value for the Dollar
3 Reasons You Need Professional House Plans to Avoid Disaster
Give Your Home the Update It Needs with a Professional Renovation
Share This Story, Choose Your Platform!