A walk-in shower has become popular in today's home designs. The reason is, that it is efficient and attractive which adds value to your home.
The following information will help you correctly install a walk-in shower.
How to Install a Walk-in Shower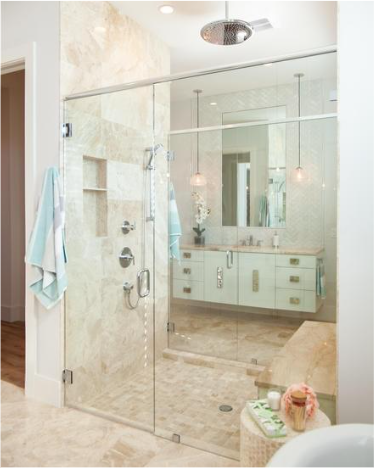 Design by Patricia Davis Brown Designs
Planning and Designing a Walk-in Shower
A walk-in shower can be completely curbless or have a curb. A curbless walk-in shower is easily accessed by all people even those with physical disabilities. Depending on the orientation of the shower and the size it could have a door and it might not. You would just need to make sure that the water doesn't hit outside the shower itself creating a wet floor and an unsafe condition.
A custom-built, walk-in shower can be expensive, so planning is essential. It can save you a lot of time and money to hire a professional versed in designing bathrooms. A certified master bathroom designer is a good person to hire and you can find a list of designers in your area by going to nkba.org, through The National Kitchen and Bath Association.
Decide On A Shower Pan
The shower pan is the base of your shower, and manufacturers use various materials to make them. Cast iron and fiberglass are the most common options for premade shower pans. Both these pans come in pre-formed sizes that fit into the bottom of the shower in order to waterproof it.
If you're searching for something more custom, you may want to consider a custom-built pan with a unique shape or size especially if you want a beautifully tiled shower. This type of shower pan application is best left to a professional certified licensed plumber.
Consider Professional Plumbing
The plumbing for a walk-in shower requires much more work than a standard tub and shower combination. You must install additional pipes, drains, and valve fittings to create the necessary connections. This is not a DIY project because if it is installed incorrectly it could flood your whole house and become a major renovation.
Do You Need A Glass Shower Door Or A Curtain?
If you have determined with your bathroom designer that a door is needed then you will need to decide on glass or a shower curtain.
A shower glass enclosure is a nice way to visually enlarge your bathroom as a solid wall will mak the bathroom appear smaller. Whether or not you use a glass enclosure or a solid wall you will need to install a glass door or a shower curtain. You can also design a glass bi-pass shower enclosure if you are challenged for space.
Waterproofing The Walls of a Walk-in Shower
Waterproofing your walls is a must to protect framing from dry rot and mildew which can affect the health of the homeowner. Most professionals will suggest using Drylock or another similar product for this job so that there is no risk of water getting behind the drywall and causing damage to your home's foundation or other structures.
Choosing The Best  Walk-in  Shower Floor Tile
Your shower floor tiles must allow the floor to slope toward the drain for proper water drainage. Mosiac tiles are used quite often as they come installed on a mesh sheet that can bend with the floor. Installing a linear drain can work with bigger tiles as the whole floor will slant towards the drain straight.
Choosing a floor tile that plays well with the wall tile, whether in contrast or blending is important for the aesthetic outcome of your bathrooms design.
Final Thoughts
A walk-in shower is a good idea for most homes due to its versatility for all users. Not only is it efficient, but it's also aesthetically pleasing and will add real value to your home.
Other posts you might enjoy:
How to Design a Sleek & Modern Bathroom
Finding Contractors for a Bathroom Remodel
10 Things to Consider Before You Renovate a Bathroom
DIY Bathroom Remodel: 7 Step Guide to Success
Share This Story, Choose Your Platform!