As the scorching sun invites us to embrace the warmth of summer, creating a backyard design into an oasis becomes an enticing endeavor. Whether you seek to host unforgettable gatherings or relish in peaceful solitude, the right design can elevate your backyard into a haven of beauty and functionality. 
From refreshing water features to inviting outdoor living rooms, these design ideas will inspire you to reimagine your backyard as a personalized haven for the summer season. You may also want to collaborate with professional designers like Magnolia Custom Pools by your side, renowned for their expertise and dedication to creating breathtaking poolscapes. This helps you transform your backyard into a beautiful retreat that mirrors your style. In this article, we will explore the finest concepts to transform your outdoor space into a stunning summer retreat:
How to Turn Your Backyard Design Into An Oasis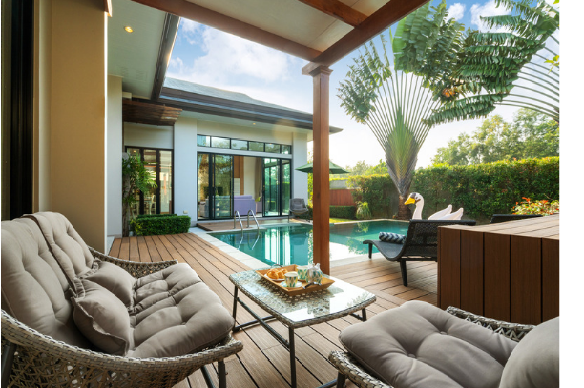 1.

 

Install Outdoor Shades or Drapes
Installing outdoor shades or drapes enhances your backyard's comfort and aesthetics during the summer months. These versatile additions offer numerous benefits that significantly improve your outdoor experience. They keep your outdoor space cooler and more comfortable by blocking direct sunlight.
Adding outdoor shades creates a cozy atmosphere for relaxation; this elevates the ambiance of your backyard. They can also assist in defining specific zones and adding a touch of elegance to your backyard design when strategically placed around seating areas.
2.

 

Create an Outdoor Living Room
Embrace the long summer evenings by transforming your backyard into an inviting outdoor living room. An outdoor living area combines the coziness of indoor spaces with outdoor beauty to create a comfortable entertainment spot. Choose weather-resistant furniture that compliments your backyard's aesthetics to ensure ample seating and lounging options.
Consider incorporating an awning or pergola to seamlessly connect indoor and outdoor spaces. With these additions, you can enjoy being outside throughout the summer by providing cover from the hot sun and light summer showers. Accessorize with colorful and plush cushions, outdoor rugs, and decorative lighting to set a warm and inviting ambiance.
Incorporate a fire pit or an outdoor fireplace as a focal point, perfect for gathering around during cooler summer nights. The dancing flames will create a magical backyard oasis, encouraging conversations and making memories that will last a lifetime.
3.

 

Install a Refreshing Water Feature
Adding the calming sound of flowing water to your summer backyard is a delightful notion. A water feature enhances your backyard's elegance and creates a refreshing ambiance. Choose the ideal water feature based on your preferences and the available space.
For a classic and sophisticated look, consider installing a tiered fountain with intricately designed basins. The soothing ambiance of splashing water transforms your backyard into a peaceful retreat. Consider adding a small pond adorned with lush greenery if you want a more natural feel.
This creates a tranquil atmosphere and provides a habitat for aquatic plants and animals. Select a freestanding water feature that adds a touch of luxury without occupying much room if space is limited. Select materials that complement your backyard's theme to enhance visual appeal and create a cohesive design.
Endnote
These design ideas present endless possibilities to turn your backyard into a stunning retreat. The goal is to add your unique style and preferences to the design. With expert guidance, you can turn your dream backyard into a reality.
Other posts you might enjoy:
Orange is Trending in Outdoor Design
5 Tips to Design the Perfect Outdoor Space
Share This Story, Choose Your Platform!