Your bedroom is meant to not only be a place in which you sleep but also a place in which you can relax. It is meant to be your little sanctuary away from the hecticness of day to day life. However, because we don't tend to spend as much time as we might like in our bedrooms, it is often the last place to be decorated in our home. This is not okay, so here are a few tips to help you create a more relaxing bedroom design so you can decompress at the end of the day.
How to Create a Relaxing Bedroom Design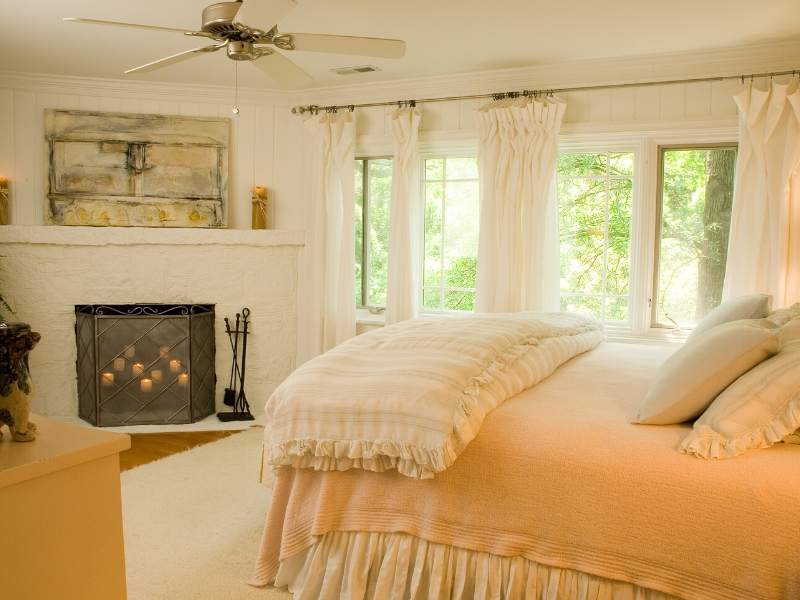 Bed
Your bed is so important for a good night's sleep and there are so many to chose from. It is important you take your time when deciding on just the right bed for your comfort needs. I recommend shopping at stores where you can try them out as it needs to be a perfect fit for your needs. A memory foam mattress is often viewed as being more supportive and comfortable than typical spring mattresses, so that is something to consider.
Bedding
Always go for 100% Egyptian cotton sheets, not only because they're soft, but because they get even softer as you wash them. The bedding is usually why people get so excited to stay in hotels, so if you want that hotel feeling, be sure to purchase quality sheets for the most relaxing night's sleep. Another important selection will be your pillows. I sleep on my side so it is important that my pillow is firm enough to offer support but not too firm that it hurts my ear. If you sleep on your stomach your pillow should be soft and flat and for the back-sleeper, look for a medium flat pillow.
Lighting
As an interior designer that specializes in lighting design, I can not emphasize enough the importance of proper lighting in bedroom design. Speaking of no go's – Avoid any overhead lighting at all costs. Overhead lights are incredibly bright, not to mention very unflattering, which creates the opposite of a relaxing atmosphere. The proper way to light a bedroom is with layered lighting design. You want to make sure you create general lighting for navigating the space safely, task lighting for reading and ambient for a relaxing bedroom design. I know this sounds expensive, but it doesn't have to be. The first thing is the correct plan and I recommend working with a professional to get it right. For the ambient lighting, it could be as simple as fairy lights which are very affordable. This will create a much cozier atmosphere. Also, be sure to go for warm lights rather than cool ones.
Coloring
As already mentioned, your bedroom is your sanctuary, which means it should be all about you. This means that your room should be whatever color you want it to be, just make sure that you absolutely love it. Although lighter colors, like white, cream, and sky blue are often deemed most relaxing. Remember, you are trying to create a relaxing bedroom design and if you are popping a red or orange wall it might disturb your sleep. Where you can add some pops of color would be with accessories like throw pillows and textured rugs which will add a coziness to your bedroom design.
Scent
If you want your room to feel truly relaxing, then you don't want to be spraying it down with the same air freshener that you use in your kitchen or living room. Instead, candles are the way to go, especially if they're lavender scented. The light from your candle is similar to that of warm light bulbs, so it will add to your relaxing atmosphere. The lavender scent is typically calming and is great for helping people to sleep. Just be sure that you don't fall asleep with the candle burning. Instead, placing some sprigs of lavender under your pillow or spraying some lavender oils should do the trick.
Organization
People don't say "Tidy room, tidy mind" for no reason. If your room is cluttered it can affect your chance to relax and impede your sleep too. To avoid your room becoming cluttered, be sure to balance your décor so that it feels good to the eye. You should also be sure to keep it as tidy as possible. This means having your clothes folded and put away in drawers or a wardrobe and keeping anything on the dressers or bedside tables organized and neat. If at any point you feel as though you can't fit all of your belongings in your room it may be time declutter your space.
Just follow these simple tips and tricks, and your room should start to look and feel more relaxing and luxurious almost right away.
Images Courtesy of Canva.
Other posts you might enjoy:
Bedroom Design; How to Design a Themed Bedroom
Balanced Bedroom Design to Energize and Relax
Bedroom Design; How to Create our Perfect Bedroom
Share This Story, Choose Your Platform!