Pergola designs are great additions that can boost your outdoor aesthetic, making it beautiful and inviting. Aside from aesthetics, it's also a practical installation as it can provide much-needed shade on hot summer days allowing you to enjoy your outdoor space. However, with so many options available, it can be challenging to choose the right one for you. Numerous factors go into selecting the right one, including size and shape, structural style, materials, and location. If you're feeling overwhelmed about selecting the perfect pergola for your needs, here are some tips for finding the perfect one for your space.
Tips for Finding the Right Pergola for You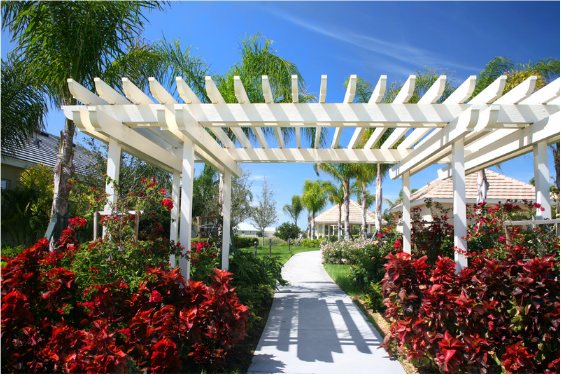 Work with a Pergola Specialist
Working with a professional pergola installer is essential to ensure your pergola design is fitted to your needs. Professionals have in-depth knowledge of their craft, meaning they can provide you with tailored advice, seamless installation, and maintenance tips to help your pergola last for many years.
Does the Pergola Design Fit?
When selecting the right pergola for your outdoor space, you must consider the size of the area you plan to use. These structures come in various styles, shapes, and sizes, and if you choose one that is too large or too small for your available space, it may appear disproportionately sized. You must also consider any obstacles, such as trees, other structures, and overhangs, that can affect the installation of the pergola. 
Determine the Purpose
When looking for a pergola, the first step is figuring out its purpose. Whether you're seeking shelter from the summer sun, hoping to enhance your outdoor entertainment experience, or simply wishing to enhance your outdoor space, each use will dictate which style will best meet your needs. 
Some pergolas are built with longevity in mind, while others focus on providing adequate shade or maximizing open-air living. Whatever your reasons, consider them before making any decisions to ensure that you select the right one.
Choose the Right Materials
Choosing suitable materials for your pergola is essential for creating a beautiful, safe outdoor space that will last for years. A pergola made from a quality, weatherproof materials like cedarwood or aluminum is likely to be more durable and require less maintenance than one made from materials such as vinyl or a wood composite. 
Before making your purchase, ensure the material can withstand extreme weather like high temperatures and violent storms, as these factors could drastically shorten the life of your pergola. If you are looking for an organic aesthetic, opt for natural woods like teak or redwood rather than a synthetic alternative. You should also consider other elements, such as paints and stains, to increase protection from moisture or shade from direct sunlight. 
Pergolas can provide a great outdoor space and improve your curb appeal, increasing your property's value. When planning to install a pergola in your home, several important factors must be considered to ensure you end up with one that meets your needs and looks great. Ensure you take into account the amount of available space, as well as the purpose for adding the pergola. Hire professionals to help with the design and construction process, and be sure to choose materials that will withstand your climate and complement the existing architecture. 
Other posts you might enjoy:
6 Small Townhouse Backyard Ideas
Create a New Outdoor Look with Minimal Changes
6 Outdoor Deck Design Trends to Look for In 2022
Share This Story, Choose Your Platform!