Outdoor furnishing can literally be called the art of creating comfort. After all, it is for relaxation that many of us come to the open space. Therefore, everything must be guided by the laws of beauty and comfort when enhancing your outdoor space.
Not surprisingly, the patio is a very popular feature of home design. In European landscape design, this element is almost mandatory. But, what are its features and how do you turn your recreation areas into a piece of the sunny south? If this piques your interest, please continue reading for an essential guideline in enhancing your outdoor space.
Enhancing Your Outdoor Space • Your Essential Guideline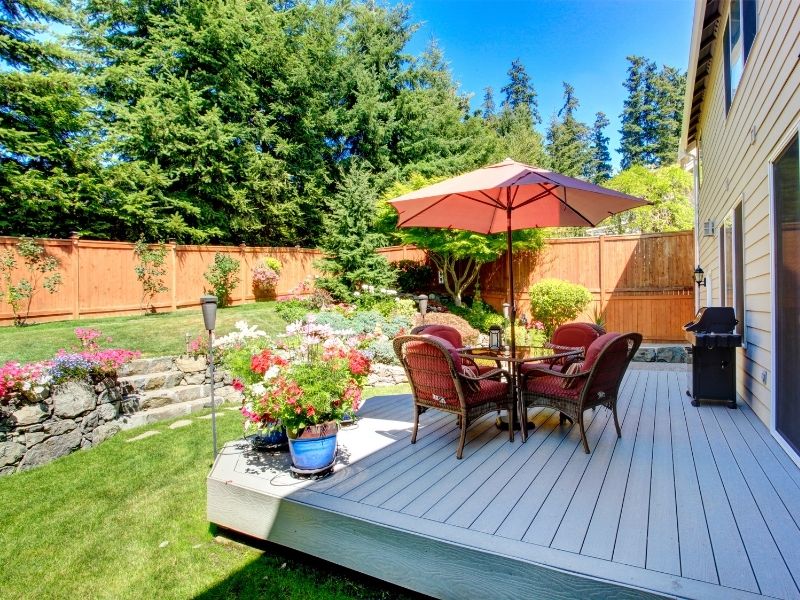 1. Begin with a patio and build out from there.
A patio is a small outdoor space enclosed on all sides by residential walls, hedges, or wrought-iron fences. That is, the patio is a fairly secluded place, protected from all sides, and allowing you to fully enjoy your summer outdoor.
This space allows you to equip it both as a playground and as a place where you can organize a barbecue for family and friends. In fact, the comfort zone should be exactly the way you want it. The main thing is that it fulfills its main function. In addition, it must give a feeling of comfort and protection from the whole outside world.
2. Design features might include bushes and flower beds.
Some people think that this part of the garden area should be free of bushes and flower beds. Indeed, it may be so, but it is absolutely not necessary. The classic patio includes the following elements for enhancing your outdoor space.
Small paved areas that can be used for both relaxation and household needs.
Decorative reservoir. It can be a fountain, a pond, or even a small pool.
Drainage system. Also, vessels for collecting rainwater should originally be installed here.
Decorative items. The function of such elements can be performed by lawns or flower beds, hedges, decorative furniture, and garden sculptures. An elegant pergola can be used as additional protection from the scorching sun – a mesh canopy or an arch through which climbing plants are allowed.
Particular attention should be paid to the texture of the flooring as well as the texture of the walls. They should harmoniously complement and set off each other, and in some places even contrast favorably with each other.
3. Selecting patio furniture for comfort and elegance.
The outdoor area also implies the presence of comfortable furniture. For example, these can be wicker or soft armchairs, sofas, or beautiful chairs. In fact, to find all possible variants of the outdoor furniture for your patio zone you can go to Homey Design Store.
A variety of pillows can be thrown under the canopy, and stylish stone benches can be set around a fountain or pool. In fact, the choice of garden furniture is entirely up to your taste, imagination and possibilities.
Don't be afraid to experiment! Let yourself be as comfortable as possible in the garden.
4. How to choose the right location for a patio.
When choosing a place for a patio, you need to look for a fairly flat spot on the site. Otherwise, you will have to spend a lot of time and effort leveling the site. However, you can turn the potential disadvantages of the site into advantages. It is enough just to make a multi-level patio, the functional areas of which will be separated by one or more steps.
In addition, it is not at all necessary to cut down a tree or shrubs that are on the territory of the future summer cottage recreation area. They can be made the main compositional elements around which the entire patio will be built.
First of all, the creation of any landscape object begins with sketching plans:
Draw a plan for your future patio. This will help you decide exactly what you want to see, what functional elements should be present there, and what features this or that design zone will have.
Draw the markings for the paving slabs. You can experiment with color and texture. If you plan to plant shrubs or small trees, leave space for them in the color scheme.
On this plan, it is also necessary to take into account the presence of water spaces. First, they should not only be beautiful but also safe, especially if you have children. Next, water spaces should not be deep and contain dangerous decorative elements. Additionally, water in reservoirs should not stagnate and should be designed in a way when the water can be quickly drained.
Think over the wiring diagram and drainage system. This is one of the most important points in the arrangement of the summer patio. In fact, all elements of these systems must comply with operating standards and be hidden underground before carrying out major work.
5. Venturing into a DIY patio experience.
Before creating a recreation area, you need to decide on the choice of finishing materials. In particular, the size of the paving slabs with which you would like to pave your patio is quite important. The size of the site itself depends on the size of the tiles. Also, if you incorrectly calculate the required amount of finishing material, then the outdoor area will not be the same as you expected.
For small areas, the planning problem is most relevant. Therefore, it is better to take care of this moment in advance. The best option would be if you buy a small amount of the tiles you like and see in life how much area it will occupy.
The same applies to curbs: take into account their dimensions in advance, taking into account the gaps for the cement masonry.
After you have drawn a plan for a summer outdoor area on paper, it's time to transfer it to reality. It is best to use a peg and rope system to do this – it will make the markings more visual.
Now you can level the site, make it multi-level, give it the required shape.
In conclusion.
Use these tips for enhancing your outdoor space for the most peaceful and relaxing treat that your family and friends are sure to love! If you have any questions or suggestions, we always love to hear from you in the comments below. Also below are links to more fantastic articles about ALL things DESIGN for your home or business.
Images Courtesy of Canva.
Other Posts You Might Enjoy:
9 Tips to Improve Your Outdoor Space When You Rent
10 Tips for Getting the Most of Your Outdoor Living Space
How To Create A Beautiful Outdoor Living Space
5 Patio Decorating Ideas for a Fabulous Outdoor Living Space
Share This Story, Choose Your Platform!