It isn't easy to improve your outdoor space if you're renting but when you do, it becomes the biggest asset of your living space. You can even turn a small balcony into an outdoor refuge with a little planning and the right plant selections. Or, if you have an urban courtyard, consider turning it into an outdoor retreat for dining and entertaining.
However, there are things to think about before you begin. First, you must determine the length of time you intend to stay in this rental. Of course, if it's only a year or two, you won't need to spend a lot of money on landscaping that you eventually leave behind. But, if you intend to stay long-term, the cost of perennials and shrubs or trees are worth it over the years that you, your family, and your friends enjoy them.
So, if you rent and want some great tips about how to improve your outdoor space, we invite you to continue reading!
Renting? Improve Your Outdoor Space with These Terrific Tips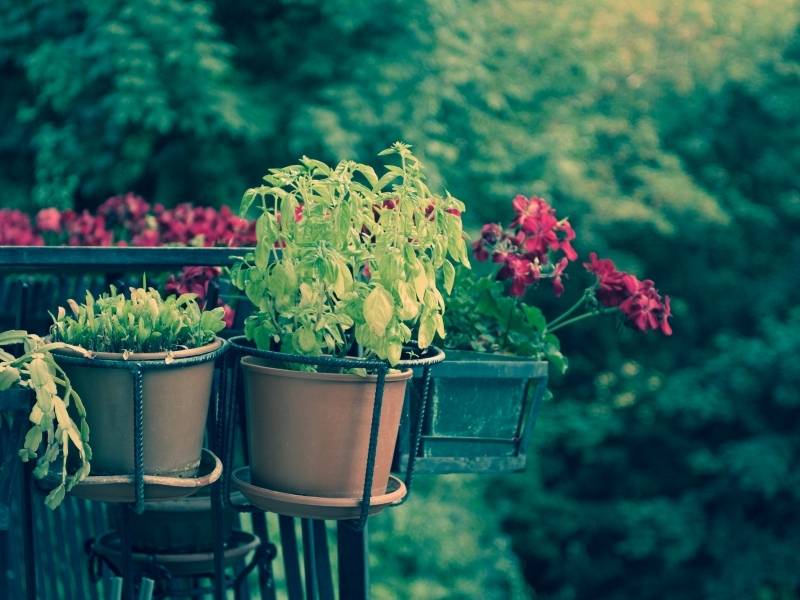 1. Clean and clear before adding new elements.
First, start with a good cleanup of your outdoor area. If you have a balcony, this is a relatively easy job. While cleaning, evaluate the space for size and sunlight. Can you fit seating on your balcony? Will seating be a small chair or bench or do you have enough space for a small dining table or seating for two? Is there privacy or are you exposed to all your neighbors?
If you have a larger courtyard, then, evaluate existing plants. Next, remove debris and identify the plants worth saving. If you are a novice gardener, ask a friend or relative with more experience to help distinguish the weeds from the perennials.
2. Prune and maintain overgrown trees and shrubs.
Interestingly, most can reclaim a messy garden by pruning overgrown trees and shrubs. Remember that you can divide perennials and add them in empty areas with a little time and effort. The same is true when you move from your rental. Use divisions of the perennials to start a new garden.
Also, check online for end-of-season perennial plants for sale. You won't have the same choices, but you can justify the cost of the plants that you must leave behind after just one season.
3. Illuminate your prize plants with the right lighting.
Use lighting to highlight the good plants you do have. There are many options of lighting that are now available in solar-powered versions. There is no need to invest in expensive outdoor electric wiring. Place your lights with the knowledge that you can take them with you when you leave.
4. Indoor-outdoor carpet adds comfort and design.
If the floor of your space is in poor condition or just not to your liking, cover it. The easiest and most cost-effective is an indoor-outdoor carpet. If you haven't looked at what is available in this type of carpet, you are in for a pleasant surprise. There are some highly attractive carpets available in solids as well as patterned. Another option is to cover the surface with pea gravel or a combination of pavers and gravel. You can use pavers for the entire surface, and as long as they are not permanently attached, remove them when you move.
5. Bamboo plants grows quickly and easily.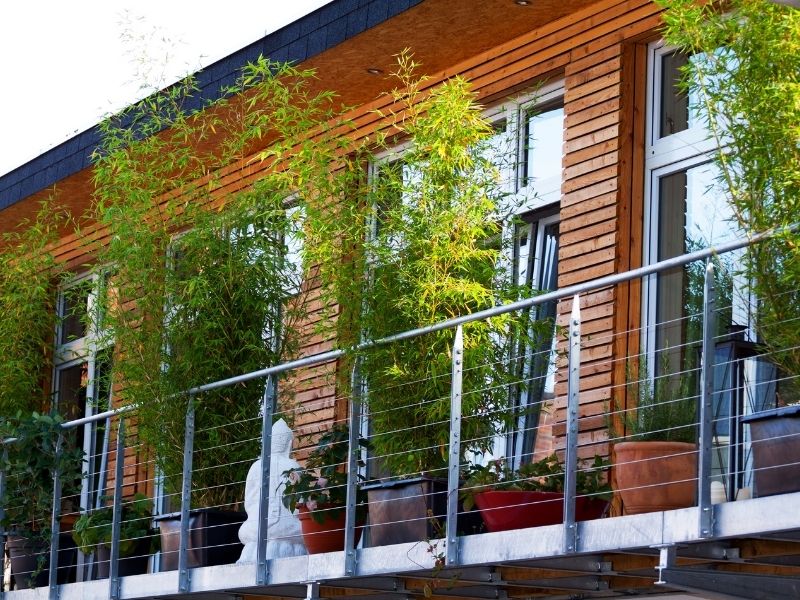 Use bamboo plants to add a delightful touch to your balcony. This plant is inexpensive and grows so easily in many climates. This is a great way to achieve some privacy on a balcony also. Use zip ties or wire to attach the bamboo to the existing balcony railing.
6. Plant vines for coverage and beauty.
Another method is to use vines for coverage. to do this, attach planters on the top of the wall and allow the vines to grow down or place the planters at the base of the wall and provide a trellis or wires for the vines to grow upon.
Plant seeds of annual vines like morning glories or hyacinth bean vines. In one season, a package of seeds will grow to cover your fence or wall. If you are going to be renting long-term, you may want a perennial vine-like clematis, climbing roses, or hydrangea vines.
Another use for vines is to cover the area under free-standing stairs. Attach inexpensive trellising from the side of the stairs to the ground and grow vines that will form a wall. This hidden space is ideal for storage of garden tools, cushions or even bikes and kids' toys.
7. Include a variety of grasses along with your perennials.
When you are looking at perennials for your space, don't forget grasses. Grasses grow well in a container and some grow quite tall. This is a way to cover a fence or ugly wall and the motion of the grass blowing in the wind adds some visual interest in your garden as well. Grasses growing in planters on top of your balcony wall will give increased privacy without taking up precious floor space.
8. Take care in selecting your balcony furniture.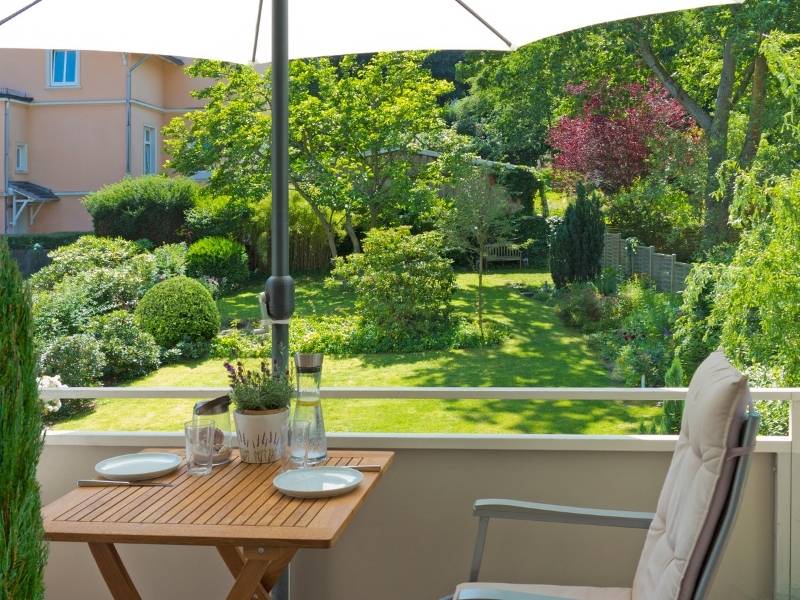 Purchase balcony furniture that withstands year-round outside use. Metal furniture continues to look good for several years and then may simply need a fresh coat of paint. Some wood furniture like teak is dense enough to continue to look good even if left out all year. In fact, the wood takes on a light silvery color as the years go by unless you protect it with stain.
Another alternative is to purchase furniture that can be used indoors as well. A small table and a couple of chairs fits on a small balcony. Then, bring it into your apartment and place it in the corner of a room or at the end of a hallway for the winter.
9. Plants in pots are easier to relocate when you move.
Bring plants into your outdoor space using pots so that you can remove them when you relocate. Don't limit yourself to small plants. Even a small tree or shrubs can grow in a pot. Look for plants labeled miniature or patio plants.
Consider using Japanese maples. These come in various sizes–from huge full-size trees to all sizes in between. Be sure to check the mature plant size when making your purchase. Group pots together for the best effect.
Here's to improving your outdoor space, even if you rent!
Yes, even with a rental property, your outdoor space can be stunning with just a little planning. If you have any questions or suggestions, we always love to hear from you in the comments below. Also below are links to take you to more fantastic articles about ALL things DESIGN for your home or business.
Images Courtesy of Canva.
Other Posts You Might Enjoy:
4 Things You Need to Know Before Renting a House
3 Ways to Add Reversible Design to Your Rental Home
4 Ways to Make Your Rental House a Home
Share This Story, Choose Your Platform!