In densely populated cities with few green spaces, a rooftop landscape garden is like your personal garden of Eden. A green roof not only provides food and recreational opportunities but also offers aesthetic benefits to urban dwellers. Both terrace and rooftop landscaping projects are also a sensory experience that helps us value nature and appreciate ecological beauty.
Nature is a treat and spending time outdoors is important for everyone. Delving into rooftop landscaping projects is an excellent way to bring nature home, get your dose of freshness, and invite beauty into your life.
The Right Plants For Your Rooftop Landscaping Projects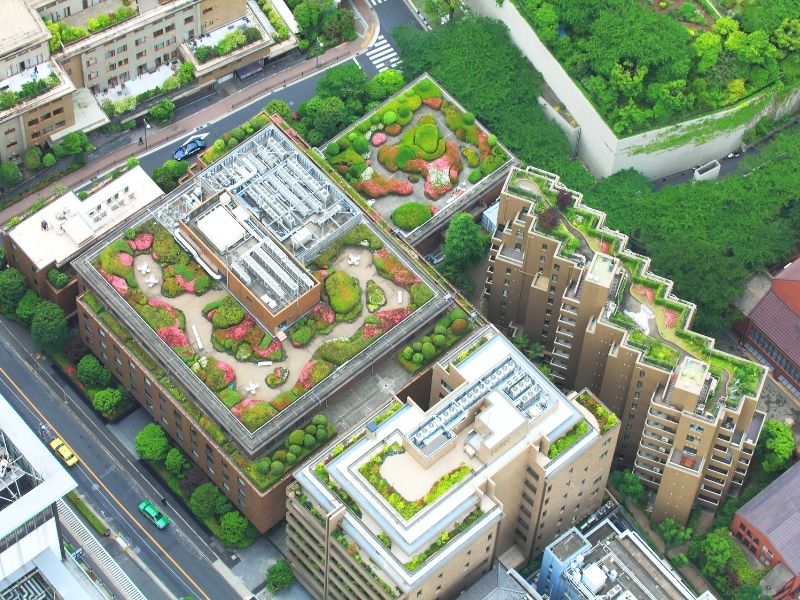 If you are seeking a retreat from urban living and chaos, below are some ideas to turn your rooftop into an oasis of greenery and enjoy a relaxing, serene, and beautiful environment. Read along to get inspired.
⎆ Plant Evergreens
Wind-tolerant shrubs such as spotted laurel, phormium, and Olearia thrive on rooftops and offer protection against rain and wind. Shrubs and dwarf trees also help with privacy on your terrace and provide colorful choices for your rooftop. Of course, just as you use containers with lightweight soil, you want to choose trees and shrubs with shallow roots.
Also, plant evergreens that are easy to prune so that you can keep them compact and beautiful. Without pruning, shrubs can get overgrown, shaggy, and vulnerable to animal and pest infestation.
⎆ Use Ornamental Grasses
Ornamental grasses are low maintenance and hardy and a good choice for your rooftop garden. They come in a great variety and can be used as border plants, hedges, and ground covers.
Planting ornamental grasses is also a great way to add color, texture, and beauty to your rooftop space. Beyond texture, color, and aesthetics, grasses will bring sound and movement to your garden. Moving grass creates a landscape that is serene, growing, and constantly changing.
An added benefit is the fact that they are pest and disease resistant, usually don't need pesticides, and are tolerant of drought.
⎆ Grow Flowers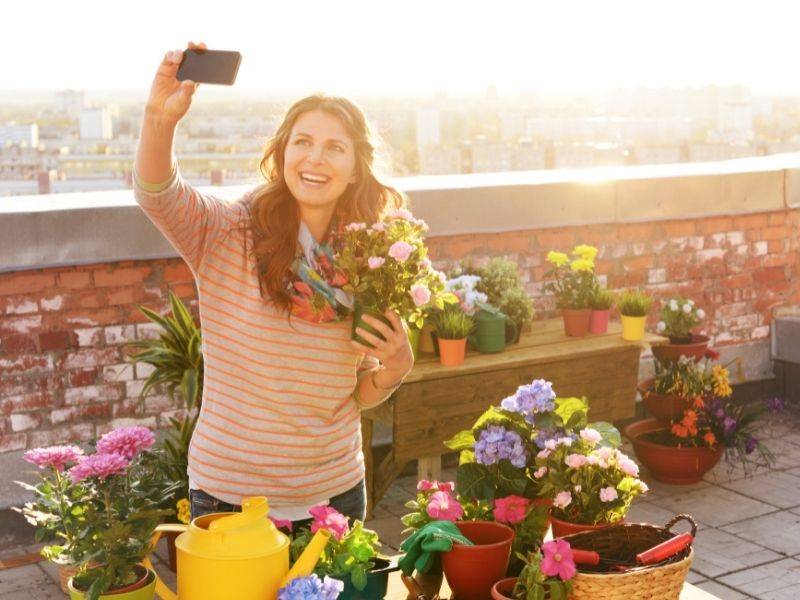 For your rooftop garden, you need flowers that can handle direct sunlight. Roses, daylilies, petunias, and begonias are flowers that thrive in full sunlight.
• Roses
Roses get good air circulation and plenty of sunshine when growing a rooftop garden. Varieties such as medium and small shrub, larger miniatures, patio, and miniature are good choices.
There are so many types in these categories that it is hard to pick just a few. Roses in the Knockout family are one option as they are low maintenance, long-blooming, heat and drought tolerant, and disease resistant. You can plant them in mixed beds around perennials and shrubs.
Or, you can add roses in large groups next to a decorative feature to create a colorful border. And if you take good care of them, they can live and thrive for decades.
• Petunias
Petunias are ideal for a sunny, hot rooftop garden. Of course, they come in a wide variety of colors and shapes: upright, trailing, double, frilly, striped, and plain. What's more, if you plan to grow vegetables, petunias are a good choice as they help with pollination.
Their scent draws pollinators such as moths, butterflies, and bees. Then, when coupled with flowers like lantana and verbena, they are an excellent pollinator attractant.
Planted in raised flower beds made from precision-cut concrete wall blocks will make your raised garden flowers the star of the show. 
• Begonia
Begonias also thrive in the sun and are super easy to grow. There are many varieties that you can plant in containers. Some such varieties are nonstop mocca yellow, Richmond, doublet white, and ambassador series begonias.
Some mature with angled-winged-shaped leaves while others have mini pink flowers and small dark green leaves. Also, you have plenty of picking choices regardless of the size and design of your rooftop garden.
Some varieties are ideal for planting in hanging baskets while others thrive in containers and pots.
• Daylilies
Daylilies are hardy, bloom over a long period, and offer a great way to add color. They produce flowers even during hot summer and are really simple to maintain. Daylilies are a sight to behold, grow vigorously, and are available in a myriad of colors, scents, and designs.
Some varieties are clean-cut while others have ruffled edges. Some also have narrow, long petals while others have wide petals that make the flower appear round. In addition, they have a diverse color range, from deep cantaloupe, cream-pink, and purple to pink, red, and yellow.
Daylilies are the perfect choice for your rooftop garden because they adapt well to diverse soils and light conditions, are drought-tolerant and survive in different climates.
⎆ Plant Vegetables and Fruits
You can plant a wide variety of vegetables and fruits on your green rooftop, including radishes, carrots, peppers, lettuce, beans, and strawberries. The ideal crops for your rooftop project are plants that are durable, handle sunlight well, and thrive in containers.
Stay away from crops that produce oversized fruits and large vining stems and opt for shallow-rooted, small-leaved vegetables and fruits. Crops with shallow roots are, for example, peppers, radishes, and lettuce.
Eggplants, bush beans, onions, and carrots need more space but are still patio varieties that you can grow in 5-gallon containers.
You can even plant semi-dwarf and dwarf trees such as apple, lemon, peach, and plum for delicious homegrown produce and preserves.
Dwarf apples are quick to bear fruit and yield full-sized apples while dwarf lemons produce juicy fruits and fragrant flowers and are a delight to the eye.
⎆ Landscaping Design Musts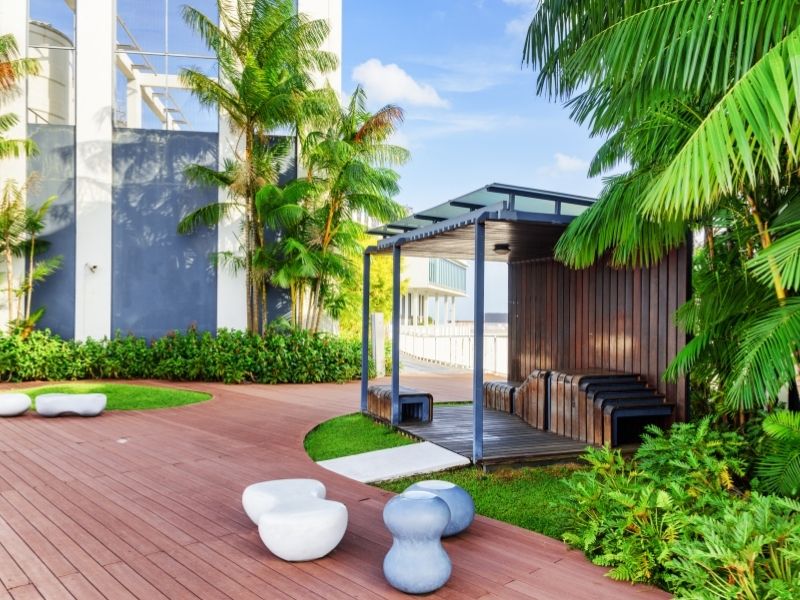 Once you choose your plants you must plan and build the landscape of your rooftop garden. A few essentials are a waterproofing membrane, protection boards, and insulation.
You also must think about safety. Rooftop gardens must be carefully secured so everyone can enjoy them without worrying about the height.
Wrought iron rails around the rooftop edges are ideal in providing that extra protection. While installing this fencing might require custom ordering from the supplier for exact dimensions, the hard work of creating and polishing the fencing is done by the manufacturer using industrial cutting and grinding with high-quality diamond grinding wheels.
Then, you must figure out the design elements of your garden, what types of plant beds to install, and what other landscape elements you want to add.
For example, good lighting, sitting area, storage, and pergolas that provide a shaded area in the garden are a great addition to a rooftop garden. You can even include a water feature to add to the feel of tranquility in your rooftop landscaping garden.
If you're building the garden yourself, you must the right few tools for the landscaping process. Your plant beds are the easiest project to tackle. All you need are the following to build your own raised plant beds.
A few pieces of lumber.
Coated deck screws.
Concrete paver wall block.
A level.
A carpenter's square.
Drill.
Driver.
Saw.
Shovel.
Here's to your beautiful rooftop landscaping.
Use your rooftop garden to grow flowers, ornamental grasses, or vegetables and create a decorative focal point. A green rooftop is a sanctuary where you can seek refuge, relax, reconnect with nature, and recharge. In busy urban areas where residents have little access to nature, a rooftop garden offers a respite from busy city life. If you have any questions or suggestions, we always love to hear from you in the comments below. Also below are links to more fantastic articles about ALL things DESIGN for your home or business.
Images Courtesy of Canva.
Other Posts You Might Enjoy:
9 Water Conservation Garden Design Ideas
4 Expert Steps to a Fabulous Garden Makeover
4 Kitchen Design Hacks To Support A Healthy Lifestyle
Share This Story, Choose Your Platform!