I love to encourage outdoor living and there's nothing more exciting than fabulous barbeques. Spending time outdoors is huge mood booster. You probably stumbled onto this page because you're seeking inspiration for giving some 'design' TLC to your backyard space. Let me help you get there with these posts on brick barbeques, fire pit and fireplace design ideas, summer kitchens, patio decor, backyard fire pit and seating, patio fire pits and bowls. Enjoy!
Summer Barbeques & Fun Galore!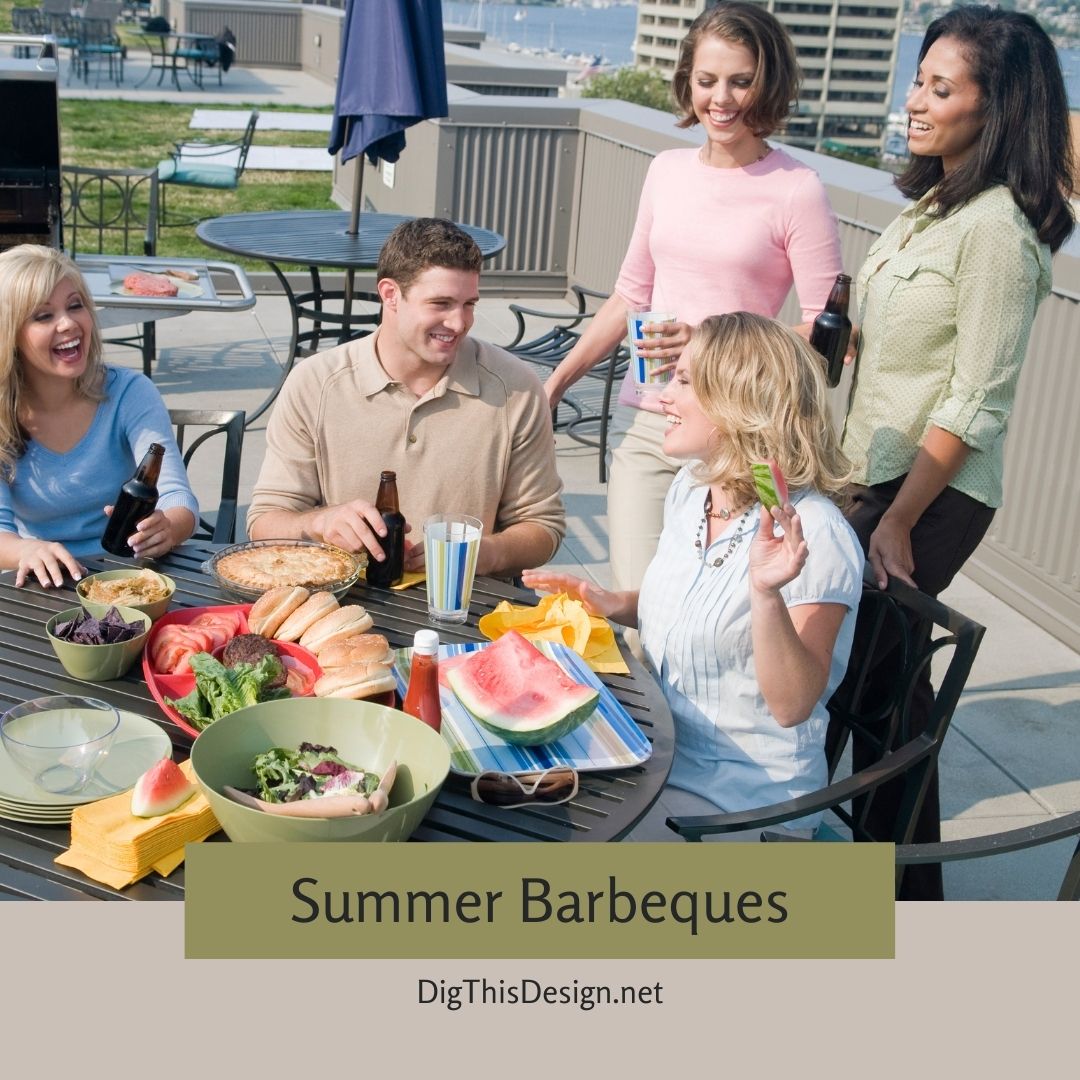 Memorial Day signifies the kick-off of summer barbeques. Summer is the perfect time to set up that amazing space in your backyard for some summer grilling fun and to enjoy your space with your family and friends
1. Brick and Stone
To create the perfect barbeque ambiance, create a space that has amazing brick and stone accents. The barbeque can be placed on a deck or patio area. Try a stainless steel grill which is surrounded by beautiful stone. Greenery such as flowers and plants make the space come alive. Also, be sure there is plenty of counter space to have bar stools or to set out food for your guests to stand and mingle.
2. Stone Work
Another set-up to consider is one with amazing stone work. Also add a stainless steel grill complete with counter space, storage, sink, and faucet. As an added bonus, there is cover overhead just in case it rains. You can set up a dining area for a sit down dinner or sit around the counter with bar stools.
3. Manly Dream
An additional barbeque set up not only comes with a man's dream of having a grilling station, but also a fireplace which is perfect for those late nights when it gets chilly outside. The space has a comfortable seating area for guests to sit down and enjoy cocktails by the fireplace. There is also another area where dinner can be served.
4. Dreamy
Build a barbeque dream. Make sure the grilling area comes equipped with a stainless steel grill, counter space, and storage. The grilling area is made better with a shed overhead just in case it rains. There is also a dining area for dinner parties and a separate lounge area for relaxing and a fire pit for those cool summer nights.
5. Paradise
To create a barbeque paradise feel, set up your barbeque near the pool. The kitchen area overlooks the pool that is complete with a waterfall. Build a kitchen area complete with a grilling station, sink and storage. Also make counter space for bar stools if company is invited. For extra room for guests, you could also put an umbrella with chairs underneath for a dining area. There is also a fire pit on the side in case of cold weather.
Sharan Kaur, Fizzniche Staff Writer
Images Courtesy of Canva.
Share This Story, Choose Your Platform!