In summer and it's time to move out on the patio. Your patio fire pit should be a destination for family and friends. The fire pit a place for socializing, surround them with comfortable seating at the patio and friend and family will naturally want to gather around them.
Here are several different design inspirations that could inspire many kinds of ways to celebrate your patio fire pit. We have a larger collection of great ideas for designing outdoor fire pits and fire places, and what to consider when installing a fire pit.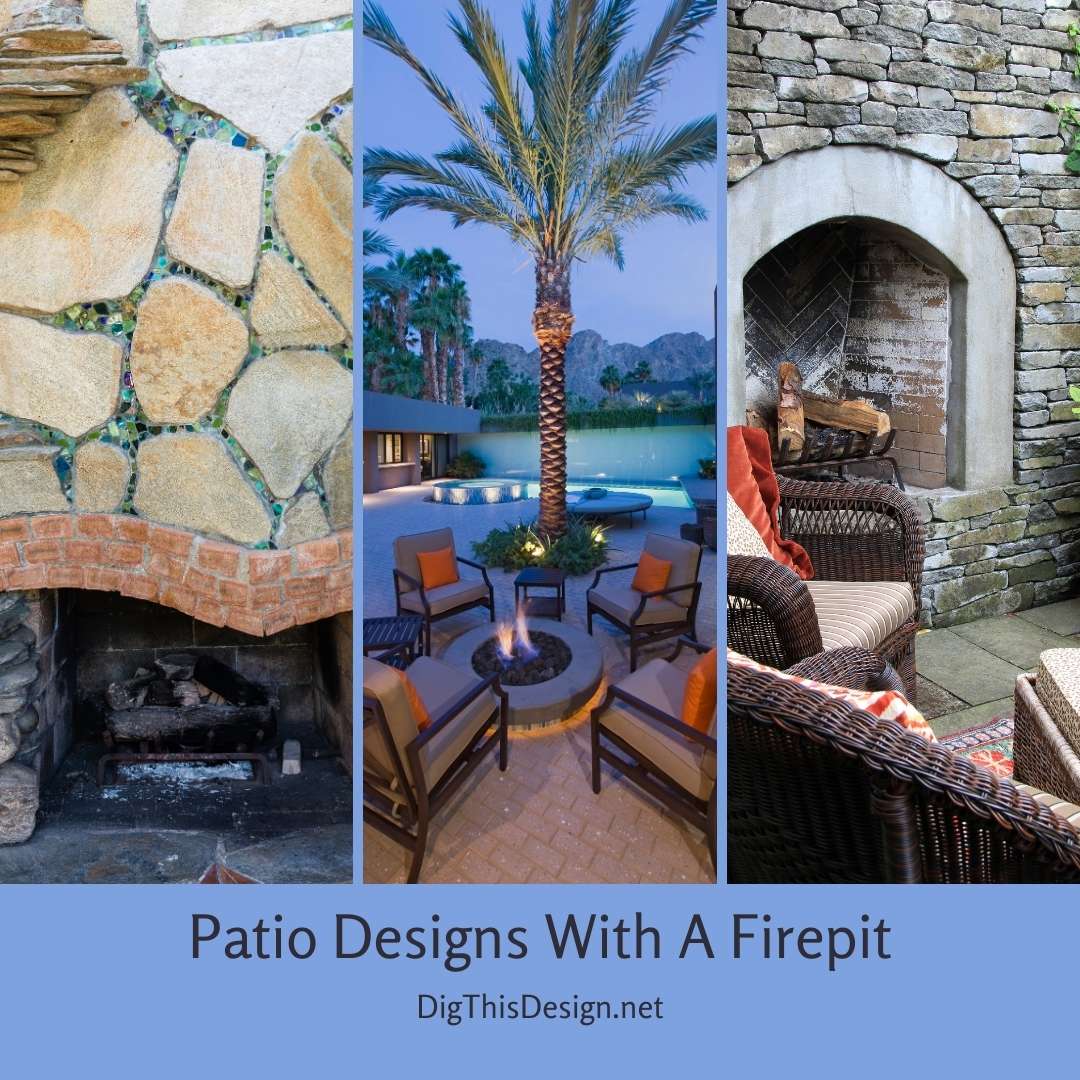 Traditionally Styled Patio Fire Pits
Bring the fireplace outside! A traditional indoor fireplace can still function both beautifully outside as a patio fire pit as well. It can be used functionally or aesthetically.
This traditionally styled patio fire pit is created for reasons of beauty alone. It's elegance and incredible contrasting textures make it's main intent to be relaxation alone.
In this table and chair setting with a traditionally styled fireplace, this fire pit patio gives a large amount of seating, space, and room to to interact, but also inspires interaction as it's ultimate goal.
Circular Patio Fire Pits
A circular patio fire pit can be used two different ways. It can be an inspiration for a group to meet around it and be social, or used as a beautiful piece of yard art and below are two examples of that.
This patio fire pit features a circular fire pit that is smokeless! It's gorgeous, and while not so much an area of gathering, it is a lovely lantern or eye candy during the evening.
The patio featured below really shows what a circular patio fire pit for family and friends is all about. There are lounging chairs everywhere, the pit in the middle which encourages socialization and talk since all the chairs facing each other.
Stone Patio Fire Pits
Stone is a continually used piece of material in patio creation, but using it for not only your patio fire pit, but the entirety of your patio gives it a very engaging and regal appearance.
This fire pit form uses a rounded design to soften up all the concrete. It's elegant in it's creation and adorned by a lovely garden surrounding it, making it a centerpiece to stop and look at when out on the patio.
The seating is perfect for large groups – allowing everyone at the party to have the best seat in the house! This example has some great built-in benches that help split up spaces and offer extra seating.
Angular Patio Fire Pits
A backyard patio doesn't have to be covered in flower pots and colorful furniture. These angular inspired patio fire pits show how regal a minimalist and simple structurally based design can be.
This fire pit uses landscaping and soft cushioned seating to counter the stone pavement. The result is an elegant look with lots of texture and contrast.
We found this sleek, and modern fire pit that also has a modern alternative fuel type for fire with no smoke, which is great because this patio fire pit is featured in the middle of a table setting.
Images Courtesy of Canva.
Share This Story, Choose Your Platform!