It is summer and the time for gatherings, celebrations, birthdays, graduations, and parties. Different barbeques look better in different backyard decor, so with this post, we're collecting inspiration for an incredibly useful and fun backyard feature. Large brick barbeques, simple small barbeques, and smokers and grills are all diverse ways to celebrate the beauty of barbeques and masonry design.
For more inspiration, this post explores barbeque designs that go beyond the brick. If you're thinking about outdoor barbeques because you'd like to do more entertaining, then you should really consider outdoor home bars.
Designing with fire isn't only for barbeques. We have posts collecting great ideas for patio fire pit designs and things to consider with backyard fire pits as well as outdoor fireplaces.
Large Backyard Brick Barbeques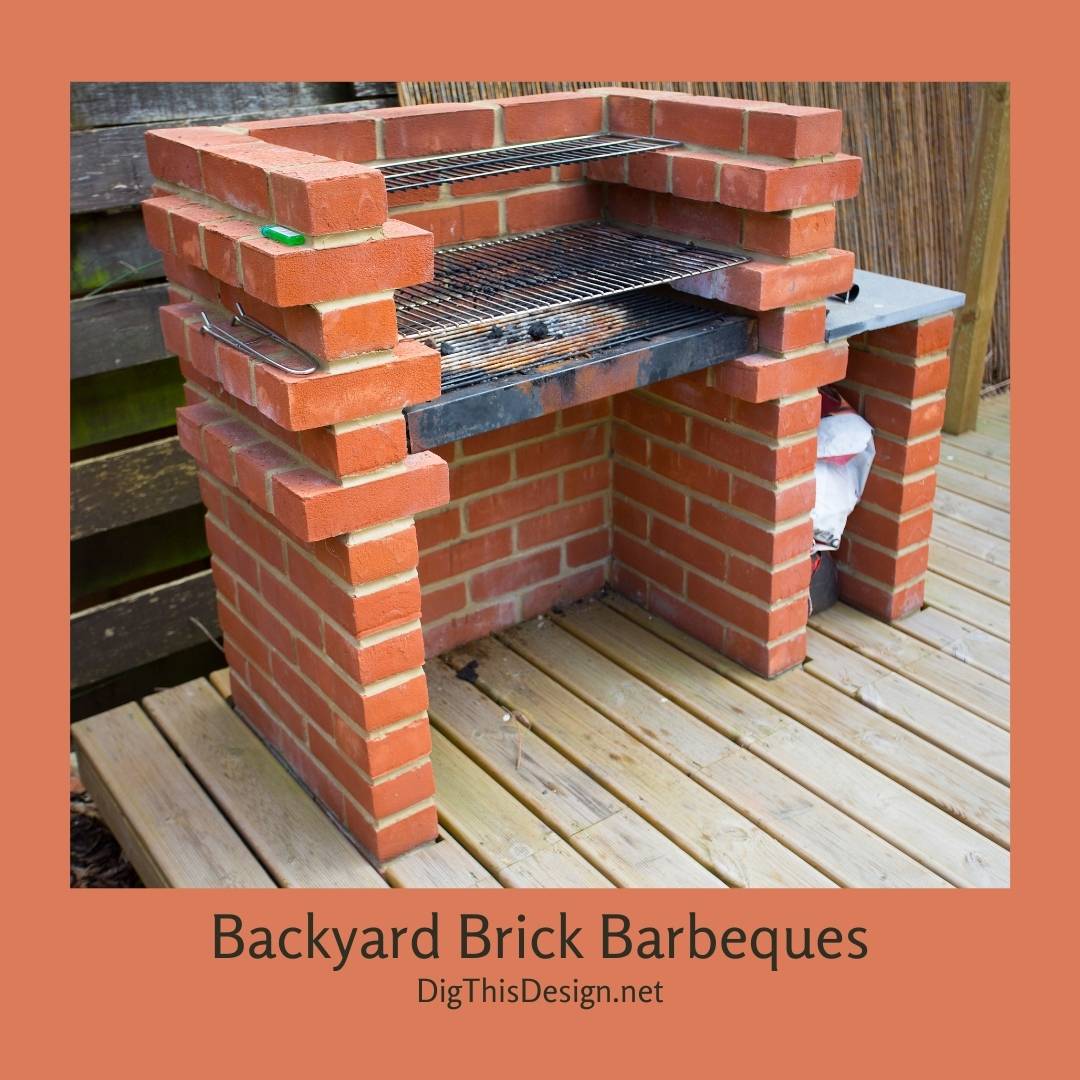 If you're fortunate to have a large patio to design, then a built in brick barbeque and grill to entertain guests and family is a brilliant way to set up your backyard decor.
A large beautiful brick outdoor barbeque is a great inspiration for someone with a large space in their back yard. This masonry work is beautiful and classic.
A custom brick barbeque design is also a great inspiration for a larger backyard and as you can see looks lovely in a rural backyard, but would also be a nice addition to a more modern backyard as well.
Smokers And Grills
When entertaining specifically brick barbeques and grills a smoker is a great addition to your backyard and not entirely difficult to build and make on your own if you find the right or more simple design.
Try a simple and lovely backyard barbeque, smoker, and grill.  The design is clean, neat, and intended for cottage type outdoor decor. Not only is it easy to use, but also easy to build.
This beautiful brick and backyard smoker and barbeque would fit into any simple backyard along with a possibly more rural rather than urban backyard decor as well.
Small Grill Design
Size doesn't almost matter, and not everyone has the space to create a huge bit of barbeque backyard masonry. Below are some backyard barbeque grill designs that are great inspirations for small space coordination.
The backyard brick barbeque featured below is not a permanent structure, but a temporary one that also is relatively easy for a person with limited masonry experience to make in their own back yard.
Images Courtesy of Canva.
Share This Story, Choose Your Platform!