Are you starting to think about selling your Newtown home and starting a new phase of life? Maybe you acquired a better job in a new city and it is time to move on, or you want to downsize after the kids have all moved out. Either way, selling your home is on the horizon and it is time to start thinking about getting great offers from future buyers.
Many aspects affect buyer decisions in residential real estate. Natural appreciation likely raises the value of your home over time. The location of the property also plays a big role in what kind of offers you can get. If you make any improvements to the property, then the value can skyrocket as a result.
One factor that is crucial for getting your foot in the door with interested buyers is curb appeal. The first thing people are going to notice about your home, either on a listing site or driving by and seeing the "for sale" sign, is what the house looks like on the outside. If the home looks decrepit or in disrepair, buyers are less likely to want to see the inside, even if you have done amazing work on the interior.
How to Boost Curb Appeal to Sell in Newtown, PA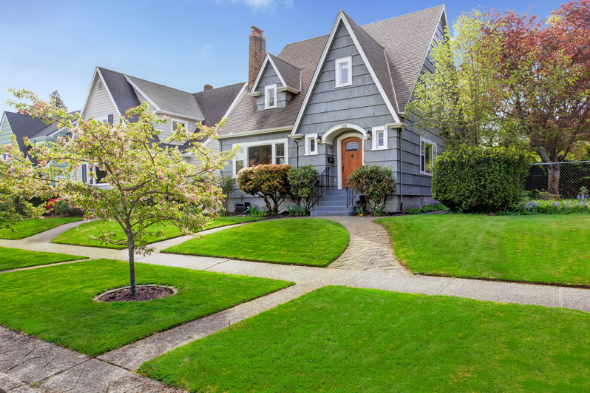 Curb appeal is so important when selling a home, so here are some tips for improving it to entice more buyers to check out your Newtown, PA property.
Power Wash
Power-washing is essentially a power-up for sellers who want to attract interest in their homes. Over time, dirt, grime, and other stains can build up on the siding of a home. This build-up is particularly visible in homes with white siding or other lighter colors and can diminish the curb appeal of a property. However, a quick power wash can quickly eliminate the debris and grime that is present on the exterior of your home. This will present a clean and fresh-looking property that will likely draw in more buyers who will want to see the inside as well.
Updating the Garage Door
A garage door is a significant feature that takes up a lot of square footage on the front of the house. In many cases, old or outdated garage doors can diminish the curb appeal of a property. There are simple updates that you can make to modernize the look of this feature so that buyers like what they see. A wooden pergola can frame the garage door in an aesthetically pleasing way. Adding small touches like fake metal hinges and handles can create a carriage house door effect that is very popular as a trend. These little adjustments can go a long way toward boosting curb appeal and convincing another buyer to set foot through the entryway to consider your home.
Fresh Paint
to Boost Curb Appeal
One of the cheapest projects you can take on is adding a fresh coat of paint. This paint could be applied to the siding, the porch railings, the front door, the shutters, or even the garage door to create a completely new look. Additionally, a fresh coat of paint gives you the chance to up the ante with the color palette of the property's exterior. Not only will the paint make the home look a little newer, but also be a little brighter. Make sure you choose high-quality exterior paint, however, since you want the coat to last through the years for the buyer. 
Build a Deck
If you want to take on a project that could elevate the value of your home as well as its curb appeal, then a new deck is perfect. Ideally, this is a project that you can reap the benefits of as well if you do not plan to sell for a few years. A custom deck can bring unification to your backyard and interior spaces. It gives you and your family another place to sit down for a meal, play a board game, or enjoy a beautiful sunset. You can save money by tackling the project yourself or you could hire deck builders in Newtown to complete the job for you with a professional hand. 
Plant Some Flowers to Boost Curb Appeal
The front of your home has plenty of opportunities to improve curb appeal. One that can add a splash of color and life to the exterior is a garden. Gardens can enhance the aesthetics of a property with vibrant colors and a touch of nature. You could put in some shrubbery to frame the porch, some perennials that will return year after year, or small trees that make the home feel like a natural oasis. Finishing touches like mulch, pavers, and a water feature will surely excite potential buyers with what they see for your home. These aesthetic updates can be more than enough to convince a buyer to check out the property on the inside. 
Don't Be Afraid to Get Creative
If you want to sell your home for the best value and walk away with more profit, then curb appeal is extremely important. You can be creative with how you decorate or upgrade the exterior of the property to entice more buyers. Feel free to research creative ideas on Pinterest or Instagram for inspiration. The better your Newtown property looks from the road or the sidewalk, the more likely you are to receive numerous offers.
Other Posts You Might Enjoy:
5 Ways To Improve Your Curb Appeal
4 Top Tips To Give Your Property Curb Appeal
6 Curb Appeal Projects That Add Value To Your Home
Share This Story, Choose Your Platform!