If you've been searching the web lately for the best deck designs, materials and inspiration, you've probably read a lot about wood vs. composite, various railing types, lighting ideas, built-in kitchens, and stylish furnishings. Yet, if there's one thing you should pay attention to in your new build — it's the deck foundation.
The foundation is the substructure of your beautiful new deck, the area you probably don't see unless you create space beneath it. The beams, joists, footers, posts, and ledger boards that create the grid for your deck boards are most often made of wood and need some TLC for long life. Take time to think through how to get the longest life with add-ons such as butyl tape and annual maintenance. Below, you will find a quick checklist of ways to make your deck foundation last longer.
Make Your Deck Foundation Last Longer with These 5 Easy Tips!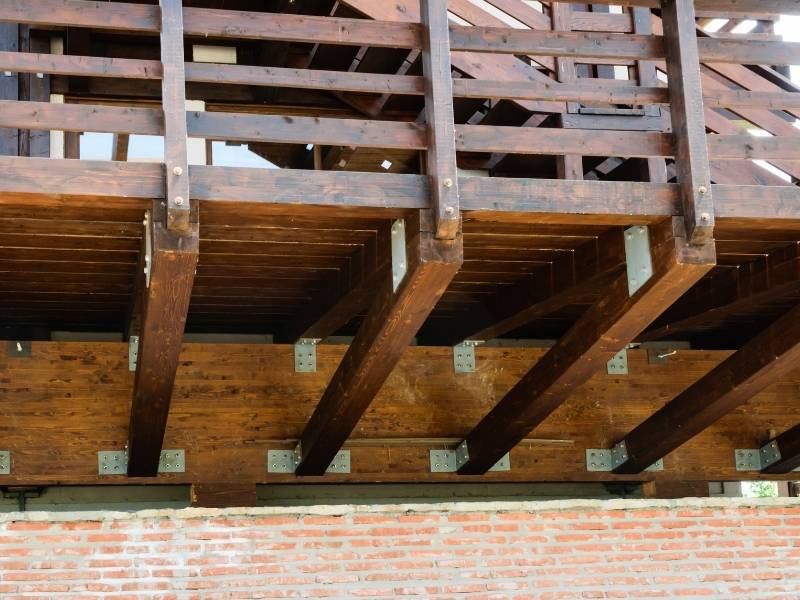 Applying butyl tape.
While your deck is still under construction, install joist flashing tape on your joists, rim joists, and ledger boards to prevent rot and decay. Moisture is your wood's worst enemy and using a joist flashing tape will provide a thin, but effective barrier each time it rains, snows, or sleets on your deck. This is especially important in protecting the ledger board, which helps hold your deck tight to your home.
Another benefit of butyl tape is the protective layer it provides between your treated wood and galvanized metal fasteners. Today's treated wood often contains ACQ which might react with the metal in screws and fasteners. Butyl tape also prevents corrosion and holds deck screws longer and tighter than acrylic or asphalt-based tape.
Sealing the wood.
If you just built a new deck, let it weather naturally for at least a month, and up to six months, before applying a sealant. This allows the wood time to use the protection from its original treatment. However, if you seal it right away, the water will successfully bead up on your boards. Within 6 months, though, the wood needs to be protected. You can even apply a few drops of water onto your boards to see if they bead or soak into the wood.
By sealing the top boards, you're protecting against moisture and rot that could affect your substructure over time. You might opt for a stain with sealant if you want to add color to your wood. Note that you'll need to stain or seal again every 2-5 years, depending on weather and foot traffic.
If you choose to build a deck with composite deck boards, you'll pay more up front, but never have to seal again. Most composite boards come with up to a 25-year warranty and are virtually maintenance free.
Washing the deck.
How does washing the deck — which would seem to only affect the top boards — help your deck foundation? By washing away dirt and debris, especially between your deck boards, you help to prevent moisture from collecting on your substructure, especially during rainy or snowy seasons.
Whether you have composite or wood deck boards, it takes just a little time to protect your deck and make it look nicer. Use a broom, scrub brush, bucket, gloves and garden hose to sweep off and clean off your boards. Use a cleaning solution created for either wood or composite. Use gloves to protect your hands against irritants in the cleaning solution.

Remove everything from the deck, give it a sweep, and remove debris between boards with a putty knife. Wash away the debris and add an environmentally friendly cleaning solution. Avoid a pressure washer unless you use a low setting and fan tip, as high-pressure washing can splinter wood and chip composite boards.

Be sure to rinse thoroughly and allow to dry for 24 to 48 hours before moving furniture back onto the deck.
Choosing a stronger wood.
Treated wood is almost always the best choice for a deck substructure. The treatment protects against harsh weather and insects.
Some tree varieties are more naturally rot resistant. Choose tropical hardwoods such as ipe or old-growth teak for stronger materials or domestic varieties such as Pacific yew, black locust, red mulberry, and Osage orange.
Checking out problems.
If you have an older deck, you should take time annually to inspect your foundation for any potential problems. If you're not sure what to look for, hire a professional builder to inspect your deck. If you want to conduct an inspection yourself, look for:
Darkened, splintered or cracked wood.  Wood can begin to rot as soon as 8 to 10 years after your deck is built. 
Soft spots — check with a screwdriver. 
Deterioration in the ledger board, where the deck connects to the house.
Mildew, which should be removed as soon as possible.
Problematic hardware, such as a popped nail or missing or rusted fasteners and screws.
Signs of insect damage, such as flaking wood. 
In conclusion.
By using butyl tape, sealing the deck boards, keeping the deck clean, choosing good materials, and inspecting annually, you can keep your deck— and its foundation — looking and functioning better, longer. Enjoy your deck this spring and summer and for years to come! If you have any other suggestions, please let us know if the comments below. Also below, you will find links to more fantastic articles about ALL things DESIGN for your home or business.
Images Courtesy of Canva.
Other Posts You Might Enjoy:
Essential Facts for Installing a Deck for Your Pool
The Best Outdoor Flooring to Choose for Style and Practicality
Great Home Improvement Ideas for a Backyard
Fiberglass Diving Pools: A Fresh Look At Designs, Prices, And Reviews
Share This Story, Choose Your Platform!