Do you often feel embarrassed when neighbors see your outdoors in a mess? Perhaps it exhausts you looking for ways how to keep yours outdoors in perfect shape. Thankfully, you can now make an ideal curb appeal with various decorative concrete floors. But where do you begin to find the best outdoor flooring to choose for style and practicality?
Build up the look for your outdoor designs from the basic flooring options in this article. If this interests you, continue reading to learn what flooring material is best for your exterior designs. Also, learn their best features and the costs that you must consider before selecting the best outdoor flooring for your home.
For Affordability & Aesthetic Appeal • Select the Best Outdoor Flooring
What are the two questions that haunt anyone who makes home improvements? They are: how much and how to do it? However, you may be certain that there are affordable options for you. You can also find one that will match your aesthetic preferences.
Natural Flooring Materials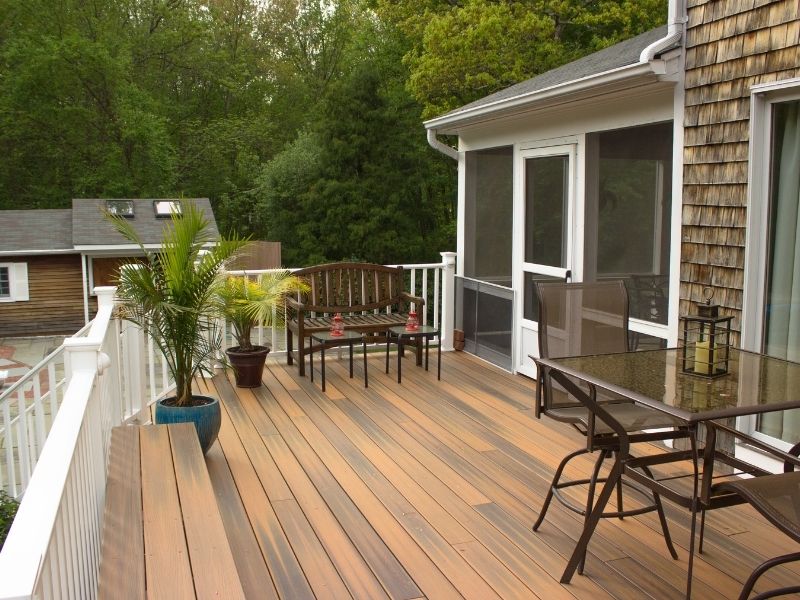 Stone, wood, ceramics, and decorative concrete are durable flooring materials. These are also naturally occurring resources, so it is not difficult for you to access them.
1. Concrete Flooring
In terms of practicality, concrete tops the list. This flooring material both suits the interiors and exteriors. Choosing outdoor floors is quite challenging. You have to determine what will respond well to extreme heat and moisture. The sun's rays and the rains will wear the outdoor surfaces.
Salt compounds can corrode and disfigure the layers of exposed materials. These are unavoidable factors. On the bright side, concrete flooring will adapt and resist any types of harmful chemicals. For this reason, you will often find concrete floors among patios, driveways, and open garages.
2. Hardwood floors
Wooden flooring has been used for outdoor flooring for centuries. The oak tree, cedar, and redwood are the staples among outdoor steps. They are durable, and they bear a timeless look that never goes out of fashion.
The wooden plank patterns create linear designs that give timeless appeal to your patios, porches, backyard, and pool decks. Like the trees growing around outside, the wood surfaces will also stand against any elements that may be harmful to the outdoors.
Having wood as the steps outside also provides you with minimal upkeep. The wooden surfaces look natural and go nicely with the outdoor settings.
3. Bricks and Stones
Bricks and cobbles stones are an age-old path outdoor designers take. Do your DIY designing with these for the exterior spaces, especially if you have time. But if you have a massive area to deal with, you can always call on the pros to finish the job.
Bricks and stones have a distinct look. They create a perfect contrast with a grassy driveway as frames on the edge. These materials also have high durability.
The downside of bricks and stones is that they tend to look dull. To break its monotonous look, be sure to choose something that will match your overall home aesthetic. Deep colors of bricks will match a brick-themed exterior. So, be sure to select the right colors as well.
In terms of maintenance, brick flooring gives you weed woes. Small grass will emerge and crawl on the surface. It is due to the gaps between every block of bricks on the ground.
Synthetic Floors for the Outdoors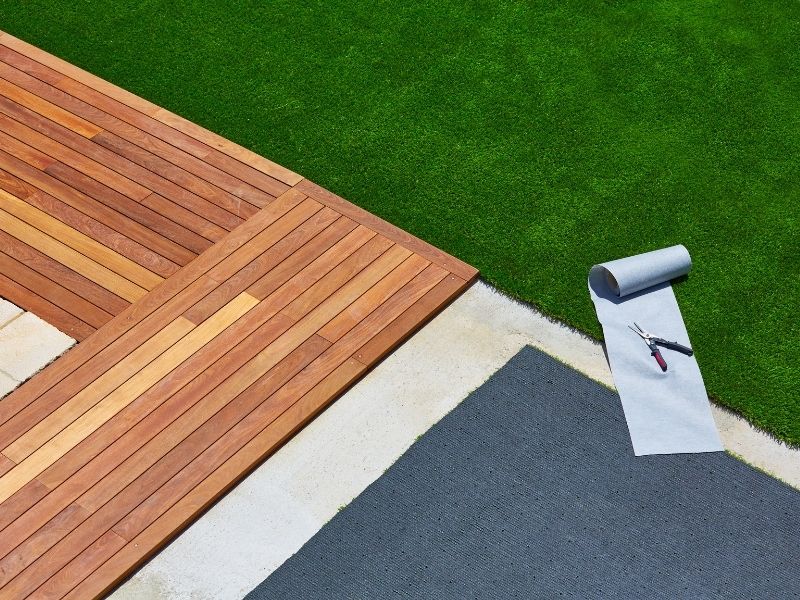 Now, here are some of the cheaper options for you. Using synthetic floors can give you the option of having the look of one material even if it will not suit your area's climate.
1. Synthetic Grass
Synthetic grass is a popular option. Those who use artificial grass enjoy the look of natural green outdoor steps but do not have time to cutting and trimming the yard or lawn.
Grass mats are a popular choice for contemporary driveways. It gives a facade a simply stunning aesthetic. If you live in a hot region, grassy steps and plants outdoors wilt very fast. When this happens, the outdoors look dry, dull, and undesirable.
That is why artificial grass coatings for outdoor floor games to the rescue. The lawn or the yard looks lush and green without knowing that those tiny green needles are not real.
2. Outdoor Carpets
Is it real? That thought maybe the first that comes to your mind. Yes! Outdoor carpets exist. How do they look like and how to use them? To unravel what outdoor carpets are, these are water-resistant, mildew-proof, and mold-resistant materials.
Carpets for the outdoors also give owners more stylish options. The users can decide if they will put on their exterior long-term or temporary only. Here are some standard outdoor carpet options:
Broadloom Carpets
Berber Mats
Carpet Tiles
And other low-pile carpets
You can use outdoor carpets as an area rug for the doorway going indoors from the porch. They can be a wall-to-wall floor coating for the patios, balconies, pavilion, and even garages.
3. Rubber Mats
Do you hate slippery driveways or the rainy front steps keep on gathering water to your front door? Cover the floors with rubber mats that are practical and easy to use. You can also quickly put it down or roll it up when you need to clean or replace it. It's the one you get to choose if you need super water-resistant and high slip-resistant mats for the outdoors.
4. Composite Decks
Composite decks are very popular due to their longevity and attractiveness. You can match the synthetic wood with a San Jose concrete pool deck for an extension on the decks. These materials are specifically created to match a wooden outdoor theme around the swimming pools.
If you own property in a tropical area, then having natural wood for the pool decks is not a wise choice. However, composite decks are perfect. Have the confidence to design your outdoor area with the classic look of wood. Then, don't worry about wear and tear due to excessive moisture and water exposure.
If you have questions or want to suggest another idea, please do so in the comments below. Also below are links that take you to more fantastic articles about ALL things DESIGN for your home or business.
Images Courtesy of Canva.
Other Posts You Might Enjoy:
Best Home Improvement Projects that Increase Home Value
10 Signs Foundation Repair Is Needed
Best Home Improvement Projects that Increase Home Value
Share This Story, Choose Your Platform!