Are you planning a backyard makeover? Whether you want to increase your home's value, add comfort, or do new things for your outdoor area, there's always something you can do. The good news is, there are a variety of projects that suit the novice to the professional home improvement specialist. To give you a little inspiration, today we're bringing you some great home improvement ideas for a back yard.
So, if you're getting that Spring fever itch to get out the tools and do something, we've listed some great ideas below.
5 Home Improvement Ideas for a Backyard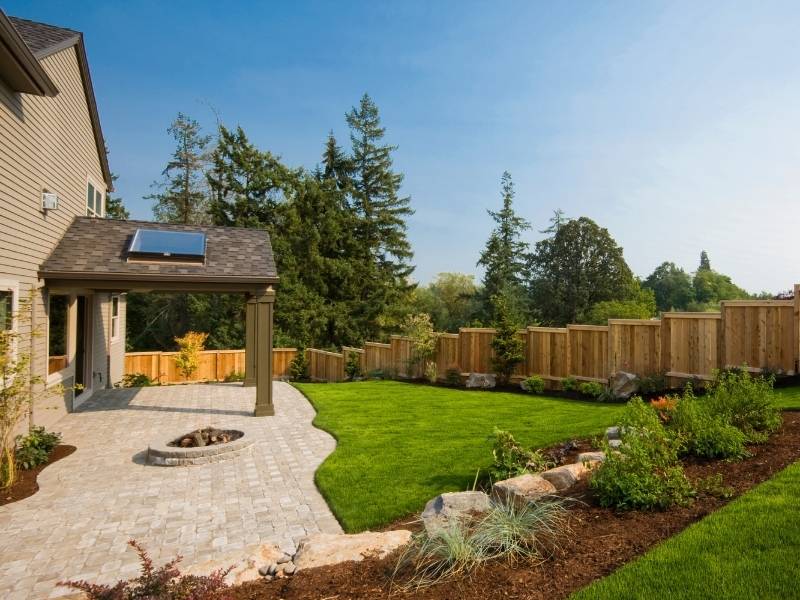 1. Build an Outdoor Deck
If you want to elevate your outdoor area, there's no better way than adding a deck or a patio. Whether you like to dine outside, have some friends over for a get-together, or read and sit back and enjoy the sun, a deck is very beneficial. Not only is it functional, but outdoor decking also transforms how your outdoor space looks. Lastly, decks built with quality decking boards increases your home's curb appeal, which ups the value of your home. 
With that said, there are a few things you must think about when building a deck. One is choosing the right materials. For many, wood is their go-to material for its inexpensive and timeless look. Some go for vinyl and plastic, which are more durable and waterproof. But if you want the best of both worlds, choosing composite decking material is the best. It's long-lasting, low-maintenance, and looks like real wood. 
2. Do a Repaint
Even the smallest changes in your backyard can cause drastic improvements. You don't have to spend a lot to turn your backyard into something beautiful. For instance, a few buckets of paint are significantly less expensive than most home improvements. But with a couple of them, you can turn a regular backyard into a special one. 
Choosing the right paint color can be often tricky. Shades, such as beiges, grey, and whites, go well with most color schemes. You can also be adventurous, and get a pop of color. However, when choosing paint colors, you'll want to make sure it goes well with everything in your backyard. If you are still unsure, you can look and get inspired by different designs from outdoor magazines, articles, and shows.
3. Secure Yourself With a Fence
Out of all outdoor home improvements, one of the best projects you can choose is to build a fence. They provide you and your family with safety, security, and privacy. It's also a crucial design element, which can increase your home's curb appeal. Also, because there are various designs and fencing styles, you can pick one that matches your home's aesthetics.
Again, there are various types of fences from which you can choose. Each has its advantages. For instance, if you value privacy, a privacy fence is your best option. If you don't mind it that much, a traditional-looking picket fence can be up your alley. Another thing to consider is the material you will be using. Like decking, you can either use wood, plastic, or composites. Some also use metals, such as aluminum and stainless steel. 
4. Set Up Some Lights
Lighting is a crucial aspect of outdoor design. After all, how will you see your efforts if there are no lights in your backyard? Even the most expensive and extensive renovations won't matter after the sunsets without any lighting. Like painting, you don't need to spend thousands to illuminate your backyard. You can even do some DIY lighting with some common household materials. 
There are many ways to use lighting to your advantage. For instance, if you have a deck, consider getting decking lights. Not only do they provide safety, but they can also better emphasize your deck. You can also use uplights, string lights, and lanterns to highlight some of your garden's best features. However, there is such a thing as too much. Make sure to pick the right type and amount of lighting depending on your outdoor area.
5. Clad Your Walls
Cladding, also called siding, is adding a non-load bearing material to your exterior walls. The primary purpose of cladding is to protect your home from the weather, such as heavy rains and strong winds. But it can also act as a sound barrier and thermal insulation. In most cases, it is also for fire protection. But that's not all, but it can also make your outdoor walls aesthetically pleasing.
However, when adding siding to your home, it's best to go for high-quality waterproof and fireproof materials. Some of your options include hardwoods, composites, uPVC, and stone brick. You can also use metal, but avoid using aluminum composite and other flammable materials. While many options are low-maintenance, you will need to maintain all cladding to retain their quality. 
Images Courtesy of Canva.
Other Posts You Might Enjoy:
4 Tips to Turn Your Backyard into a DIY Farm
Types of Fences To Keep Skunks and Other Wildlife Off Your Yard
Upgrade Your Backyard This Summer
Share This Story, Choose Your Platform!