The living room design is often considered the heart of the home and is a space where family and friends gather to relax and socialize. Updating your living room design can instantly transform your home's entire ambiance.
Whether you're looking to add a touch of luxury, create a more inviting atmosphere, or refresh your decor, these seven essential items will give your living room design a new and luxurious look. From plush seating options to statement lighting fixtures, these pieces will help elevate the design of your space and bring a touch of a designer's look.
7 Designer Tips for a Living Room Design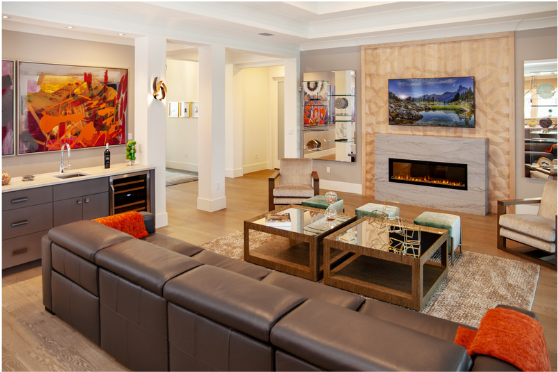 Design by Patricia Daivs Brown Designs
1. A Brand-New Sofa Impacts a Living Room Design
One of the centerpieces of your living room design is a sofa that can make or break the overall look and feel of the room. Therefore, it's important to choose a sofa that not only fits your style but also provides comfort and durability. When selecting a sofa, consider the color, material, and size to ensure it fits in with the overall aesthetic of your living room design.
When placing the sofa, consider the living room design layout and traffic flow. Ensure you leave enough space around the sofa for people to walk comfortably and that it doesn't obstruct any doorways or windows.
When it comes to selecting a sofa, leather furniture is a popular choice for those who are looking for a luxurious look. Leather sofas are comfortable and durable, making them a great investment for your home. Whether you choose a traditional leather sofa with classic lines or a more modern design with sleek, clean lines, this piece will make a statement in your living room.
2. A Coffee Table
An essential visual element in your living room design is a coffee table. It's a place to rest drinks and snacks, display decor, and can even be used as additional seating if needed. When choosing a coffee table, consider the style and size of your sofa and chairs to ensure they fit seamlessly into the room's overall design.
When selecting a coffee table, make sure it's proportional to the size of your living room and that there's enough space around it for people to move freely.
You may choose a coffee table according to your taste with different materials like wood, metal, and glass. For example, Katherine Heigl, a popular American actress, has a glass coffee table in her living room, which is cleverly positioned to hold her snacks. Celebrities are often obsessed with decorating their living room, where the coffee table is one of the must-have elements.
3. An Entertainment Center
An entertainment center is a crucial element in any modern living room, as it houses all your entertainment essentials, such as a TV, speakers, and gaming consoles. When choosing an entertainment center, consider style and functionality to ensure it meets your needs and fits into your overall design aesthetic.
A sleek, minimalist design with clean lines and hidden storage compartments can add sophistication to the room. On the other hand, a more traditional option with carved details and decorative accents can add a touch of warmth and elegance.
When selecting an entertainment center, ensure it's the correct size for your TV and other components and fits comfortably within the room's layout. The accurate entertainment center can create a stylish and functional media hub in your living room.
4. Chandeliers
To add elegant looks to your living room, consider adding a chandelier. A chandelier is a statement piece that can instantly add elegance and sophistication to any living room. When choosing a chandelier, consider the size of your room, the height of your ceiling, and the overall design aesthetic to ensure it fits seamlessly into the space.
Consider a crystal chandelier with elegant drops and sparkling details for a luxurious look. This chandelier can add a touch of glamour to the room and is a timeless classic that never goes out of style.
If you have a modern living room, consider a chandelier with a sleek, contemporary design made of glass or metal, like one in the living room of Tim McGraw and Faith Hill. The two are celebrities from America who love to decorate their living room like other celebrities. Along with all other essential decorative, a gold and brass antique chandelier in their living room adds elegance to the luxury, as per Hello Magazine.
If you have a low ceiling, opt for a flush-mount chandelier or a semi-flush chandelier that doesn't take up too much space. On the other hand, for a spacious living room with high ceilings, a dramatic, large-scale chandelier can create a focal point and add height to the room.
5. Antique Mirror
If you want to create a warm and inviting atmosphere, an antique mirror is the perfect thing to do it. An antique mirror can add depth and character to your living room. Antique mirrors come in various styles, from ornate gilded frames to rustic, distressed finishes, so it's easy to find one that fits your style.
If you're looking for a touch of luxury, consider an antique mirror with a gilded frame and intricate details. This type of mirror can add elegance and sophistication to the room and works well in a traditional or classic-style living room. However, choose a mirror with a distressed finish and a simple, understated frame for a more rustic look.
When hanging an antique mirror, consider the placement of other elements in the room, such as the sofa, coffee table, or artwork. An antique mirror can be used as a focal point or as a subtle accent piece.
6. Area Rugs
Area rugs can serve as the foundation for your room's décor is an area rug. An area rug is a versatile and functional piece that can instantly transform the look and feel of your living room design.
When selecting a rug for your living room design, think about the dimensions of the room and the furniture pieces. A rug should be large enough to accommodate all the furniture in the seating area, with some legs resting on the rug and some off.
Consider a high-end rug made of materials such as wool, silk, or cashmere for a luxurious look. A neutral or monochromatic rug with a subtle pattern or texture can add softness and warmth to the room, while a brightly colored rug with an intricate pattern can make a bold statement.
7. Curtains and Drapes
Curtains and drapes are crucial in any living room, serving practical and aesthetic purposes. They can help control the amount of natural light entering the room, provide privacy, and add texture and color to the space.
Consider curtains or drapes with an ornate pattern or intricate design if you have a traditional living room design. For a modern living room design, opt for clean, simple lines with a solid color or a minimalist pattern. However, many interior designers also follow the concept of 60-30-10, which helps balance the room's color, as per Astravernici.
However, as per the FAQs by Livspace, neutral-colored curtains best match the elegance of the living room design. With the right curtains or drapes, you can create a stylish and functional living room that feels warm and inviting.
Elevate the Look of Your Living Room with These Essential Pieces
Remember, if you plan to hire an interior design consultant to upgrade your living room design, it can add as an additional expense on and over the several crucial pieces that can help you achieve your desired outcome. An article in Forbes mentions that hiring an interior designer can cost roughly $100 to $200 per hour. Thus, if you plan to hire an expert, be ready to pay this much extra for their input.
However, these seven essential pieces can help you transform your living room into a luxurious and inviting space. Each piece can play a significant role in creating a cohesive and well-designed living room, from a comfortable sofa and stylish coffee table to a stunning chandelier and elegant curtains.
With the right combination of furniture, lighting, and textiles, you can create a living room that feels comfortable, stylish, and uniquely yours. Thus, go ahead and incorporate these seven essential pieces into your living room design and elevate its look to a new level of luxury.
Other posts you might enjoy:
Top 4 Minimalistic Interior Designs to Adopt
How to Choose the Perfect Living Room Floor Tiles
How Important is Living Room Furniture?
Share This Story, Choose Your Platform!