When furnishing a home, you could be in one of several situations which could dictate the furniture you have in your living room. Choosing the furniture you have in your living room is important because you generally spend the majority of your time there.
The Versatility of Living Room Furniture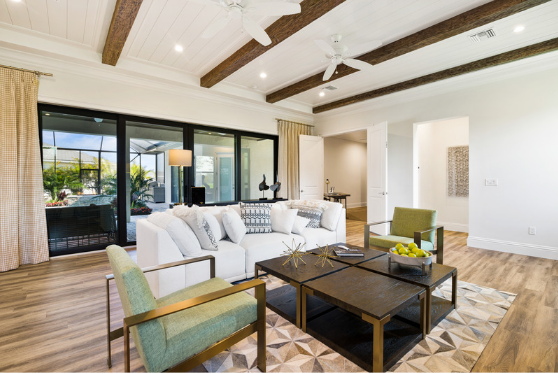 Design by Patricia Davis Brown Designs
Here are tips for how you can maximize your space for your living room furniture:
Shared Accommodation Living Room Furniture
The furniture that you can have in your living room may be limited if you live in a shared space. It is also likely that you will spend less time in the living room and more time in your bedroom when living in a shared house.
Shared accommodation is often already furnished when you move in, removing the opportunity to choose your furniture. Alternatively, each roommate in a shared house may bring an item of furniture leading to a mismatch of furniture.
It is worth noting that if you move into a furnished shared accommodation, you may not have the choice to change the décor or furniture. 
Using Second-Hand  Furniture
When using second-hand furniture you might find it no longer matches a theme or color scheme you like. Thus, we have viewed some fantastic ways of upcycling furniture bought from stores or online. You can refurbish wooden furniture in several ways. There are many online easy-to-follow instructions for all kinds of furniture refurbishing.
If you wish to change the color of upholstered furniture, you can buy throws to go over the furniture.  If you would prefer not to use a throw or if you would like the entire item of furniture to be covered, then you can buy couch covers instead.
Couch covers are widely available online and are often inexpensive in comparison to the cost of a new couch. This option means that you can have all of the furniture in your living room match in color or pattern for the cost of the cover rather than a new furniture set. 
Redecorating
When you look at your living room furniture you might notice it's time to change things up. This could be due to a change in color scheme, or it could be that you are looking for more high-end living room furniture. Buying neutral furniture can often be the best option when decorating or redecorating your living room. This is due to the ability to rearrange the furniture within your living room once the room has been decorated. 
Consider adding little decorations, like wall art or throw pillows to add some extra color.
Decisions About Living Room Furniture When Moving
When moving, you may choose to take your existing furniture with you. Or you may decide to buy all the new furniture. Keep in mind items that are too big for the space in your new home can make the space look and feel cluttered. While having items that are too small for your new living room will make it look sparse. We recommend that when viewing your new home, you take measurements of each room with photographs. 
Planning your move this way will enable you to visualize where each item of furniture will be placed. You will then be able to decide if you need to buy new furniture or will need to donate/sell furniture. 
Other Posts You Might Enjoy
6 Trendy Ways to Organize Your Living Room
Ways to Transform the Interior of Your Living Room
9 Sturdy Organizers for Your New Renovating Living Room
Share This Story, Choose Your Platform!