9 Sturdy Organizers for Your Newly Renovated Living Room

canva
Looking for sturdy organizers for your living room? It's an exhilarating sensation to decide about the furnishings and design for your new home. Cleaning and organizing your home is essential for keeping track of what you have and need. However, living in a cluttered and unorganized environment costs more than just your sanity. Having a place where you can easily find things when you need them saves time and effort. Organizers can be helpful if you're dealing with a lot of sentimental attachment to your belongings. 
9 Sturdy Organizers for Your Newly Renovated Living Room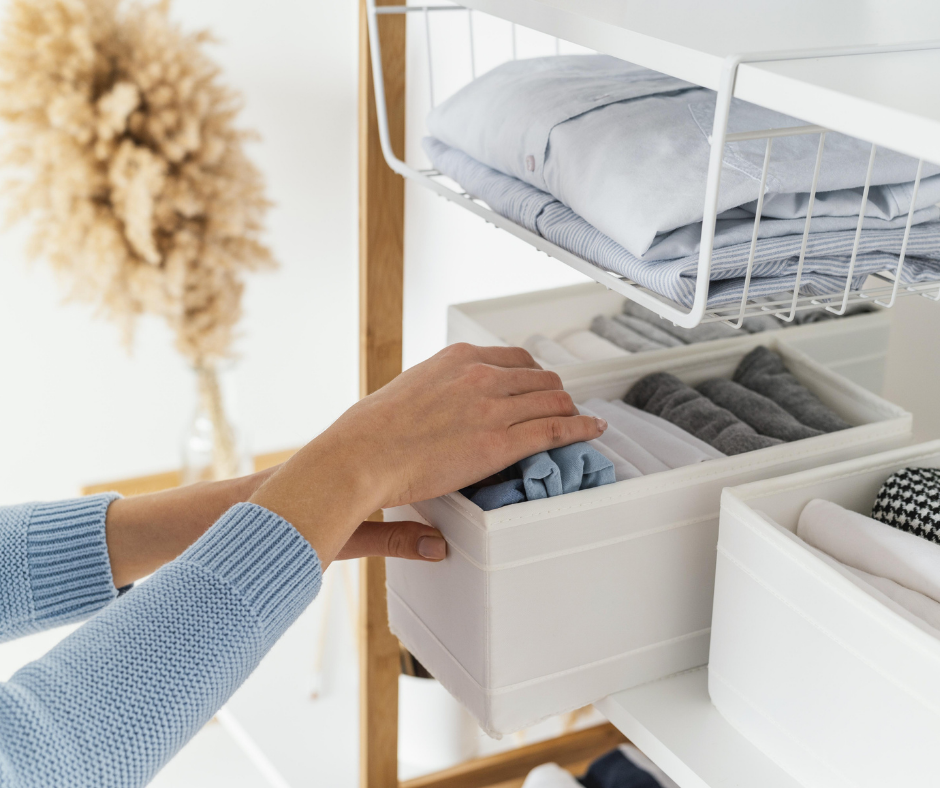 Organizers can help you keep your belongings while allowing you to decorate your newly renovated home. Refurbished homes benefit from sturdy organizers such as these, hanging wall baskets, plastic drawers, and countless more can help you make the most of your house space. As a result, we've put together a list of things to consider when acquiring your new home to provide you with a clear picture of what you'll need. 
This handy shoe organizer under the bed or in the closet keeps your favorite shoes looking their best. This sturdy under-bed storage system is a must-have for any shoe-obsessed home. Opting for transparent storage drawers would be great since the transparent lid would allow you to see what's inside of them. The permeable material ensures that your shoes are always free of dust and odors. 
It will keep dust and moisture out of the shoes if it has a zipper. Even if you believe it, that won't alleviate your storage concerns. It is possible to store socks, keys, sunglasses, and other necessities in the shoe organizers. As a result, it's ideal for people trying to make the most of a small area.
Mounted Jewelry Organizer
The rack includes 21 hooks for jewelry hanging and a retractable bracelet rod for displaying bracelets. There is also a place for rings and studs and an area with white mesh to hold earrings. The Wall-Mounted Jewelry Organizer is a solid option. An old wood jewelry wall organizer with a carbonized finish has a rustic, classic aesthetic that is suitable for various settings. An added benefit of this jewelry organizer is the retractable storage drawer, which has two uses. Make a central location for all of your belongings.
To keep your bedroom neat and organized, this collection of storage containers includes fabric cube storage bins, cube baskets, compact organizing bins, and foldable storage cubes. Make transportation and storage a snap by compressing this item while not in use. Cubby storage boxes make it simple to store clothing, games, toys, art supplies, etc. Due to their construction of PP food-grade polymers, they're lightweight, waterproof, and trendy. It is possible to fold and store them when they are not used.
Nightstand with Side Table
This organizer table is a must-have for the newly remodeled home! You could call it a multitasking bedside table because it can do many different things. As a laptop computer table, a bedside table, or a reading desk, it's versatile. Using this rolling table as a laptop table is as simple as rolling it out of the way. Regardless of where or how you sit, this table organizer will allow you to work comfortably.
This bedside table is strong enough to store a large number of items. In addition to open storage, it has a large drawer with an adjustable handle for stowing away books and other large items. You won't have to worry about replacing this table organizer for a long time.
Keep your most commonly used goods close at hand with an over-the-door organizer. Hang them on the doors of your closet, bathroom, pantry, or any other room to add more storage space to your home. The clear pockets of an over-the-door organizer will make it easy for you to keep your work materials organized. Organizing jewelry and cosmetics by kind (pencils, lipsticks, and eyeshadows, for example) is a great way to make things more accessible and easier to see. They're ideal for storing children's toys, footwear, clothing, and beauty supplies.
If you don't know what you're getting, the Slim Storage Cart Mobile Shelving Unit Organizer is what you need. With a mobile storage cart, you can maximize your limited space. When it comes to organizing your home, a slide-and-out shelf unit is a great option. The storage cart's smooth-rolling wheels make it easy to go in and out of tight locations. The shelf unit organizer is made of plastic and stainless steel and is durable and long-lasting.
In an organized kitchen, food storage containers keep foods fresh while also organizing the space to make it easier to find what you need. With its modular design, organizing your pantry and kitchen is a breeze. These containers are safe to use in the microwave, freezer, and dishwasher because of their sturdy structure and sealed lids. 
Hanging shelves like this one come in durable fiberboard and can be easily removed, cleaned, and reinstalled by the user. Consider purchasing this set of hanging closet storage shelves as a temporary solution to your furniture quandary. Because of its small size, it might help alleviate your space constraints. Towels and linens can also be stored on this rack, making it a versatile piece of equipment. People can hang this organizer in any place they like.
Use these storage containers to store all your books, toys, clothing, and other belongings in order. Woven textures that require little time and effort are ideal for compact spaces. In addition to offering storage, it has handles that make it easy to move around the house. They're perfect if you're looking for something elegant but understated to add to your closet. You may create an ethereal retreat in any room of your home by arranging these things on the floor.
Conclusion
A newly restored home can benefit from these sturdy organizers. The list will make it easier for you to keep track of all of your stuff so that you may enjoy your tiny abode to the fullest. You should keep these items in your home as a reference guide. Save your money and time by shopping at Storables.com instead of buying inferior products.
Other Posts You May Enjoy:
How to Mitigate the Challenges of Working from Home
Organizing Your Garage With Storage Solutions
3 Ways to Bring Natural Style Into Your Beautiful Home
https://digthisdesign.net/wp-content/uploads/2022/05/Sturdy-Organizers-facebook.png
788
940
McKenna Tucker
https://digthisdesign.net/wp-content/uploads/2022/11/OLD_DigThisDesign_logo-300x225.png
McKenna Tucker
2022-05-31 16:46:59
2022-05-31 16:46:59
9 Sturdy Organizers for Your Newly Renovated Living Room