The living room is often the heart of a home. Because of this, it is important to choose living room floor tiles that are both aesthetically pleasing and right for your home. You must consider your needs and budget. 
Tips for Choosing a Living Room Floor Tile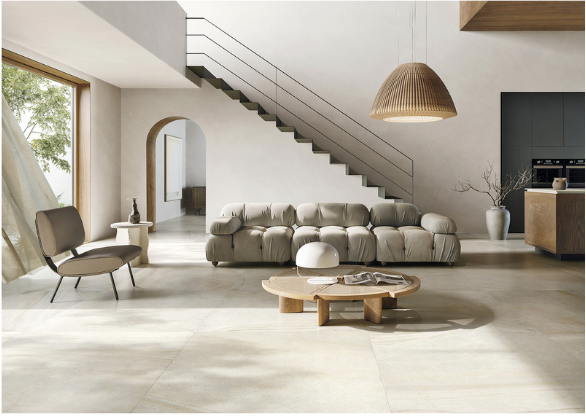 Here are some things to consider when deciding on flooring tiles for your home:
The Different Types of Floor Tile
Today's flooring market offers a wide variety of floor tiles. The most common varieties of tiles are made of ceramic, porcelain, and stone. It's critical to select the appropriate tile for your particular needs because each type has a different set of advantages and disadvantages.
Ceramic Tiles are one of the most popular flooring materials available today. They are made from natural clay materials, making them durable and resistant to wear and tear. In addition, they come in a wide variety of colors and styles. 
Porcelain Tiles are another popular type of tile often used in living rooms and other high-traffic areas. Unlike ceramic tiles, porcelain tiles are made from a blend of natural clays and minerals, which makes them extremely durable and resistant to scratches and stains. They also come in a wide range of colors and styles, making them a great choice for any room in your home. 
Stone Tiles are another popular type of tile used in living rooms or any other part of your home. They are made from natural stone materials, making them extremely durable and resistant to wear and tear. Stone tiles also come in various colors and styles.
Consider the Function of Your Living Room
 When choosing living room floor tiles, it is important to consider the function of the living room. 
Some tiles will suit your needs no matter what type of living room you have. If you're looking for stylish and durable tiles, consider porcelain or ceramic tiles. These tiles are water- and stain-resistant, making them perfect for busy living rooms.
If you're looking for comfort underfoot, consider cork or bamboo tiles. These natural materials are soft and warm underfoot, making them perfect for family rooms.
And if you're looking for easy-to-clean tiles, consider vinyl or linoleum tiles. These materials can be easily cleaned with a damp cloth or a mop.
Tips for Deciding on a Living Room Tile
When it comes time to renovate your living room, one of the most important decisions you'll make is what type of flooring to use; floor tiles are a popular option because they're durable, easy to clean and come in a variety of styles, and colors. If you're thinking about installing living room floor tiles, here are some tips to help you get started:
Decide On A Style

. There are several different types of floor tiles to choose from, so take your time and decide which style is right for you. 

Choose The Right Color

. Once you've decided on a style, you must choose a color that will complement your living room decor. Neutral colors like beige, black, brown, and white are always a safe choice, but you can also choose a color that matches your walls or furniture.

Measure The Space

. Before you purchase any tiles, measure the space where they will be installed. This will help you determine how many tiles you need and what size to buy.

Order Samples

. If you're unsure which color or style to choose, it's a good idea to order samples before making a final decision. This way, you can see how the tiles look in your living room and ensure they're the right fit for your space.

Hire A Professional Installer

. While DIYers can install living room floor tiles, it's always best to hire a professional installer who knows what they are doing. A professional installer will ensure that your tiles are installed correctly and look great in your living room.
Other Posts You Might Enjoy
The Versatility of Living Room Furniture
How to Make Your Living Room Look Luxurious
Ways to Transform the Interior of Your Living Room
Share This Story, Choose Your Platform!