Are you proud of your living room's look? As time goes by, the living room is often the first space in our homes that starts to feel dated and in dire need of a refresh. Since it's the place that welcomes guests into our homes, we want it to make a good impression. We'll discuss a few ideas to make your living room look elegant and luxurious. Whether you want to go all out or keep it simple, these ideas will help you achieve the look you desire.
6 Tips to Make Your Living Room Look Luxurious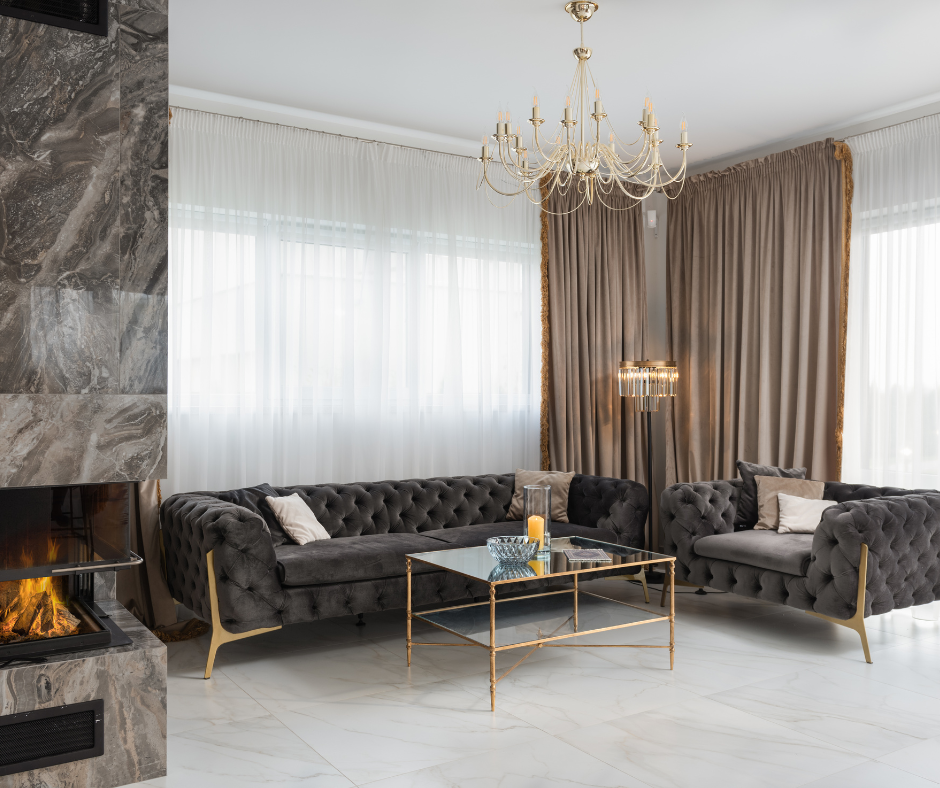 1. Consider Decorative Molding
One way to add an instant touch of luxury to your living room is to install decorative molding. This is a fairly simple and inexpensive project that can be completed in a weekend. Or, if you don't feel like doing it yourself, there are plenty of companies that offer this service. Decorative molding will give your living room a high-end look that is sure to impress. There are lots of designs to choose from, so you can find something that fits your style.
2. Add a Chandelier
Chandeliers speak of luxury and sophistication. They add a touch of elegance to any room, and they will impress your guests. When someone walks into the room and sees a beautiful chandelier, they will automatically think that the space is more expensive than it actually is. Chandeliers come in all shapes and sizes, so you can find one that fits your room perfectly. Just make sure to get the right size for the space, or it will look out of place.
3. Install a Fireplace
If you don't already have a fireplace, consider installing one. Not only will it add a touch of luxury to your living room, but it will also make the space more inviting. Guests will love gathering around the fireplace, and it will become the focal point of the room. Consider a modern fireplace instead of a traditional masonry one. They are much easier to install and can be placed just about anywhere in the room. A ventless gas fireplace is an excellent option if you're looking for something that is easy to use and doesn't require a chimney.
4. Get Statement Mirrors
Mirrors are a great way to make a small living room look bigger and more luxurious. They reflect light, making the space appear brighter and larger. Hang a large mirror above the fireplace or sofa, or use a grouping of smaller mirrors to create a collage. Statement mirrors are an exceptional idea to add some personality to your living room and make it look more expensive.
5. Incorporate Metallic Accents
Metallic accents can add a touch of glamor to your living room. Use them sparingly, however, as too much can look tacky. Choose one or two metallic accent pieces, such as a lamp or vase, and use them to add some sparkle to the room. You can also use metallic paint to create an accent wall or highlight certain architectural features.
6. Select Comfortable, Yet Elegant Furniture
Your furniture should be comfortable and inviting, yet stylish and elegant. Opt for pieces that are well-made and will stand the test of time. Leather furniture is a good option for a luxury look, and it's also very durable. If you can't afford all leather furniture, try using it as an accent. For example, use a leather ottoman as a coffee table or get a leather sofa with fabric chairs.
These are just a few ideas to make your living room look expensive and luxurious. With a little creativity and effort, you can transform your space into a place that you and your family will love. Get started today and see what you can do to take your living room to the next level.
Other Posts You Might Enjoy:
5 Budget-Friendly Ways to Create Your Dream Bedroom
Eco-Friendly Home Decor | Follow These Helpful Tips
Top 8 Fabulous Home Decor Shops in Miami
Share This Story, Choose Your Platform!