Adding minimalistic interior designs to your decor can be an easy and stylish way to make your space feel modern and inviting. Minimalism is all about creating a beautiful aesthetic with fewer elements, allowing each piece of furniture and decor to stand out and make a bigger impact. From statement pieces to classic colors and textures, there are plenty of minimalist interior design ideas you can try out.
4 Minimalistic Designs to Try in Your Home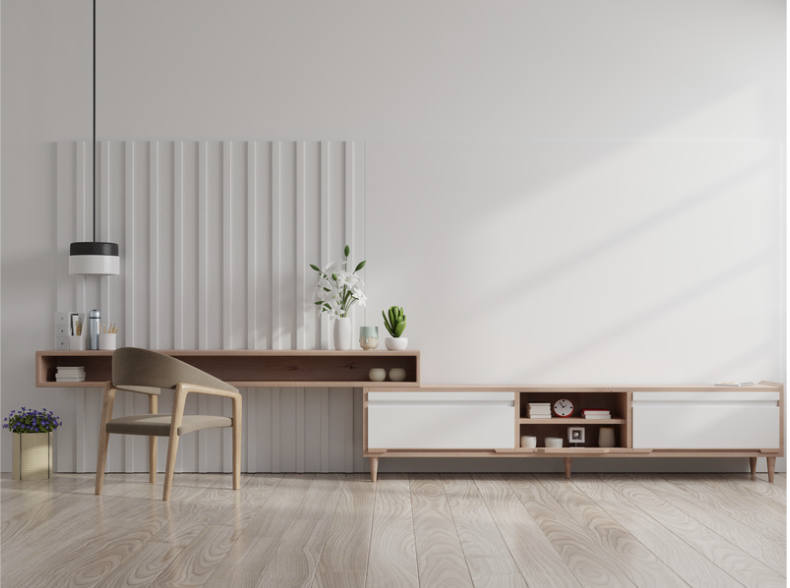 This article will give a detailed breakdown of some of the best minimalist interior designs to refresh your home. 
Scandinavian Design
The key to achieving a successful Scandinavian-style design lies in cleanliness, natural materials like OPPEIN Quartz stone, and a neutral palette. Wood flooring and white walls are the perfect combinations for a minimalist look. Textures like wool and cotton should be used for upholstery and accent pieces to create a cozy atmosphere.
Regarding furniture, Scandinavian design is all about comfort and practicality. Sleek, low-profile sofas, armchairs, and coffee tables are popular choices. For accents, mix and match geometric pieces with more organic designs to create visual interest without overwhelming the room. 
To complete the look, bring in some natural elements like plants or flowers to add life to your space. Natural lighting is also essential for achieving that airy, minimalistic feel. Keep the windows uncovered, or use sheer curtains to let in plenty of light.
For Balanced Harmony, Minimalistic Designs Try Japanese Zen
The Japanese Zen-style home focuses on harmony and balance between the room's elements. Use light and airy fabrics such as linen or cotton to provide subtle texture and warmth. Decorative items should be kept to a minimum, as clutter can detract from the feeling of tranquillity. Choose muted colors to emphasize the peaceful atmosphere further. 
Lighting is key in achieving a Japanese Zen style. Natural lighting is ideal, but if you do not have access to it, incorporate floor and table lamps to provide dim and diffused light. This will create a peaceful ambiance without taking away from the minimalistic aesthetic. Opt for earthy decor pieces such as wooden furniture and pottery to bring an organic feel to your home. 
The main takeaway for creating a Japanese Zen-style home is to focus on creating a harmonious atmosphere. You can transform your home into a tranquil and peaceful sanctuary by using natural elements, a recycling water piping system, and soft lighting.
Contemporary Minimalism
If you want to bring a modern touch to your home, contemporary minimalism is the way to go. This style combines sleek lines, muted colors, and natural elements to create an inviting yet contemporary atmosphere. 
When it comes to furniture, opt for pieces with clean lines and neutral tones. Neutral tones such as white, grey, beige, and black are all staples of this style. Also, focus on incorporating organic materials such as wood, leather, wool, and natural stone for a more textured look. To add depth and texture to the overall look, use a mix of textures from different materials. 
In terms of decor, opt for simple pieces like small sculptures, geometric designs, and wall art that will bring life to the room without removing the minimalistic feel. You can also incorporate lighting pieces that have an industrial touch. 
The main goal of contemporary minimalism is to keep the space simple and clutter-free. Instead of adding too much décor, focus on creating a cozy, modern, and chic atmosphere. 
Industrial Chic
This style is ideal for those who want to add a touch of sophistication to their home without going overboard. By keeping the furniture and decor minimalistic and cohesive, you can create a cozy yet modern atmosphere that looks sleek and polished. Consider adding statement pieces like an oversized light fixture or a chandelier to make your industrial chic interior stand out. With these elements, you can make your living space look chic and contemporary while still paying homage to the classic industrial style.
The Bottom Line on Minimalistic Designs
Adopting a minimalistic interior design is simple. There are options you can choose from to keep your home sophisticated yet simple. Whether you are looking to work on a budget or splurge, your minimalism will be classy.
Other Posts You Might Enjoy
How to Choose the Right Lighting For Your Needs
Fresh Green Plants for a More Livable Interior
How Important is Living Room Furniture
Share This Story, Choose Your Platform!