When it comes to designing your kitchen, practicality, and convenience must always come first. Nonetheless, this shouldn't imply that you can't use your imagination to add a character and charm to your kitchen! 
To begin, it is best to be proactive in choosing the design of your cooking space because your builders focus more on function rather than design for your kitchen.
Likewise, allowing your builders to know your budget and style preferences help them look for affordable and suitable materials and finishes. Alternatively, if you prefer to DIY this project, do your research and use the right equipment to ensure safety and renovation success.
If you're searching for answers to add character and charm to your kitchen, we invite you to continue reading to learn four easy design tips.
Add Character And Charm In Your Kitchen With These 4 Easy Design Tips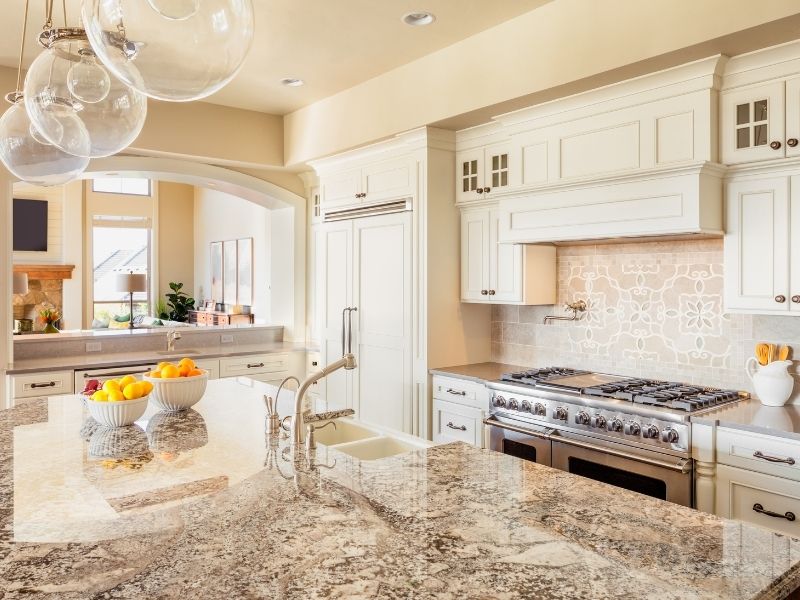 Design ideas for your kitchen.
If you're currently on the lookout for design ideas and kitchen inspiration, you are in the right place. Whether you plan to spruce up your furniture or revamp your entire cooking area, below are ways to add character and charm to your kitchen.
1. Add wooden elements.
For some homeowners, looking for ways to match the hues and elements of their kitchen is tiresome. However, with all the new design trends popping, you don't have to make everything cohesive.
For instance, you can have an all-white kitchen and add wooden cabinetries to add a rich character to your space. This serves as a fun focal point. Likewise, the presence of wood makes your kitchen warmer and cozier. 
If you're going for a vintage kitchen theme, consider rustic countertops. Alternatively, you may also paint a wall in faux wooden color. In fact, you can choose among rustic mahogany, brown oak, and other earth-toned shades.
2. Install decorative lighting.
It's typical to have ceiling lights and task lighting to support your cooking efforts. However, your lighting fixtures don't have to be boring. Installing additional lighting fixtures for visual appeal is a surefire way to add charm. For instance, you can choose lights that highlight and define areas in your kitchen. You can even opt for an elegant chandelier for instant flair.
On the other hand, try installing hanging pendants or big lanterns to achieve that extra wow factor. Depending on your priorities and budget, you might also take inspiration from your current kitchen motif and purchase fixtures that complement it.
Alternatively, try mixing different colored lights to match your kitchen's color palette and transform the ambiance of your cooking area. 
3. Choose an elegant wallpaper.
If you prefer to DIY your kitchen renovation, adding wallpaper is one of the top and trendy ways to breathe life into your cooking space. For a subtle look, try pretty wallpapers with dainty designs that resemble the rest of your kitchen design.
You can also opt for soft brick and similar stone-inspired wallpapers if you're going for an urban kitchen. Integrating textured elements in your wallpaper helps add visual depth and interest to your cooking space.
If you're going for a rustic theme, choose among timeless wallpaper designs that remind you of your grandparent's house. In fact, there are businesses that can help you customize a wallpaper design that matches your preferences.
Alternatively, try bright-color wallpaper and apply it to one area, turning it into your accent wall. With a volume of design options available, you will surely find one that helps you transform the look of your kitchen.
4. Incorporate floating shelves.
Floating shelves are affordable and easy to install. At the same time, adding them to your kitchen helps you display your favorite design pieces, impressive cookbook collection, and aesthetic yet functional kitchen utensils. For instance, you can place your mason jars, artistic plates, chopping boards, potted plants, and even your favorite family picture.
Because they're open, they can look quite spacious. While it can be tempting to occupy your shelves with random sorts of pieces, try to be strategic with your arrangement. Keep everything neat to allow each item to shine.
Depending on your intentions, you can either choose to organize your pieces according to their function or color. You can even exhibit your artistic pieces in ascending order. There's no rigid rule—when it comes to designing your kitchen, have fun and allow your imagination to take you to places.
The bottom line.
So, whether you want to change your color scheme or replace a few furniture pieces, you can easily add character and charm to your kitchen. Follow these tips and you will be well on your way to a successful project. If you have any further questions or suggestions, we always love to hear from you in the comments below. Also below are links to more interesting articles about ALL things DESIGN for your home or business.
Images Courtesy of Canva.
Other Posts You Might Enjoy:
Fixing and Repairing your Denton Texas Kitchen Appliances
Kitchen Renovations for a Fabulous Space for the Whole Family
4 Kitchen Design Hacks To Support A Healthy Lifestyle
Reasons to Install Glass Cabinets in Your Living Room and Kitchen
Share This Story, Choose Your Platform!