When you decide to remodel your home interior, the first thing that comes into your mind is your living area or a bedroom. Usually, we forget to decorate our kitchens, but we must not ignore them. You can renovate it or decorate it with some simple ideas. Doing these simple alterations in your living room or kitchens, will make your home a luxury! With the help of living room and kitchen glass cabinets you can take your entire home to the next level.
You may know that the glass and mirrors add beauty and elegance, whether it's a bathroom, bedroom, living area or kitchen. Moreover, they add a spacious feeling even in small living rooms or kitchens. Therefore, we recommend that you go for glass cabinets in order to decorate your living room or kitchen. You might be thinking WHY to go for Glass cabinets instead of wooden ones? Well, we invite you to continue reading for the answers.
Installing Glass Cabinets in Your Living Room and Kitchen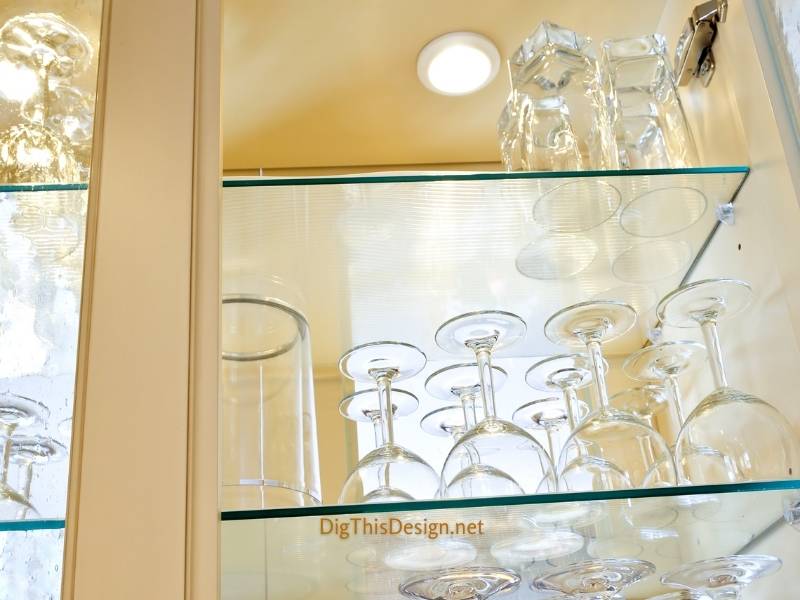 ⎆ Reasons to Install Glass Cabinets
• Brighten up dark spaces.
Use of glass cabinets is helpful to lighten up dark living rooms or kitchens. Sometimes, we have too much furniture that prevents or blocks the natural light. Interestingly, these glass cabinets allow the reflection of light, which illuminates the entire space. So, lighten up your dark spaces with glass cabinets and save energy.
Addition of mirrors is a plus point and that's quite optional. Again, it's totally up to you if you want to add mirrors on the back wall of cabinets. It helps to lighten up the kitchen or a living room as well as giving a sense of spaciousness.
• Create space in small living rooms.
Glass and mirrors gives the illusion of more spaciousness, although it's just a reflection. Moreover, creating a sense of larger living rooms or kitchens adds more beauty to your house and gives a cozy atmosphere.
• Prevents kitchen cabinets from greasing and damaging.
Especially in kitchens, everything appears greasy after sometime, so you need to wipe off this grease frequently. Wooden cabinets are far more difficult to clean up when there is a layer of grease on it, as compared to glass cabinets. Having a smooth and shiny surface, glass has the properties that you can clean easily.
Additionally, after some years, wood on cabinets loses its color due to continuous interaction with grease from cooking. That's why we recommend replacing your wooden cabinets with glass ones.
• Easy visibility and access to what you need.
It's quite clear that glass cabinets allow you to have easy access to everything because you can see it. So, you can find everything without creating stress.
Now that we know why to choose glass cabinets over wooden ones, here's another idea. Do you know that you can decorate your living room and kitchen cabinets?
⎆ How to decorate outer surface of glass cabinets.
• Glass cabinets with wood lining.
These types of glass cabinets are mostly preferred because they add elegance as well as ease in maintenance. In kitchens, you can go for glass cabinets with wooden material, like you can add wood to its corners or to line up a glass for a visible partition.
• Use moveable stainless steel glass cabinets for longevity & partition!
In order to add a classy touch to your living rooms, we recommend going for moveable stainless steel glass cabinets. You can place these stainless-steel glass cabinets to separate or split up a living room in two. As it's moveable you can spit a room into two or even remove it and adjust it to a corner, whenever you need a large space.
Stainless-steel will provide durability and glass will help to lighten up a living room by reflecting lights. You can store your favorite decoration pieces in it or even make it a moving library.
• Apply Decorative Laminate on glass cabinets for traditional touch.
If you want some traditional look in your kitchen cabinets, try decorative laminates on the edges of glass cabinets. They'll add beauty and security to your glass cabinets, it's totally up to you whether you want to go with a sleek and stylish decorative laminate or a shimmered one. Choose it according to your entire theme.
For what purposes and where you can use glass cabinets
• Create moveable little library.
You can create or buy a moving glass cabinets rack and place it in the middle of a living room. It will help to separate the dining area and a living room. You can keep your entire collection of books in these glass cabinets, it will serve as a small moveable library.
• Store entire crockery.
In the kitchen glass cabinets, you can store your crockery or other edible stuff with clear visibility. When you are in a rush to serve a meal immediately, you get easy access to the things you need.
• Decorate living room with your favorite Decoration pieces.
Make your living room a little classier by decorating it with elegant and unique decor pieces. You can store antique pieces and by adding lights in each corner, it will give an image of a small but your own, museum. So, simply try to add more beauty to your modern living rooms.
• Create your own moving bar.
You can create a small moving bar with the help of moveable glass cabinets. For this purpose, go for white or black wood and add the equipment to create a bar. You can place it in the middle of a living room or in a fireplace corner, to enjoy a sense of luxury.
In conclusion.
We hope you enjoy this guideline on reasons to install and how to decorate glass cabinets. Of course, you can go for wooden or steel linings. Or, perhaps there's another option, decorative laminate. Here we recommend the best online store from which you can get quality glass for your cabinets.
If you have any questions or suggestions, we always love to hear from you in the comments below. Also below are links that will take you to more fantastic articles about ALL things DESIGN for your home or business.
Images Courtesy of Canva.
Other Posts You Might Enjoy:
4 Tips for Buying the Best Kitchen Cabinets in Kelowna
Remodeling on a Budget • Tips to Create a Dream Living Space
4 Excellent Ways to Create a Rustic Look in Your Home
Share This Story, Choose Your Platform!