When deciding what design style you want to showcase in your home, first consider what makes you feel the most comfortable. Many people are leaning towards industrial or urban decor and design because of the crisp, clean look they provide. However, some people want to learn how to create the rustic look for a cozier, more relaxing design.
After all, we love those cabinets and minimalist furnishings that the industrial look is so known for. Still, there's something about the warm richness of a rustic interior or exterior, that feels inviting. If you're searching for some rustic inspiration, here are some tips for how to create a rustic look for your own home.
Create a Rustic Look in your Home with These 4 Inspirations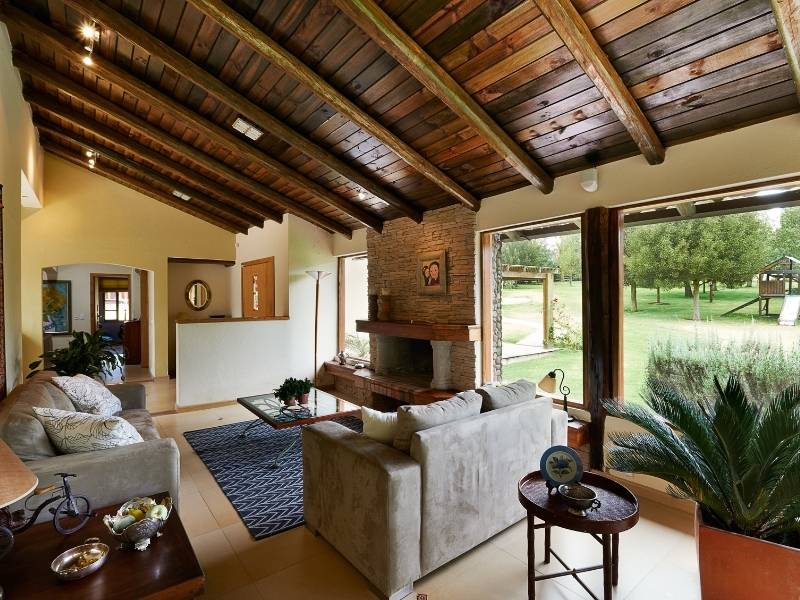 Focus on Materials, Colors, and Textures
The main reason why many fall in love with the rustic look is that it feels so homey. This is because of the variety of materials, colors, and textures that influence a rustic home. The urban look focuses more on straight lines, paler color palettes, and "stale-like" materials, rustic design infuses curved lines, warmer colors, and different types of materials to create a bolder looking room.
1. Use wood to create a rustic look.
Wooden elements are some of the most important features in a rustic home. Wood is one of the main components that helps transform a room from stale to cozy. Wood floors, tables, exposed beams, and wall decorations will provide that rustic aesthetic — almost as if you're in a log cabin.
If you really want to create authentic wood impressions inside or outside your home, it's best to use reclaimed wood or even scrap wood. Cutting, sanding, and staining wood yourself ensures that you end up with a unique piece of furniture such as a coffee table or kitchen table.
For DIY woodwork, you need a table saw that's easy to use. This review from woodsmithspirit.com offers some great suggestions for the best saw tables for beginners. 
You don't have to have a ton of wood throughout your home, but it's definitely one of the best materials to use for this look.
2. Stone and brick are perfect to create a rustic style.
Other natural materials to consider are stone and brick. These make fantastic fireplace materials, which is an important factor to consider when designing a rustic home. Who doesn't think about snuggling up by the fireplace with a blanket and a warm mug when they think of a rustic house?
Consider using stone in your bathroom as well. It adds a nice texture and luxury element. Also, if you have the option for brick decor in your home — do it! Natural brick that's exposed inside the house adds an aesthetic element that's a true treasure for rustic design.
3. Use the right colors for eye-catching contrast.
Many people might assume that rustic means dark. However, you can achieve a rustic look without feeling like you're in a cave.
The trick of the trade is to have contrasts. Neutral tones are a great way to start, and then adding in richer toned decor and textures will help warm a space up. Think of a room like a canvas — start with lighter colors and textures before dark ones. When you're ready for those richer tones, think of shades like navy, red, green, and auburn.
Rustic colors, along with your other materials, will create a beautiful and eye-catching contrast.
4. Finishing touches that create a rustic look.
To finish off your cozy space, add elements such as:
Knitted blankets.
Accent pillows.
Rugs.
Light fixtures (with warm-hued light).
Copper pots in the kitchen.
Candles on the coffee table or hearth.
Black and white photography or textured paintings for wall decor.
Bookshelves.
In conclusion.
When you create a rustic look in your home, it is inviting for your family and guests. Plus, rustic homes are a beautiful way to help blend natural elements into your home. You can go with a log-cabin style, farmhouse, rustic luxury, or a mixture of all. In fact, there are endless combinations! With the rustic look, you'll enjoy a comfortable and beautiful space to come home to every day.
If you have any questions or suggestions, please leave them in the comments below. Also below, you will find links that take you to more fantastic articles about ALL things DESIGN for your home or business.
All images courtesy of Canva.
Other Posts You Might Enjoy:
5 Design Ideas for Your Future Kitchen
DIY – How To Design A Flower Bouquet
7 Ways to Use Rustic Designs for Your Cafe
Designs of the Year: A Guide to the Top Bathroom Trends of 2020
Share This Story, Choose Your Platform!