If like many people, you've been stuck at home a lot more than usual over the past year, you're probably sick of seeing the same spaces in your property and are looking for ways to refresh it. But wouldn't you like to know about the top kitchen design trends in 2021? If so, we invite you to continue reading to learn what you need to know.
If a major overhaul is in order, you may want to focus on one of your house's essential rooms: the kitchen. To help you design this space, check out some of the top kitchen design trends for 2021 that you will find below.
The Kitchen Design Trends in 2021 that You Will Love!
⎆ Curvy Kitchens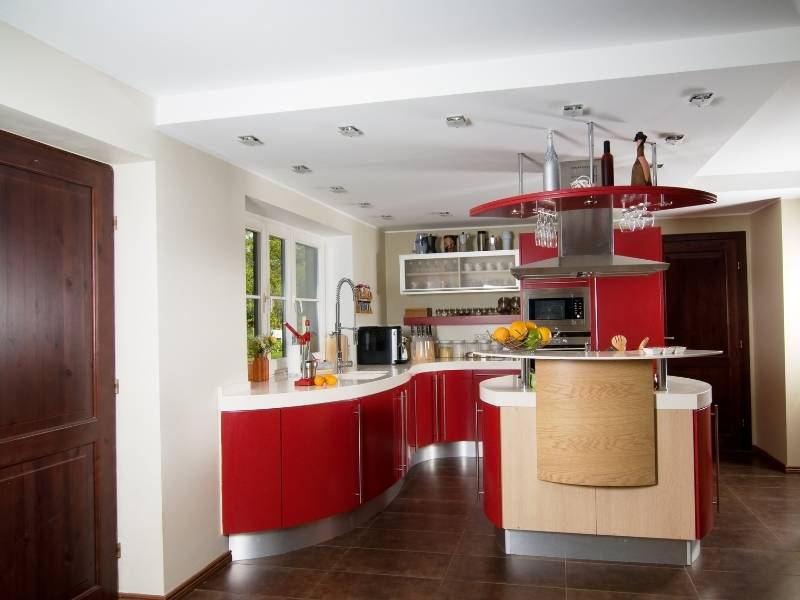 For many years most kitchens are full of straight, clean lines and shapes. However, this is changing as curvy kitchens become more the norm. Such rounded designs were initially trending in furniture creation but are now moving to kitchens, too. In 2021, we'll see many more curvaceous choices happening with sculptural-looking kitchens.
In particular, look out for rounded kitchen islands. Many manufacturers are designing curvy island benches, or you can find a local builder or another tradesperson to come up with something just for your home. For example, search online for "contractors, Mobile, AL" or those in other locations to discover people who can turn this design trend into reality for you.
⎆ Color Revival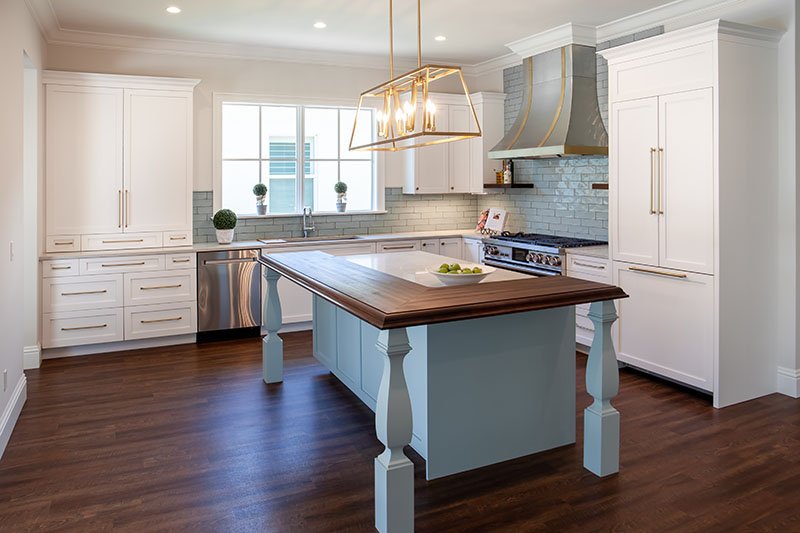 After many years of Scandinavian style focused on white and neutral shades, today's kitchens are becoming ever more colorful. Perhaps after a bleak 2020, increasing numbers of people want to bring more sunshine into their lives. Of course, color is a great way to do this. Blues and greens also seem to be especially popular right now.
You can add more hue to your cooking zone with a fun, bright backsplash, nicely-shaded cabinets, or a painted kitchen island. In fact, many people are opting for islands with a contrasting color to their cabinets. Plus, you'll see in the shops that there is a bigger range of colored appliances than ever, so you can go wild with non-white options if you'd like.
⎆ Terracotta Takes Off
Another way to add beautiful warmth to your kitchen is to choose terracotta tiles if you're sick of the colder, harsher trend of all-white. Feel like you've stepped into the Mediterranean with earthy-looking floor tiles. Pair this with classic brass hardware and a patina-strong countertop for a look that mixes traditional with modern.
Alternatively, bring a hint of terracotta into your kitchen by choosing a paint color that gets inspiration from it. For example, paint company Behr's Color of the Year is 'Canyon Dusk,' a pretty, soft, dialed-down terracotta shade. The firm describes this hue as a grounding, connecting, tranquil one that provides a "gentle note of calm and harmonious escapes."
⎆ Black and Moody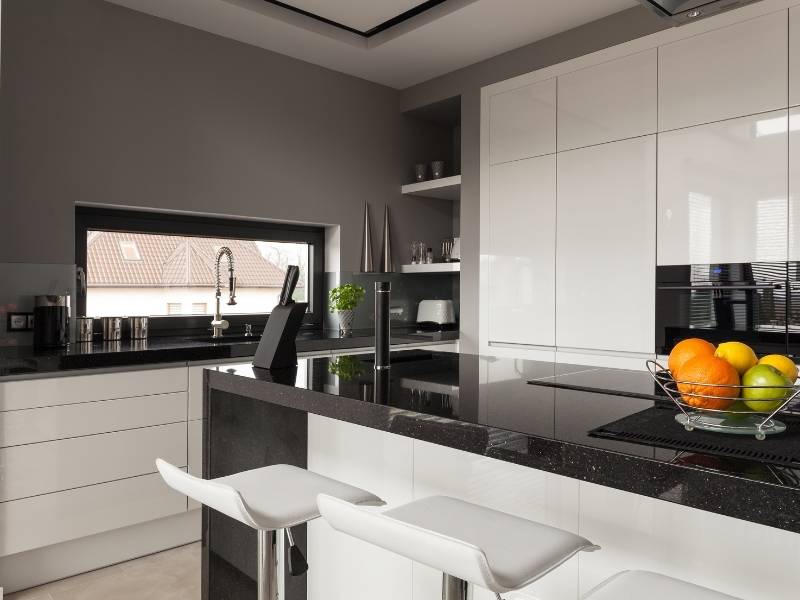 If you're not keen on the bright or pastel colors in your kitchen and want to try something different, why not consider black and moody tones? Modern black is simple yet sophisticated and trendy right now, especially in cabinets and built-in appliances. Many homeowners are opting for shiny black drawers and cupboards, black marble countertops (often with beautiful white veins running through them for contrast), and black floors. If you don't want to go all out with this look, break up black surfaces and other areas with natural wood shelving or lighter-colored benchtops.
Looking Up
When you think about kitchen design, the last thing on your mind is likely the ceiling in this vital part of the home. In 2021, though, things are "looking up" as more dramatic flair is added to kitchen ceilings. Dress up your top space with look-at-me wallpaper, bright hits of color, or even wood paneling.
⎆ Use of Reclaimed Wood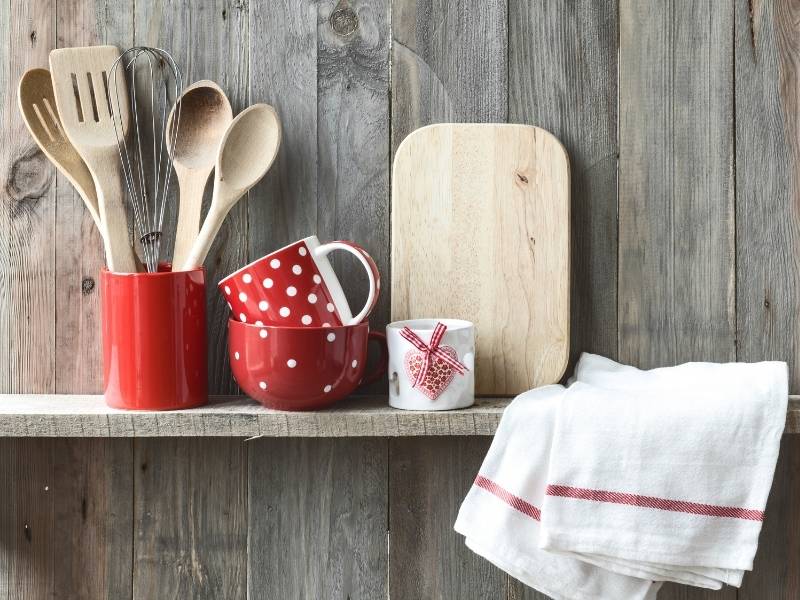 Sustainability is a big focus in design these days, as is the idea of getting back to nature and bringing the outdoors inside. As such, it's no surprise that many kitchen creators are using more reclaimed wood. More and more cabinets are being custom made and installed from textured, rough-hewn reclaimed wood that adds immediate warmth and interest to a kitchen.
⎆ Focus on Wallpaper
Wallpaper in cooking zones is making a comeback in 2021. While it has been used extensively in other parts of homes in the last five to ten years, until now, many people have kept it out of kitchens and stuck to tile. However, there are so many fantastic wallpaper options to choose from. These selections also include options that are environmentally-friendly and easy-to-clean. So, there's never been a better time to give this trend a go.
Some of the other big moves in kitchen design for this year include:
Mix and match metals
Less open-plan layouts
More focus on pantry cupboards
Increased use of open shelving
Sculptural lighting
Clever storage
Try out one or more of the above ideas to get your kitchen looking fresh, modern, and striking in 2021. If you have any suggestions to add, please let us know in the comments below. Also below, you will find links to take you to more enjoyable articles about ALL things DESIGN for your home or business.
Images Courtesy of Canva.
Other Posts You Might Enjoy:
Kitchen Design: 10 Ways to Personalize Your Space
4 Modern Kitchen Design Tips for Young Professionals
6 Simple Tips to Transform Your Kitchen Design
Share This Story, Choose Your Platform!