Developing and designing a work-from-home space is on the minds of many remote workers. Of course, the COVID19 pandemic makes working from home an important requirement for many offices. As a result, many people across the world are working remotely and must get their home offices in order.
Although the pandemic crisis will eventually recede, it looks like the work-from-home culture is here to stay. Of course, this is due to the amazing perks that it comes with. Working from home has made it much more convenient for the employees as well as employers.
You can save more energy as well as time that you spend while commuting. So, when you are working from home, it is important to have a proper work-from-home space set up correctly. To learn how to set up a fantastic work-from-home space, we invite you to continue reading for some interesting tips.
6 Tips to Create Your Efficient Work-From-Home Space.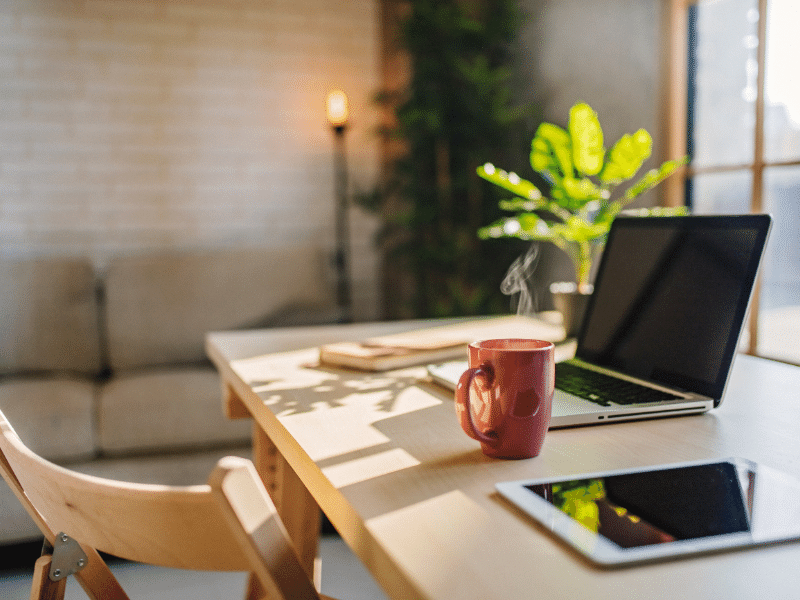 Here are some helpful tips for you to design your own work-from-home space.
Tip 1: Choose a space.
The toughest part of working from home is to keep your working space and personal space separate. To do this, you must have a dedicated space in your home from where you can work. It can be a small room or even a corner of a room.
Having a dedicated space for working from home can create an office-like environment for you. This will help you to focus as well as it will help you to keep your work-life separated from your personal life.
Tip 2: Have a proper desk.
While setting up a space for working, one thing that you need is – a desk. The desk plays an important role as you have to keep the laptop/computer on it along with all the essential things like your mouse, keyboard, diaries, pen, and others.
There are many desks available in the market that come with adjusting the height. If you don't buy that, make sure you are buying a desk with the proper height for better ergonomics while working.
Tip 3: A comfortable chair.
A good and comfortable chair is very important for your WFH space. You must maintain a proper posture while working as prolonged bad posture can injure your back. So, a perfect working chair with an ergonomic design can help you to keep your posture perfect as well as make you comfortable.
Both are important when you are sitting for long hours in front of a computer and working. Also, you have to ensure that you can adjust the height of the chair according to our needs. This will help you to keep your eye level perfectly aligned with the computer screen.
Tip 4: Good lighting is important.
While you are working from home, you must also ensure that the space has proper lighting. The importance of good lighting is often misunderstood. But this can help you to create a better working environment improving your ability to work efficiently.
Of course, the best thing that you can do is to ensure that your work from home space is getting enough natural light. Natural light can help you to feel more awake, energized, and focused. Even if you don't get natural light, you have to use proper lights to keep the space well-illuminated. You can also add a lamp beside your desk for additional lighting. If you want to look for the perfect lights for your work-from-home setup, you can know more here.
Tip 5: Stable internet connection.
The next most important thing that you have to add for setting up an efficient WFH space is a high-speed internet service with a stable connection. The Internet is an important part of the present working environment. Without it, working remotely is not at all possible. Hence you have to invest in good internet service with a high-speed and stable connection.
Tip 6: Properly organized space.
You must also make sure that your home office space is properly organized. Lots of clutter or mess on the desk or around the office space can drain you mentally. It is natural to feel exhausted when your working space is not properly organized.
As a result, you must ensure that you are keeping your desk free of any clutter or mess. Also, you must ensure that you are keeping all the important documents properly organized in a drawer or folder.
In conclusion.
These are some of the best tips that you can use for a perfect work-from-home setup. You must create an office-like environment at your home and for that, you must invest in some of the best furniture pieces and equipment. Again, these tips can help you in improving your productivity level and working more efficiently. If you have any questions or suggestions, we always love to hear from you in the comments below. Also below are links to more fantastic articles about ALL things DESIGN for your home or business.
Images Courtesy of Canva.
Other Posts You Might Enjoy:
5 Creative Bookshelf Design Ideas For Your Home Office
6 Tips for Setting up a Home Office
Top Tips to Set Up the Perfect Home Office
Share This Story, Choose Your Platform!