A deck or patio creates the perfect outdoor spot for lounging, enjoying meals, and spending quality time with friends and family. However, a small, poorly designed area can feel cramped and overwhelmed, limiting its functionality and making sitting outside unbearable. That being said, square footage limitations shouldn't prevent you from creating a dreamy spot in your backyard.
If you don't have a deck and are looking to install one, you can save yourself the hassle and high costs often associated with installing concrete deck foundations by using screw piles for decks. With screw piles, no excavation is needed and can be installed regardless of the weather conditions, allowing for faster deck construction without spending a fortune.
Tips for Decorating a Small Deck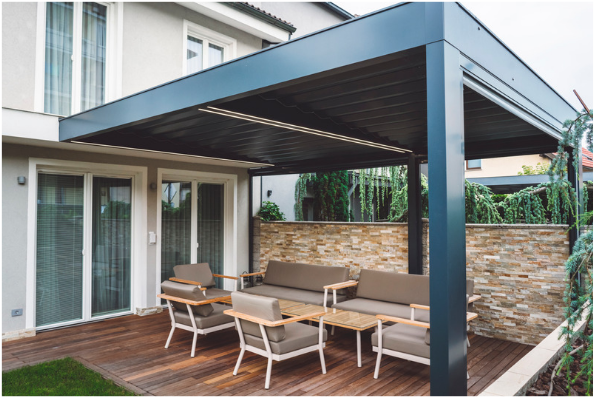 Here are a few tips to help you decorate your deck to create the perfect relaxation spot outdoors:
Set the Tone with Lighting
Proper lighting is a great way to set the tone and mode of your outdoor living space. It also allows you to enjoy your time outdoors after the sun goes down. Adding the right lighting can transform your tiny deck into a warm retreat.

Some great outdoor lighting options you should consider for your small deck include LED table lamps, string lights, tiki torches, and solar-powered lanterns. Outdoor lighting comes in a range of styles, so you can choose one that complements your home's décor.
Use Multi-Purpose Deck Furniture to Decorate a Small Deck
There are many options for creating the perfect seating layout for your small space. Opt for space-saving options like multi-purpose furniture to make the most of your limited outdoor space. For instance, you can add a multi-purpose table that doubles as storage and décor. Folding chairs can also be a whimsical idea yet incredibly practical since you can move them around or be tucked away when not in use.
A small corner bench can also allow you to make the most of every inch of space while providing the perfect seating setup for any occasion. Choose comfortable furniture and colorful cushions for added comfort and a welcoming feel.
Paint Exterior Walls
You can boost your curb appeal and make your deck feel larger by adding a new coat of white paint to your home's exterior walls. Consider incorporating the same white shade into your tiny deck décor by adding white flowers, white garden furniture, and furnishings. This will make your space look and feel refreshing and clean and create a cohesive, sophisticated look.
Endnote
Implementing the tips above to refresh your tiny deck, enhance its curb appeal and create a comfortable outdoor living space that doesn't feel cramped and cluttered. Make sure not to crowd your patio with many decorative furniture and accessories. Your space will look cleaner, more tasteful, and spacious with fewer furniture and decorative items.
Other Posts You Might Enjoy
Hosting Your Next Outdoor Gathering
A Homeowner's Guide to Building and Maintaining a Deck
Decks and Patios: The Pros and Cons
Share This Story, Choose Your Platform!