Over six million residents of Washington, D.C. and its surrounding cities and towns in Maryland, northwestern Virginia, and even parts of the state of West Virginia are likely ready to start gathering with friends and family again after the 2020 COVID-19 pandemic. However, many people will probably feel more comfortable gathering in large groups outdoors where there's unlimited air circulation. Luckily, D.C. temperatures are pretty bearable all year long, with summer temperatures only occasionally reaching the 90-degree (Fahrenheit) mark. With that being said, it's only natural that you'd want to have your next gathering outdoors — but where?
3 Outdoor Spaces for Your Next Gathering in D.C.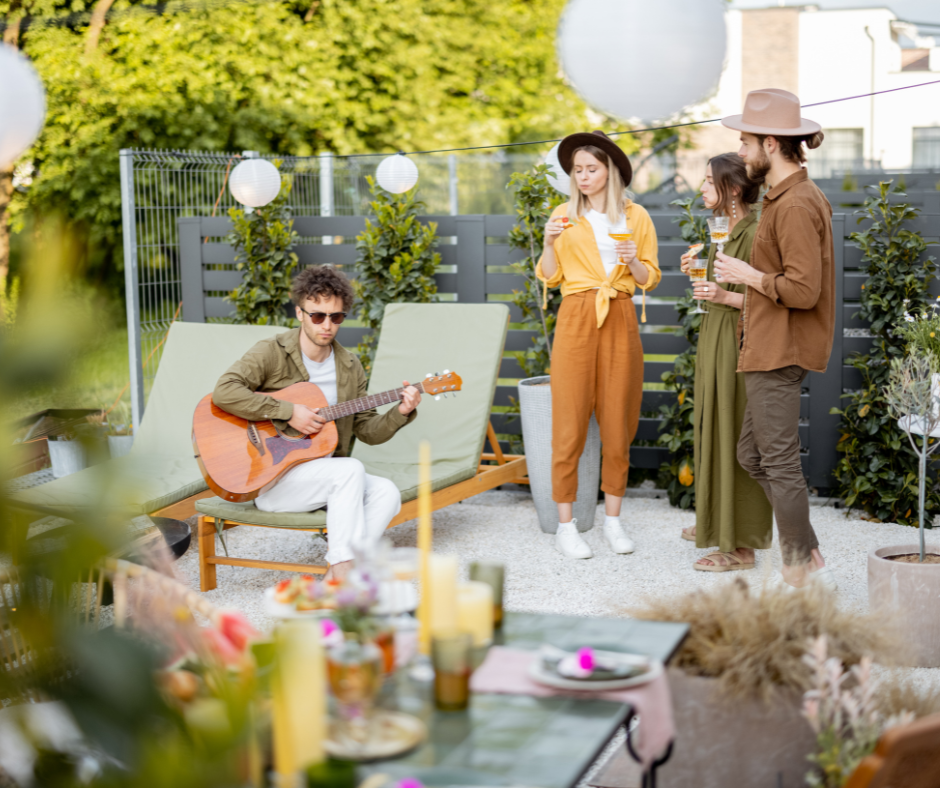 You can rent a pavilion at a local park, or you can host your gathering right in your backyard, or other places in your home. Here are three spaces to choose from the next time you want to host a gathering.
#1: Deck
A deck that's attached to the back of your home is a great place to host intimate family gatherings. Decks are usually large enough to hold your basic patio furniture (including a small end table), and you may also be able to fit a small portable fire pit in the center from roasting marshmallows. Larger decks can accommodate more furniture and possibly even a hot tub. Of course, your hot tub can be reserved for those cool summer evenings.
If you don't have a deck, it's possible to have one attached to your home, or you can even build it yourself. Decks can lay flat on the ground or they can be platform decks, accessible by steps. If you're pretty handy, then this is a simple D.I.Y. If you're not too sure about doing this yourself, you can always hire a professional carpenter.
#2: Garage
Many homeowners choose to finish their basement and/or attic to create an additional room for their home, but did you know that you can also finish your garage? If you don't mind parking your car outside or if you have a double garage (you can close one half off), then this can be a great gathering space for your family and friends. A finished garage will need insulation, a ventilation system, and all of the other elements that go into finishing an unfinished room, and all you really need is a seating area and a mini kitchen area — depending on how big your garage is.
Using your garage as a gathering space gives you the best of both worlds: indoors and outdoors — at the same time! This is perfect for the days when the sun is a little too hot or if there's a light rain shower. Of course, heavier rain may require you to close your garage to avoid getting soaked.
#3: Patio
A patio is probably the number one place homeowners host their outdoor gatherings. Many homes already have patios, but if your home doesn't, it's a pretty easy D.I.Y. project to tackle. The (simplified) steps to creating a patio include:
Buying the proper tools and materials

Preparing the ground

Laying the paver base

Laying the paver stones

Finishing the patio
Once you have your patio base, you'll need some patio furniture— enough to accommodate however many people you expect to host. Complete the look of your patio with a timber-framed pavilion to "house" your patio furniture. This will make your backyard look more like a retreat, impressing all of your guests. Most pavilions are large enough to cover patio spaces that include grills and outdoor kitchens, although you can choose a custom size to fit your needs.
Final Thoughts
These three areas are some of the best places in your home to host your next outdoor gathering. You can always host your gatherings indoors, especially in the winter months when there's snow on the ground, but this summer is the time to spend as much time as possible outdoors. Sunlight can benefit both physical health and mental health, so take advantage of using your outdoor space.
On a final note, you may also want to consider adding some recreational amenities to your backyard, considering that it's large enough. It can be simple forms of entertainment, such as a tire swing or a projection screen for an outdoor movie night. You can even get quotes for an in-ground pool for the perfect backyard barbecues all summer long. The possibilities are endless when it comes to entertaining family and friends in your backyard.
Other Posts You Might Enjoy:
Durable Materials for Your Outdoor Furniture
6 Tips to Create an Awesome Outdoor Living Space
7 Tips for Hosting an Outdoor Evening Dinner Party
Share This Story, Choose Your Platform!