Decks or patios – which will it be? When it comes to creating an outdoor space you are likely to find many options. However, the most common choices for homeowners are decks and patios. What is the difference between a deck and a patio? To answer some of your questions, we have listed some pros and cons to both decks and patios.
Decks vs. Patios; Which is Better for You?
What We Like and Dislike About Decks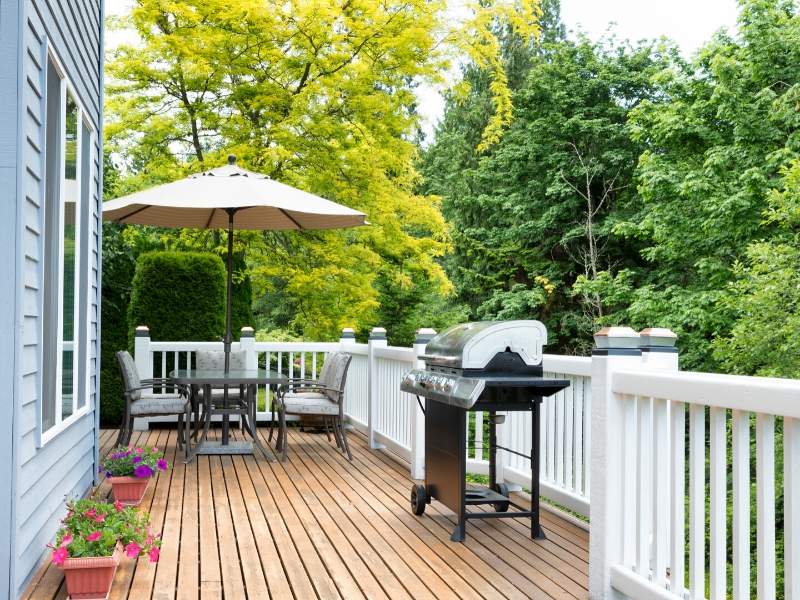 A deck is an open platform or porch that extends from a house and does not have a roof. If built well, it increases the value of your home significantly because it adds to the living space. Even if your home is small, a buyer will still buy it at a higher price if you have a useable outdoor space. Here are the pros and cons of decks:
Pros
Higher resale value – on average, a wooden deck has a return on investment of 87%, which is a lot higher than all indoor renovations.
Works well on uneven terrain – if your home is located in a rocky area that is not level, you can still install a deck.
Good for a view – because you can build your deck off the ground, it will give a better view of the surroundings, which increases its resale value significantly.
Easy to customize – you can customize a wooden deck by staining or painting it to your desired shade. You can even match the color of your deck with the exterior of your house.
Comfortable in the heat – if you live in a warm climate and your house gets hot because of the sunlight, you should build a wooden deck because it retains and absorbs less heat.
Cons
Weight restrictions – when it comes to the design of your deck, you need to consider the weight if you want to add an outdoor kitchen or hot tub to it.
Expensive – although the price of a deck depends on the materials used to build it, the average cost of building one with high-end materials is 30 dollars per square foot.
Possible permit – most cities and towns have different requirements and you might need a permit to build a deck. This could mean a longer waiting period and a fee.
Shorter lifespan – wood is prone to weather and will rot over time.
More maintenance – decks need to be stained, power washed, and sealed every couple of years.
The Ups and Downs of Patios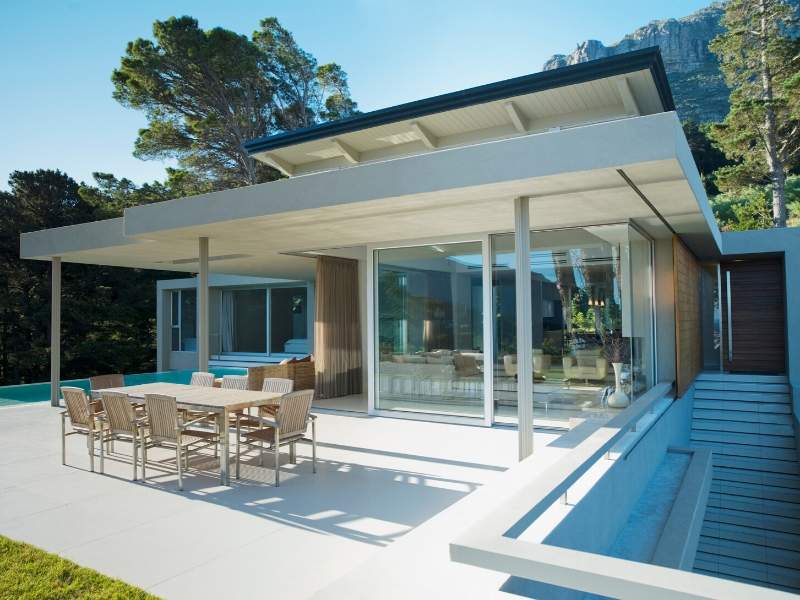 A patio refers to a paved area located directly on the ground. It can either be detached or attached to the house. Here are the pros and cons of patio installation:
Pros
Less expensive – when you install a patio directly on the ground, it will cost much less than a deck because concrete is the least expensive material.
Easy to maintain – a patio does not require regular maintenance because stone patios and pavers are durable.
More privacy – patios are close to the ground, which means that you can landscape for privacy.
Longer lifespan – a well-built patio can last up to 25 years without much maintenance.
No permits – you do not need a permit to install a patio in your home.
Cons
More construction – a patio needs a project that is more intensive and takes longer to install.
Prone to stains – once you stain the surface of a patio, it is hard to clean.
Risk of slipping – if you live in colder areas, ice can form on your patio and cause you to slip.
Prone to cracks – if the soil beneath a patio is not prepared well, it might crack if you live in an area with extreme temperatures.
Not for uneven terrain – patios are suited for even ground.
At the end of the day, both of them have great advantages. Weigh the pros and cons carefully to see the one that is best for you.
Images Courtesy of Canva.
Other Posts You Might Enjoy:
Get Your Patio Ready for Summer and Entertaining
How to Design a Patio Space that is Peaceful
Modern Home Design; 11 Ideas for Your Inspiration
Share This Story, Choose Your Platform!