There are many studies that back up the fact that being outdoors in a natural environment improves your health. A patio space of any size can be styled and designed to bring nature to you.
Fresh air

– Fresh air is vital to good health. Yes, you can live indoors, but studies have been conducted that show the positive benefits of being outside. Fresh air can increase energy and heighten your sense of well-being.
The color green

– Scientist who are involved with color psychology study how color affects the mood of a person. They have determined that color has a big impact on our mood. The color green has been shown to inspire peace and tranquility, possibly because it's a dominant color found in nature. Creating an outdoor environment full of natural green foliage where you can go to unwind is truly a health benefit.
The Sounds of Nature

– It is believed that natural sounds improve mood and productivity. A study by the researchers at Rensselaer Polytechnic Institute, showed that playing natural sounds, like flowing water in offices, could boost workers' moods and improve cognitive abilities. As a designer, I believe in creating a natural outdoor setting to improve the quality of life at home. The sound of flowing water doesn't take much to create in a home outdoor design and the benefits are worth it.
Sunshine

– There have been a lot of reports on how bad it is to be in the sun due to the harmful effects on your skin, but there are also good benefits to finding the right balance of sunlight. Sunlight is thought to increase the brain's release of a hormone called serotonin, which can boost your mood and help a person feel calm and focused. With the proper outdoor design, you can achieve the right amount of sunlight to fit a good balance.
There is a huge movement towards wellness and a healthy lifestyle. This is reflected in my clients requesting a spa-like atmosphere in their home design. Besides just creating indoor spa experiences, there is a desire to create the same feel outside as well, giving us all the benefits nature brings with it.
Keep The Patio Natural
I like to use the four elements that are believed to be essential to life (earth, air, fire, and water) when I am designing a patio or outdoor living space. I believe in using natural materials, whenever possible, to not disrupt the organic intent of creating a place that represents nature and the health benefits it brings.
Decking could be represented as the earth element, so it should, of course, be natural and not fight visually with its surroundings.
This project above from Prideaux design is beautifully set into the landscape to be seamless with its surroundings. It's a great example of how the decking and gravel match the colors found in the mountain and landscape beyond. I feel it is important to take note of what's around you and play well with it, especially if it is open to a view of the landscape.
Sometimes it is necessary to shut out the outside world and create your own little patio oasis of nature.
Develop a flow of air throughout your outdoor environment. I am truly opposed to screened in enclosures that are totally out of place when your desire is to create an outdoor living retreat. Don't cover it up! You will also want to take into account the placement of your patio and how it will interact with the sun, moon, and stars. You need to consider what time of day you will be using it the most and consider where the sun rises and sets and how it will affect your comfort levels. Landscaping can play a big role in shading certain areas for comfort while also adding the benefit of fresh air intake.
Fire can be hypnotic and mesmerizing while adding warmth to your patio.
You might want to consider a firebowl design that fits easily into most spaces. You can find firebowls offered in many different diameters and the round shape makes it the perfect social gathering spot.
The sound of water is very soothing. I think it's an important element of nature to include if you are designing an outdoor living space for wellness. It doesn't have to be elaborate to create the sound of water, it could be a stand alone fountain.
If a pool is in your plans, then you might want to consider designing a waterfall into your pool design.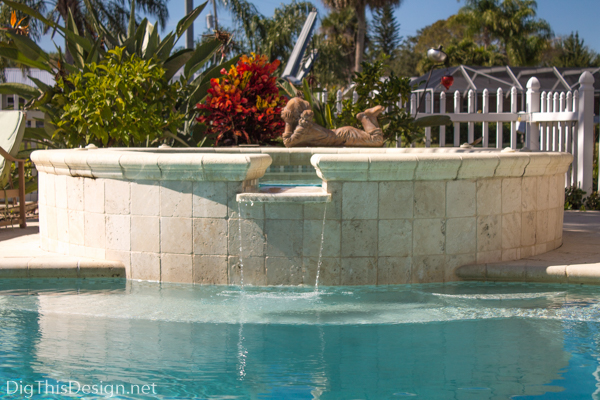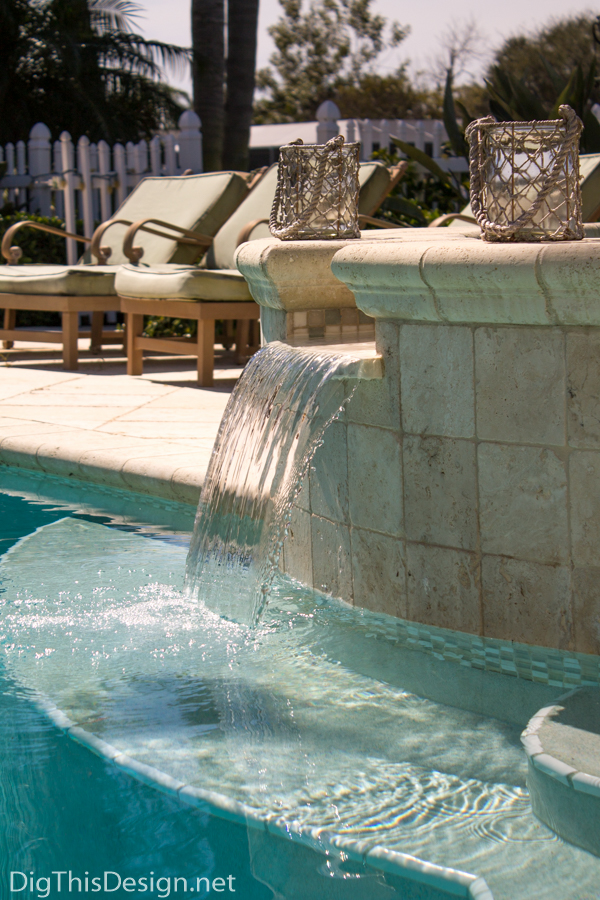 Share This Story, Choose Your Platform!