Can you think of anything more enjoyable than the sun shining warmly on your face or the soft, cool breezes on a warm summer night? In addition, how can there be a better way to enjoy summer than in your own backyard on the patio? 
First of all, the right furniture, patio lights, and green plants give your design heaven on earth quality. Use the right arrangement and combination of these elements to have the experience you desire for you and your guests. Here are some tips to keep in mind when you design your patio.
Ways to Prepare Your Patio for Summer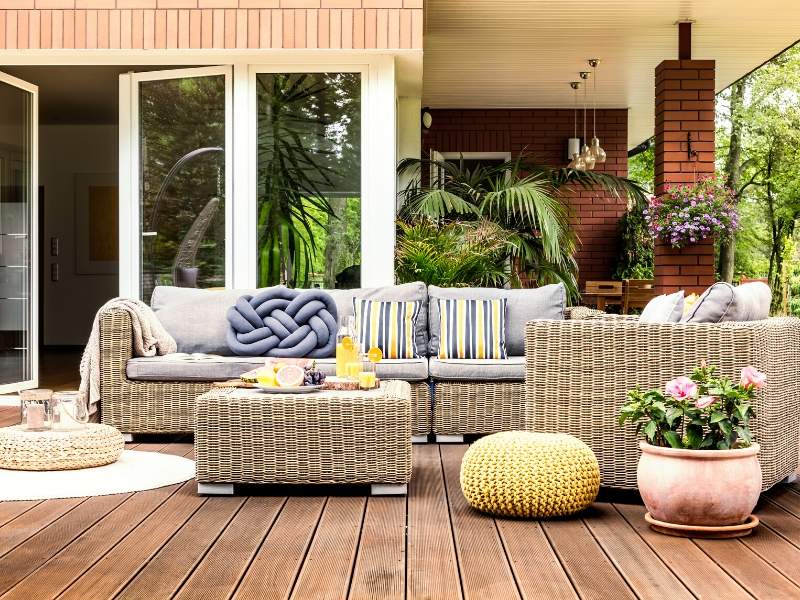 Summer Outdoor Furniture
Consider the elegance of a hanging chair because, with so many sizes and styles from which to choose, this will be a delightfully cozy focal point on your patio. To help you get started, you can visit this site for Rattan-style furniture ideas and inspiration.
Surprise your friends with your designing choices that are perfect for the summer season. One way you can do this is to set up a bar area that has everything you need to prepare refreshing cocktails and snacks. When you entertain, this is a welcome and functional addition to your backyard patio experience.
Sparkling Outdoor Lights
For a chic look, add a sparkling set of outdoor lights because when the sun goes down they dazzle the senses. You create a mesmerizing environment for you and your guests when you add lighting to your outside experience.
The use of outdoor lights also brings together the look of your garden landscape. Choose ground light fixtures, mount lights around plants and add light to dark corners.
A creative way to bring fun and whimsy to your backyard is to make a light path. Lighted pathways give a feeling of magical enchantment on warm summer nights and are certain to give you and your guests a wonderful experience as they walk along.
Luscious Plants and Foilage
No outdoor décor is complete without greenery and potted plants. This is a great place to add colorful, natural beauty to your backyard patio.
Some plant pots are rustic in nature while other potted plant ideas are birdbath planters or climbing plants on your patio wall. These lush, green additions make any garden design come together with a lasting feeling of abundance.
While summer is drawing near, get ready for the perfect time to relax, entertain, and enjoy your guests outside in the fresh air! By adding unique furniture selections, pretty, sparkling lights, and green plants, you thereby create unforgettable summer memories in the style and comfort of your backyard patio.
Other Posts You Might Enjoy:
How to Design a Patio Space that is Peaceful
Simple Styles for Patio Decorating
Share This Story, Choose Your Platform!