Outdoor gatherings and celebrations is really what makes the summer great. Patios are the perfect place to host your gatherings and your designs are limitless. Also, stone patio's tend to look very upscale and classic and the design inspirations plentiful.
For your patio entertainment dining areas are great for intimate settings, elevated patios give an air of importance, and the stone designs themselves are a bit of artwork.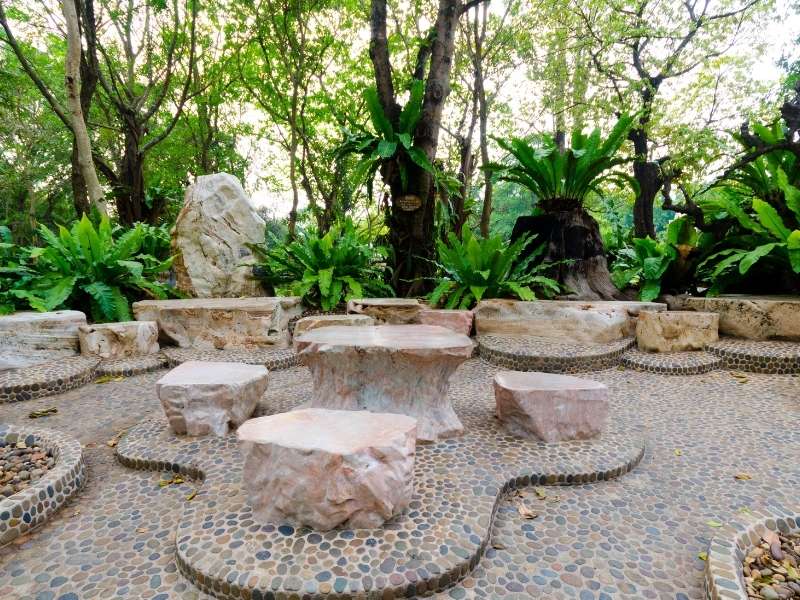 Creative Designs
The beauty of stone is the designs they create themselves. Try different colors, shapes, and sizes. Then, mix and match them together in different ways to change the tone of the design.
A stone patio is usually made with a strong neutral palate, but the actual design of the stone itself is with mixed shapes and sizes, giving it a more rustic feel with it's outer regal appearance.
Envision your stone patio with a rustic feel amidst the surrounding woods. It's beautiful and original with the stones being different shapes and sizes, even colors, but simple enough to be created by any home owner.
Dining Stone Patios
Dining areas outside on a patio are an ideal setting for an intimate dinner with family, friends, or loved ones. A lovely stone patio has a very intimate dining area featured in a stone based area with a stone fire place as well. It might be either a very romantic setting or a great place to enjoy outside for dinner after dark.
Stone dining patios are both regal and upscale, showing how elegant the use of stone can actually be. One an indoor and the other open to the world and yet they are each still intimate settings.
Elevated Stone Patios
Lifting a patio up, giving it's own special elevation makes it a special place. The setting might be intimate or perhaps just a place to escape for the afternoon with a good book.
Stone patios might also feature a dining table. This gives it a sense of intimacy, but the foliage and rustic feel also gives it a feeling of seclusion from suburbia or the city.
Try a circular patio with elevation and the obvious intention as a place of meeting, socializing, and entertaining. A fireplace in the middle, all of the chairs, suggests this is a place of importance.
Images Courtesy of Canva.
Share This Story, Choose Your Platform!