Boats are something of a fixation for many young boys and girls, and something adults even find themselves enjoying.  From being out to sea on a luxury trip, to the simplicity of a small fishing boat with your grandpa, these are unequivocally peaceful moments of nostalgia.  Why not transfer that into part of your homes design?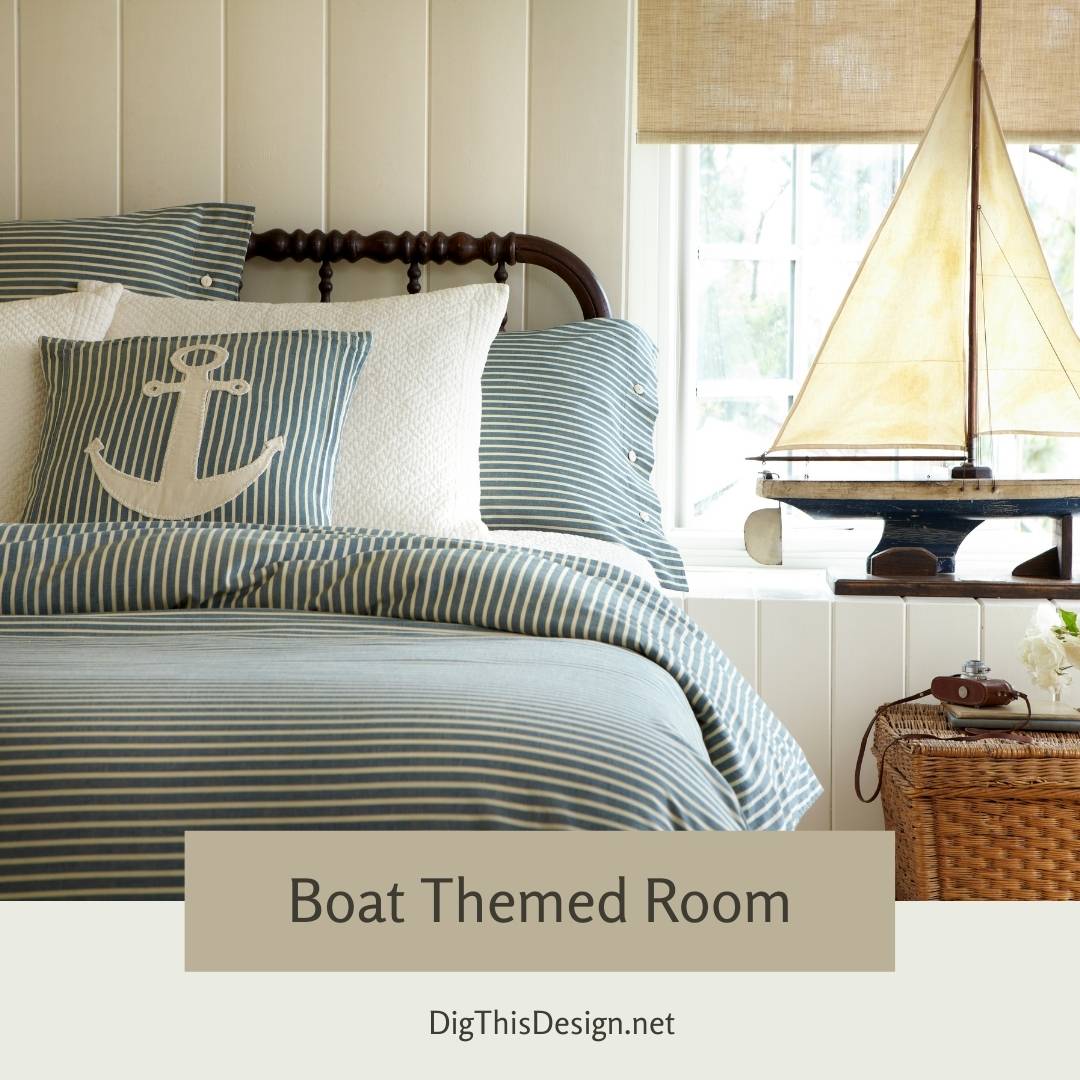 Adult Room
To create a fun or whimsical room, be it bedroom, living room, or bathroom is something that shouldn't dissipate with age. An adult inspired theme room should still also be an option in your personal design.
This boat themed room has the suave feel of an adults taste, but the whimsy of a kid. This boat themed inspiration would fit nicely on a boat itself or even a beach house, already next to the water.
Wooden Boats
Wooden themes, and wooden boats are a natural conclusion for a bedroom decor. It's visually exquisite, has a unique smell, and is easy to maintain and a perfect way to design a boat themed room.
This wooden boat bed and room could be used in a women's room, a man's room, a child's room, or a guest room at a beach or coastal house. It's fun, but also a very diverse creation.
This wooden boat bed is very unique by way of actually having to crawl inside the boat in order to get to bed. This is a fun and whimsical design probably meant for a vacation home or beach house.
This impeccably designed wooden boat room is a master of minimalism and refined taste. It's certainly most likely an inspiration for a beach or coastal home, but it was entirely inspired for a regal home.
Kids Room
When you think of boat themed rooms or beds it's a natural conclusion to draw yourself to that it was intended for a child's room, but even though that obviously isn't always the case, it certainly is a fun inspiration.
This boat themed childs room has been carefully put together to look almost like a warehouse outside a dock, with a ton of details and decor added to the design, but it also has a cheerful atmosphere and is fully functional as a year round bedroom.
This boat themed bedroom goes to the mattresses (pun intended) with it's decor, boasting what could only be geared for a much younger boys bedroom. The stuffed animals and colors emote a bright and cheerful sense of being.
Images Courtesy of Canva.
Share This Story, Choose Your Platform!