Have you noticed that you sleep better in a five-star hotel? It seems that in the hotel room, the mattress is more comfortable and the bedding is softer than at home. As a result, we relax and sleep better. Of course, this has nothing to do with our vacation mood. Rather, such a level of comfort is associated with the furnishing of hotel rooms. In fact, bedroom interior ideas are complex tasks that hoteliers around the world spend a lot of time and energy solving.
After all, it is important not only to create an attractive design for guests but also to provide them with the best comfort and functionality. If this intrigues you, today, we bring the most affordable and effective bedroom interior ideas inspired by the best hotels.
7 Tips For Bedroom Interior Ideas From The Best Hotels
Tip 1. Put a Light Switch Next to the Bed.
It seems to be nothing out of the ordinary. However, not every bedroom has this solution. Most often, people simply do not think about it or forget about it during the renovation. But it is so convenient to turn off the light with one switch without getting out from under the warm blankets. This is much like the lighting scenario in the rooms of five-star hotels.
Tip 2. Arrange a Comfortable Sleeping Place.
The bed is the main element of any bedroom. But even the most expensive model will not be comfortable for you without a good mattress. In the expensive hotels, they choose suitable mattresses from high-quality, hypoallergenic, and durable materials.
Such mattresses are difficult to find in regular stores, but if you want to create five-star comfort in your bedroom, choose "smart" mattresses from brands with a worldwide reputation. Mattresses with a unique filling that perfectly adapts to the temperature and shape of your body help you stay calm and get better sleep.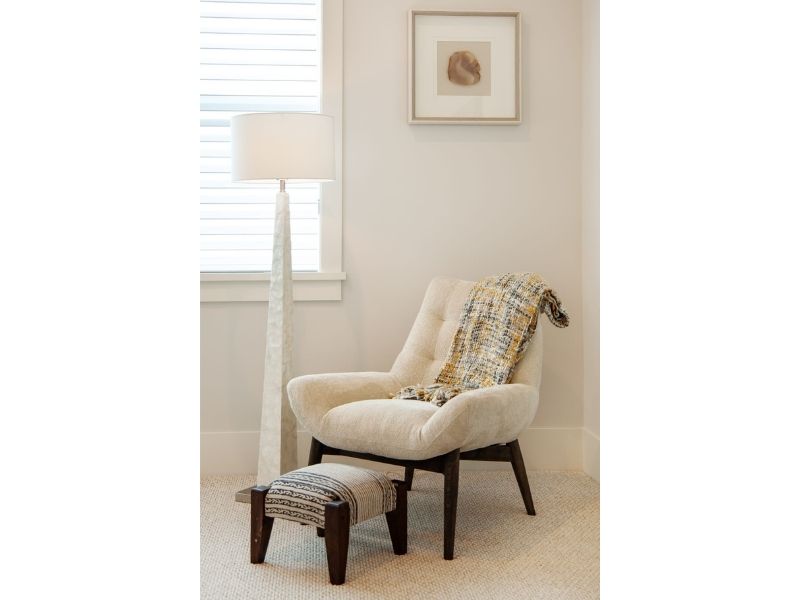 Tip 3. Create a Lounge Area.
If you have a couple of free inches in your bedroom, be sure to equip a lounge area. Here you can read in an armchair or have a leisurely breakfast at a comfortable table. Trying to rest at any suitable time is a great habit that will improve your well-being and fill your life with energy.
Tip 4. Make a High Headboard.
The owners of beds with a soft high headboard know the trick. After all, you can just enjoy watching a movie in absolute comfort and not turn around, putting a pillow under the lower back or under the head. Find the most comfortable beds with luxurious upholstered headboards to make the sleeping area more intimate.
Tip 5. Create an Open Bathroom.
Such an architecture design solution is extremely popular among interior designers. And this is not surprising at all. First, you do not have to go through the entire apartment every morning and evening to get to the shower. Secondly, what could be better than immersion in a hot, foamy, and relaxing bath in the immediate vicinity of the bed.
Tip 6. Think About Lighting & Floor.
To make your bedroom as cozy and comfortable as a hotel room, you need to carefully approach the lighting system selection. In addition to the ceiling light, it is worth considering other light sources, such as a floor lamp and sconces.
With the help of lighting fixtures, a calm and peaceful environment is created in the bedroom. The type of switch is also important here. It is better to opt for switchers that allow you to change the lighting intensity. With their help, an intimate atmosphere is easily created in the room.
The choice of floor finish is no less important. When you wake up and get out of bed, your first sensations should be pleasant. It is not recommended to use cold materials, such as tiles, for finishing the floor. This is the rule that all hoteliers stick to.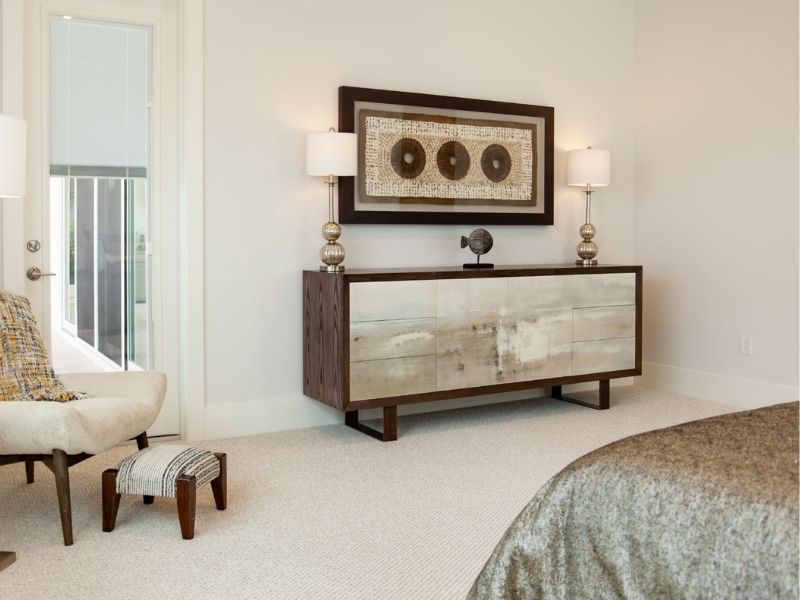 Tip 7. Give Preference to Warm Shades.
Nothing creates such coziness in the bedroom as the right color of the walls. You can notice this yourself in the five-star hotel rooms. This is especially true when it comes to warm shades of white, beige, and light brown. These shades will bring peace and harmony to the interior. Of course, if you wish, you can paint the walls with a muted pink or peach. Their depth is especially well emphasized by carpets with oriental ornaments.
In conclusion.
These tips bring you the best 5-star bedroom interior ideas so use them to create the bedroom of your dreams. If you have any questions or suggestions, we always love to hear from you in the comments below. Also below are links to more fantastic articles about ALL things DESIGN for your home or business.
Images Courtesy of Canva.
Other Posts You Might Enjoy:
5 Types Of Bedframes For Your Minimalist Bedroom
3 Ways to Transform Your Bedroom for Better Relaxation
4 Feng Shui Bedroom Tips for a Better Night's Sleep
Share This Story, Choose Your Platform!