Now that minimalism is more prevalent in many households, there's a demand for furniture pieces that are minimal but also elegant. While there are many pieces to choose from, you might find it increasingly overwhelming to shop for bedframes for your minimalist bedroom. 
So, to better manage this, it might be a good idea to take it one room at a time. You could start with your bedroom because it's where you spend a lot of hours sleeping or resting. It only makes sense that you want a room that looks good visually as it can help you avoid feeling restless and stressed.  
In a bedroom, the main piece of furniture is the bed frame. Fortunately, there are plenty of designs to suit all kinds of tastes and home interiors. For minimalists, it's quite easy to find the right frame and bedding. They can also come at different prices, making it possible to find even cheap bed frames to suit your taste. Today, we bring you five types of bedframes for your minimalist bedroom inspiration.
Your Guide to Bedframes for Your Minimalist Bedroom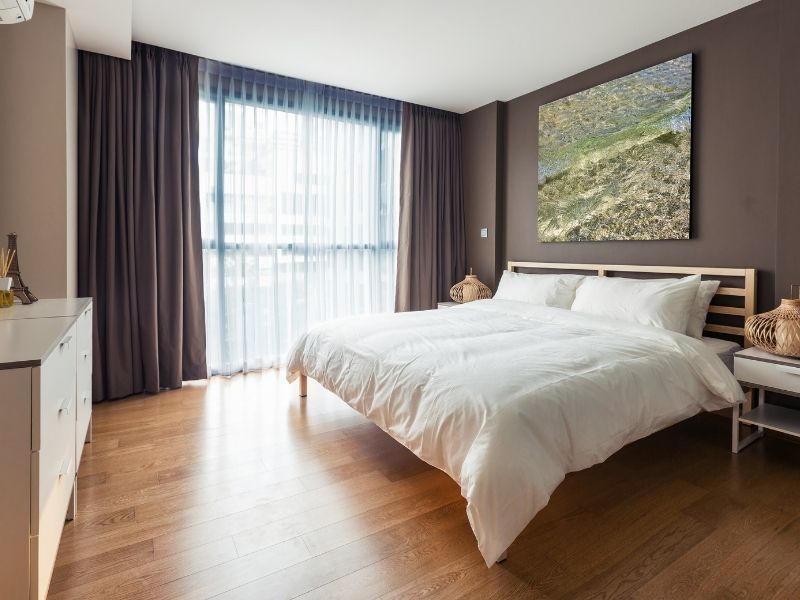 1. Simplistic wooden platform beds. 
When it comes to minimalism, simplicity is a common theme. When it comes to the choices of colors, textures, patterns, and design, it's common to avoid those that are loud or experimental.   
Because of this, bedframes that are too gaudy and bulky might not suit the style you're going for. To keep it simple, wooden platform beds are the way to go. It's basically just a platform where you could place your mattress, pillows, and sheets. So, it relies mainly on the necessary shapes and parts to make the simplest definition of a bed.  
A flat surface supported by legs is the most basic frame for beds. If you don't mind having a head or footboard, then this is a fantastic choice to fit your minimalist needs. Skilled handymen could even try to DIY this bed frame because of how easy and simple it is.  
2. Metal-free beds. 
Some choose to convert to a minimalist home because of a change in their lifestyle. For example, they might have decided to become a minimalist because they wanted to reduce their carbon footprint and trash production.  
To keep things sustainable, you might want to go for a bed that's completely free of metals or even plastics. These types of beds are intelligently designed to be assembled securely without the use of screws and other metal fasteners. 
What better way to sleep well every night than knowing that you're contributing to the betterment of the world just by transforming your bedroom? 
3. Steel bedframe with no headboard. 
Wood is one of the most common materials used for beds, but you could also opt for metal. For beds, metal is preferred by some people because it's quite durable. But metal bed frames are also great for specific aesthetics.  
While minimalism is considered to be a style on its own, it can still be combined with other themes, like rustic or industrial. Therefore, if you like the industrial style, going for a steel bed frame with no headboard would be fantastic. 
You could also get one with a headboard, but keeping it simple is the best choice. Avoid intricate metalwork like spirals and extra artistic patterns.  
4. Wooden bedframes with extended posts. 
Just because you want a minimalist bedroom doesn't mean that you're completely against any stylistic choices. You could definitely add some points of interest without being too overwhelming.  
One way to do this is to look for wooden bedframes with slightly extended posts. It doesn't have to extend all the way up like a canopy bed. Just some extra length on all four posts will do the trick. While it's simple, it can make the silhouette of the frame more exciting but not too flashy for a minimalist design.  
5. Low to the floor bedframes. 
Space is one of the elements of this design. The more space you see, the more it emphasizes the minimalist design. To highlight the space, low to the floor bed frames are fantastic because they make the bedroom look larger. This is a great choice, especially if you have a low ceiling.  
Moreover, minimalism is said to be inspired by traditional Japanese homes. They often slept in futons that they would set up on their floor whenever they wanted to rest or sleep. If you want to emulate that aesthetic but still have the benefits of a bed, get one that has short posts. This way, you could keep your bed as close to the floor as possible.
In conclusion.
When it comes to bedframes for your minimalist bedroom, keeping them simple is best. Any extreme accessorizing could completely throw off the minimalist look you're going for. If you have any questions or suggestions, we always love to hear from you in the comments below. Also below are links to more fantastic articles about ALL things DESIGN for your home or business.
Images Courtesy of Canva.
Other Posts You Might Enjoy:
3 Ways to Transform Your Bedroom for Better Relaxation
6 Great Reasons to Invest in Luxury Bedding
4 Feng Shui Bedroom Tips for a Better Night's Sleep
Share This Story, Choose Your Platform!