Wet rooms are fast becoming popular, especially in sophisticated or high-end bathrooms. Essentially, a wet room is essentially a bathroom that has either an open shower or one behind a wall with a shower floor that is flush with the rest of the bathroom. You will find these rooms designed with a flush finish so that water envelopes the entire space without invading other parts of the bathroom.
We invite you to keep reading to learn more about wet rooms, and why they are the hottest bathroom trend this year.
Wet Rooms

 

•

The Hottest 2019 Bathroom Trend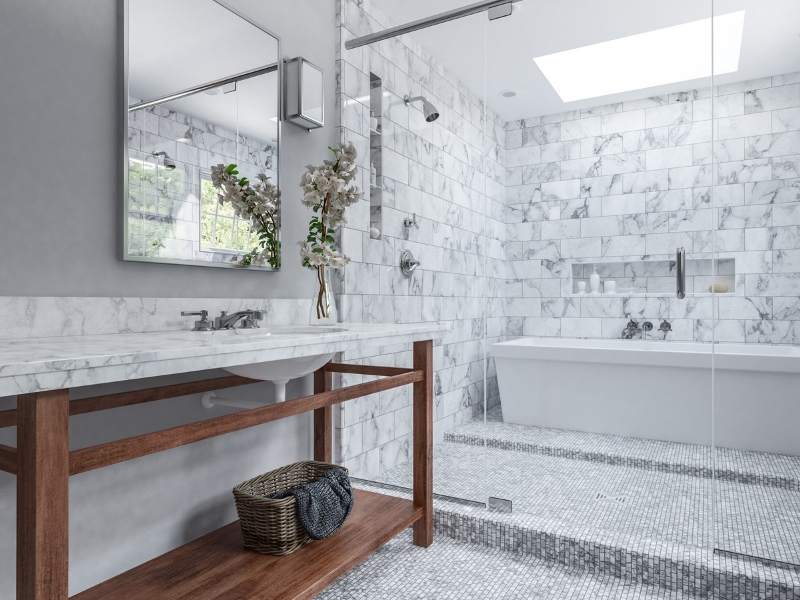 1
•
Smartly Designed Water Drainage
A wet room is a waterproof-designed bathroom in which the bathroom walls and floors are sealed or "tanked" with some waterproof membrane. It prevents excess water from seeping out as a result of splashes and spills that may cause damage.
When it comes to a wet room design, it usually has a sloping floor, guiding any excess water towards a drain and out of your home.
2
•
Easy to Clean and Maintain
One of the major advantages of wet rooms is the ease of cleaning and maintenance. Because of the functional design of wet rooms, they are one of the hottest bathroom trends in 2019.
3
•
Smart Small Space Solution
Most bathroom spaces come with size constraints. A wet room that combines the shower and tub into one area. While these rooms are smart small space solution, they are also being designed with a modern and luxurious vibe, like AHM wet rooms.
Designing these rooms takes a natural step towards the trend of freestanding tubs, which gained momentum in the last few years. Aside from the aesthetics of tubs, wet room designs include consideration of the style and function of bathroom fixtures. With a wet room, for instance, you can highlight a sculpted limestone bathtub in a small modern bathroom.
4
•
Stunning Behind-the-Glass Visuals
Wet rooms usually incorporate transparent glass to separate the toilet and shower areas. Many luxurious, modern freestanding tubs make a great match with floor-mounted tub fillers. It serves as an elegant feature that invites extra spillage and splashes. These tubs and fillers are so beautiful, so they shouldn't be hidden. Why not include them in a perfectly designed wet room defined by clean and simple glass walls?

5
•
Everything Gets Wet in Wet Rooms
As the name implies, a wet room bathroom design is set up to be wet. That's why choosing the right products is a priority, including all waterproof materials that make up a wet room.
Also, the plumbing setup, size, and layout can make a wet room bathroom a tough fit. Having your tub and shower in one space is your personal preference. If you're interested in adding a wet room, consider working with professional wet room designers and architects. These are the people who help you decide if a wet room makes a perfect fit for your bathroom space. They also help you determine the correct materials for your bathroom project.
6
•
Accessible for the Disabled or Elderly
These rooms are perfect for homeowners whose movements are disabled or those who are elderly. Because a wet room doesn't need a shower tray, access to the shower area is much easier. Independent living wet rooms aid people with disabilities and restricted mobility.
7
•
Increases Your Property Value
Because you add waterproofing to a wet room, you increase the value of your home.  What makes wet rooms attractive are the beautiful tubs and other glamorous bathroom fixtures.
Aside from that, you protect the overall structure of your home with the water-proofing built into the design. In a normal bathroom, moisture builds up in walls and crevices, however, in a wet room, the design allows all water to channel through a central drain. Additionally, you may add more value to your property by investing in high-quality glass panels.
Wet Rooms are a Great Solution
Wet room bathrooms have a minimalist design for efficient use of space. So, eliminate bulky shower enclosures and say hello to sleek and modern-style glass panels. Also remember that a wet room is easy to clean, and keep mold and mildew at bay. Moreover, wet rooms look incredibly stylish, adding a "wow" factor to every home.
All Images Courtesy of Canva.
Other Posts You Might Enjoy:
Clearlight Designs • Gorgeous Backlit Bathroom Mirrors
Hottest Bathroom Renovation Trends For 2019
6 Ideas for a Spacious Small Bathroom
Share This Story, Choose Your Platform!