Is your bathroom somewhere you enjoy spending time or simply somewhere you are in and out of? Many people think of a bathroom as nothing more than a practical space and they let it go out-of-date. But, a bathroom can be so much more. So, if it's been a while since you thought about modern luxury bathrooms, you are in the right place.
A bathroom must be a calming sanctuary where you can begin your day with a refreshing shower and end your day with a soothing bath. If you want a modern luxury bathroom, here are ten features to consider.
Modern Luxury Bathrooms • Features & Suggestions
1. His and Her Sinks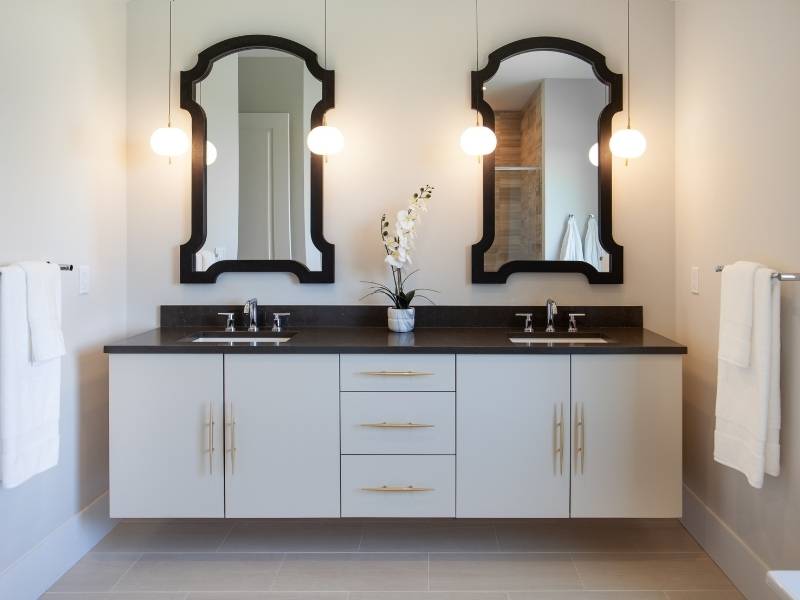 While the name is a little old-fashioned, the double sink is ideal for any household with two adults or even households with an adult and children. A single bathroom sink can quickly become cluttered and dirty with multiple people using it, but using 'your side' of the sink, you will have more space. In addition, on busy mornings or at bedtime more than one person will be able to brush their teeth at once. Click here for more on decluttering your bathroom.
2. Mirror with LED Lighting
The last thing you want in the morning is to be confronted with harsh and unflattering lighting. To ensure that you always appear at your best, opt for a mirror with adjustable LED lighting so you – and everyone in the household – can see yourself at your best.
3. Automatic Taps and Soap Dispensers
You will probably have come across automatic taps and soap dispensers in public toilets, but you may not realize that they are becoming more popular in domestic bathrooms too. Using motion detectors, you will be able to summon water and soap with just a wave of your hand.
4. Walk-in Shower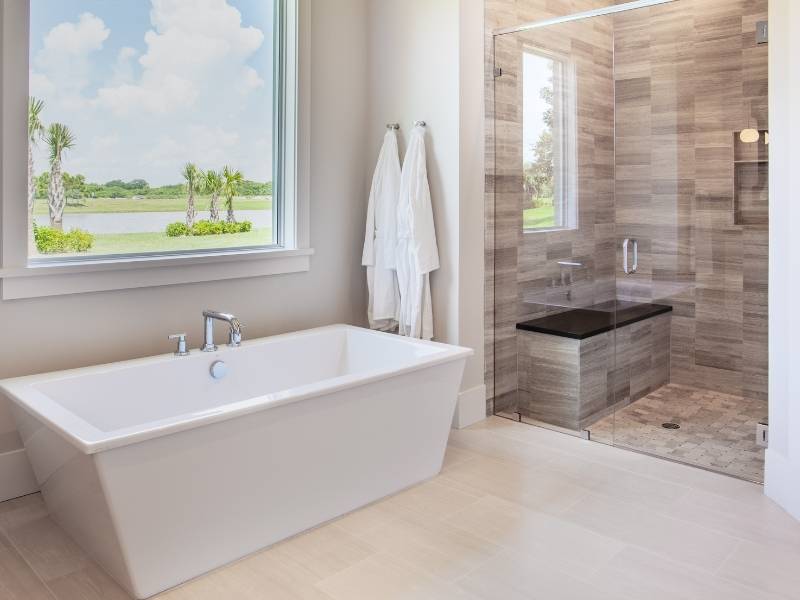 A walk-in shower (one without a curb) is a highly sought-after feature and, when completing a bathroom reno, is one of the best ways to make your bathroom more appealing should you choose to sell your home in the future. Placing a glass enclosure around part of the shower ensures the rest of the room is protected from water spray but also helps you feel like you are not standing in the shower at all. You can take your shower to the next level by installing a showerhead with colored optical fibers, giving you an ethereal experience when you shower.
5. Luxurious Bathtub
Many bathrooms have a shower head over the bath, but what we all really want is a separate shower and bathtub. If space allows, install a deep bathtub that is either freestanding, sunken into the ground, or on a raised platform. Remember to consider the width of the rim of the bath so you can rest your candles or sparkling wine on the side.
6. Futuristic Toilet
There are toilets out there that have heated seats, lighting, music players, air dryers, and bidet, but this might be a bit excessive. Instead, consider a self-cleaning toilet that can be programmed to memory settings. There are also water-saving toilets which will make your home more environmentally friendly.
7. Have a Separate Toilet
Busy family households with only one bathroom can lead to conflict, especially if someone needs to use the WC at the same time someone else needs to use the shower or happens to be in the bath. If your bathroom is large enough, creating a toilet cubicle that you can shut the door on could save you a lot of problems.
8. Underfloor Heating
A cold bathroom floor can be unpleasant in the morning and radiators in bathrooms are often small. Underfloor heating (which involves placing hot water tubes under the floor) provides comforting warmth under the feet and, as the heat will rise, it will fill the rest of the room.
9. Heated Towel Rack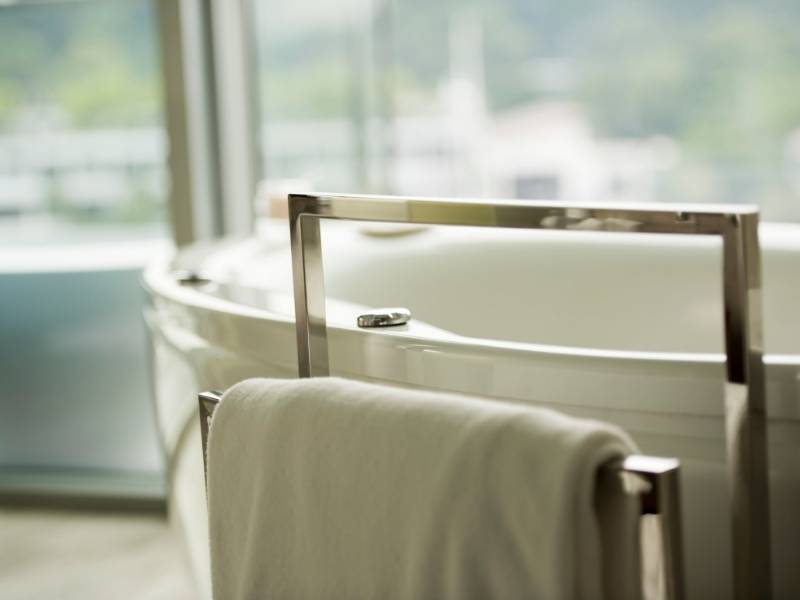 Hanging dry towels on a hook or rail (or even leaving them in a pile on the floor) often means they do not dry completely before they are needed again – damp and smelly towels are a common bathroom complaint. A heated towel rail provides a storage solution and will also dry your towels, so they will be toasty warm and fresh when you need them.
10. Television in the Bathroom
Now this one is a matter of preference, but for some people being able to watch television while in the bathroom is a luxury. Others might prefer to keep their bathroom as a peaceful sanctuary, but TVs can be embedded into the wall, behind a closet door, or integrated into the mirror so it can disappear when not needed.
Conclusion
If you have any suggestions or questions about luxury modern bathrooms and their features, we'd love to hear from you in the comments below. There are also links below to take you to more fantastic articles about ALL things DESIGN for your home or business.
Some Images Courtesy of Canva.
Other Posts You Might Enjoy:
Designs of the Year: A Guide to the Top Bathroom Trends of 2020
3 Inspirations of Natural Lighting for Your Bathroom
5 Problems Faced by People with Smaller Bathrooms
Share This Story, Choose Your Platform!