As the sun sets and the weather cools, there's nothing quite like gathering around a crackling fire with friends and family in your own backyard.  Backyard firepits have become increasingly popular as a focal point for outdoor entertaining and relaxation. Whether you're a seasoned DIY enthusiast or a beginner looking for a fun and functional project, building a backyard firepit can be a rewarding and enjoyable experience.
7 DIY Tips for Building a Firepit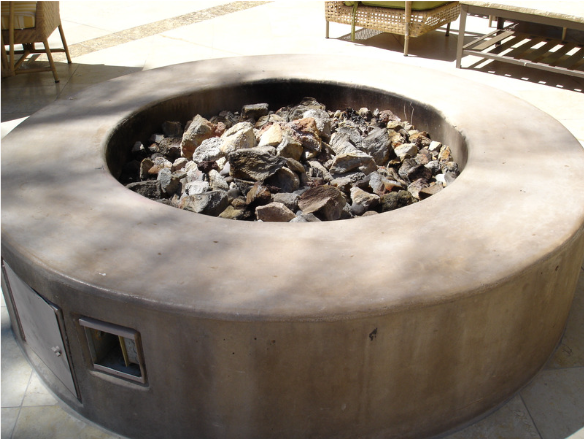 In this DIY guide, we'll walk you through the steps to creating backyard firepits.
Choose the Right Location

The first step in building a firepit is choosing the right location. Consider the size and shape of your backyard, as well as the proximity to your home and any trees or other structures. Make sure the area is clear of any debris, dry leaves, or flammable materials. It's also important to check with local building codes and regulations to ensure that you are complying with any fire or safety guidelines.

Decide on the Design

Firepits come in various designs, including in-ground, above-ground, and portable options. In-ground firepits are dug into the ground and can be lined with bricks or stones for a rustic look. Above-ground firepits can be built with retaining wall blocks or bricks and can have a more polished and finished appearance. Portable backyard firepits are freestanding and can be moved around your backyard as needed. Choose a design that fits your style, space, and budget.

Gather Materials and Tools

Once you have chosen your firepit design, gather the necessary materials and tools. This may include bricks or retaining wall blocks, gravel, sand, a shovel, a level, a tamper, a mallet, a tape measure, and a fire ring or liner. You can purchase these materials at a local home improvement store or online. Make sure to measure and calculate the number of materials needed based on the size of your firepit.

Prepare the Base

The next step is to prepare the base for your firepit. Start by marking the outline of your firepit on the ground using a tape measure and stakes. Dig a shallow hole within the marked area, about 6-8 inches deep. Make sure the hole is level by using a level and adjust as needed. Fill the hole with a layer of gravel, followed by a layer of sand. Use a tamper to compact the base and create a solid foundation for your firepit.

Build the Firepit

Once the base is prepared, you can start building your firepit. If you're using bricks or retaining wall blocks, lay them in a circle or square shape, stacking them on top of each other. Make sure the blocks are level and tightly fitted together. Use a mallet to tap them into place if needed. If you're using a fire ring or liner, place it inside the circle or square of bricks or blocks, ensuring it is centered and level.

Finishing Touches

After building the firepit, you can add some finishing touches to enhance its appearance and functionality. You can fill the gaps between the bricks or blocks with sand or gravel for added stability and aesthetics. You can also add a decorative ring of stones or bricks around the outside of the firepit to create a seating area for guests. Consider adding some chairs or benches for comfort and convenience.

Safety First

When using a firepit, safety should always be a top priority. Make sure to keep a fire extinguisher or a bucket of water nearby in case of emergencies. Never leave a fire unattended, and always extinguish the fire completely before leaving the area. Keep children and pets at a safe distance from the firepit, and avoid using it on windy days or during dry conditions.
Building a backyard firepit can be a fun and rewarding DIY project that adds warmth, ambiance, and functionality to your outdoor space. By following the steps outlined in this DIY guide, you can create a safe and stylish firepit that will become a gathering spot for friends and family to enjoy. Remember to choose the right location, gather the necessary materials and tools, prepare a solid base, and build the firepit according to your chosen design. Don't forget to prioritize safety by keeping a fire extinguisher or bucket of water nearby, never leaving the fire unattended, and being mindful of local fire and safety regulations.
With a little effort and creativity, you can create a backyard firepit that becomes a focal point for outdoor entertainment, relaxation, and enjoyment. Whether you're roasting marshmallows, telling stories, or simply enjoying the warmth and glow of the fire, a well-built firepit can provide endless hours of enjoyment for you and your loved ones. So roll up your sleeves, gather your materials, and start building your own backyard firepit to create unforgettable memories in your outdoor space!
Other posts you might enjoy:
6 Outdoor Decor Elements to Spruce Up Your Home's Exterior
Fabulous Barbeques for the Summer
Share This Story, Choose Your Platform!