Although each room has a specific purpose, the dining room is often considered to be one of the most important in every home. This is actually the best spot in the house where families and friends can get together to eat and celebrate special occasions. Because of this, many homeowners spend a lot of time designing the perfect dining room area. While there are plenty of interior design styles they can choose from, they often find themselves favoring a modern dining room that compliments the rest of their home.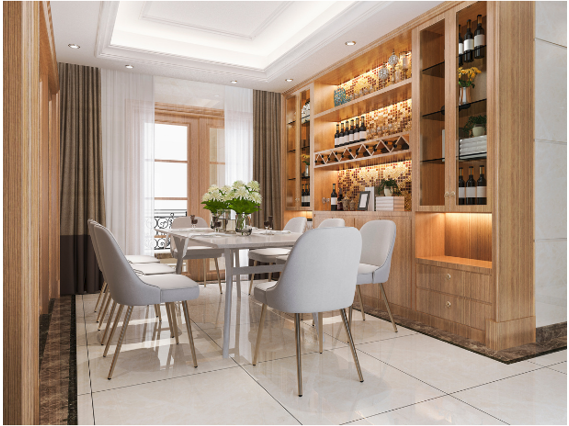 In general, modern designs are ideal for dining spaces as they are classy and alluring. You can decorate the area with sleek furniture pieces and subtle accessories and create a room you and your loved ones will actually want to eat in.
If you are looking for inspiration, here are five great ideas you can borrow to design a modern dining room.
Incorporate a Unique Modern Dining Table
The dining table is undeniably the most important furniture element of every dining room. When designing the space, it is best that you choose a unique dining table with a striking attitude and sculptural shape to serve as the focal point of the room.
If you are looking for something modern, go for an original one-of-a-kind piece, such as Wescover's dining tables which you can find in many shapes, sizes and colors, depending on your preferences. Choose a round or a long rectangular dining table and create the modern dining space you have always dreamed of.
Make a Statement with a Sideboard
Depending on the space you have available, there is another furniture piece you should add to modernize the space and that is a sideboard. Besides serving an aesthetic purpose, the sideboard can also be used as a storage space where you can keep your tableware, secondary dinner service, or special glassware.
When it comes to decorating your sideboard, you can add a beautiful flower vase in the middle, a few photo frames on each end and some candles to make it look pretty. Complete the space above the sideboard with a stunning canvas print matching the color palette of the room.
Install Eye-Catching Modern Dining Lighting
Another very important element in every dining room is the lighting. Depending on the shape and size of your dining table, there are plenty of lighting fixtures you can consider to design a modern dining space.
For example, if you are looking to create a cozy space with a modern edge, then you should definitely consider installing a crystal chandelier. Its stunning appearance offers that less-is-more vibe that is dressy enough for the modern area. It works best centered over lengthy, rectangular tables that seat more than six people.
If you have an oval table, a modern pendant can be the perfect lighting accent.
Bring in Texture
Even if you choose neutral tones to design your modern dining room, you can break the monotony in the space by bringing in texture. This means adding visual interest to the room by layering different textiles, colors and metal that will add a touch of vibrancy.
For example, instead of opting for monochromatic chairs, you should go for patterned, velvet chairs to stand out in the room. Or, if you don't want to overwhelm the space with too much texture, unique flatware with interesting designs can simply be enough to dress up the area.
Add Subtle Decorations
In order to complete your modern dining room, you should add decorations to spruce up the space. From making a statement with centerpieces to creating a gallery wall, there are many ways you can modernize your dining room.
For example, if you have empty wall space, you can decorate it with a striking wall art decoration such as an art piece, a wall clock or even a wall mirror to add accent to the room.
Other subtle decorations you can add include candleholders, napkin rings, a rug and chair covers.
Final Thoughts
Whether you are trying to achieve a mid-century modern look or you are looking for something more contemporary, designing a streamlined dining room is a great way to give your living space an updated vibe. There are so many things you can do to this part of your home to create a beautiful dining area where you can eat and entertain your family and friends.
If you need help along the way, refer to our post and borrow some of our ideas to design the dining room of your dreams.
Other Posts You Might Enjoy:
Designing Your Dining Table to be the Centerpiece of the Room
4 Tips on Picking the Perfect Dining Room Table
3 Exciting Modern Chandeliers For Your Home
Share This Story, Choose Your Platform!