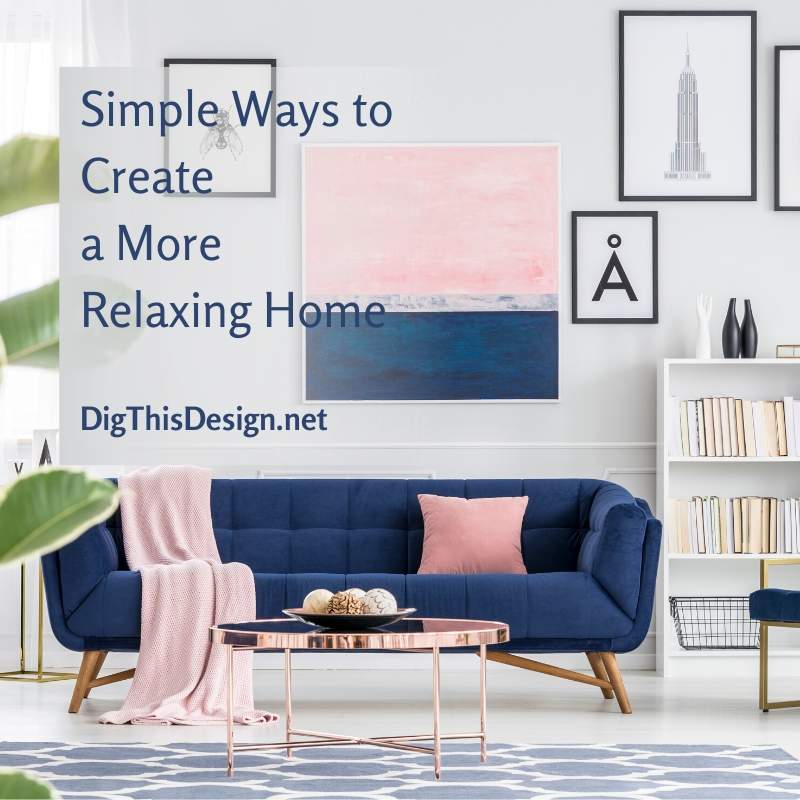 In this day and age, having a relaxing home is more important than ever before. We spend so much of our time either commuting, at work, taking children to sports, and beyond. Very little of our time is left for ourselves, and what little time there is should be maximized. It's absolutely imperative that homeowners create a stress-free sanctuary within your home. This is because it becomes a safe haven. It's your refuge; your calm in the storm. Having a relaxing home means that you have a place to unwind, de-stress, and feel completely comfortable. Naturally, a relaxing home environment takes time and consideration though, so we're detailing four helpful tips to get you started today. Use them, personalize them, and create the space you've always wanted.
Here are 4 Ways for You to Get a Relaxing Home Environment
⎆
Infuse Your Space with Nature
Hands down, one of the best ways to create a relaxing home environment is to infuse the space with natural elements. Flowers and outdoor plants are pleasing both visually and aromatically. A home that smells fresh and clean is relaxing and comforting after a long day of work. Furthermore, plants actually help oxygenate the home, so the air is cleaner and healthier, as well. And naturally, a touch of green is welcome in just about any space. If you don't want real plants, consider fresh cut flowers rotated out every couple of weeks.
⎆
Carefully Use Color
One of the best ways to make your home feel more relaxing is through the use of color. While we love a good, neutral wall, painting helps you refresh areas of the home and add a little bit of something extra. This is where you need to take care of your color selections though. Different colors evoke different moods. If you're seeking a more relaxing home, stick to blues, greens, and pale grey colors. These, as well as neutral, colors, promote a more therapeutic and comforting atmosphere.
⎆
Create Dedicated Zones
We love that more and more homeowners are opting for this tip these days. We recommend that, when designing the interior of your home, you create a type of "section" that's specifically for different activities. For example, designate one specific area for video games, or another for music. Most of all though, design a tech-free zone. Have a haven from all the virtual noise, and foster peace of mind here. No phones are allowed in this space. Instead, read, drink a cup of tea, and converse. This is a great selling point for homes, as well. People love to know about the designated rooms. So, if you're well into selling your home, or you're just getting an idea of mortgage rates for your next one, take a peek and make sure to see what people are looking for.
⎆
Pay Attention to the Details
As designers, we know that even the smallest, most insignificant-looking details can make a real difference in your place. Before you declare yourself finished with a room, take a good look and note all the details. See what flows and what doesn't. If something seems out of place, move it around, or replace it with something else. Your home should be streamlined for a more relaxing environment. Invest in quality bedsheets, optimize productivity and aesthetics in your kitchen, and be sure to install extra storage room in your bathroom. Each of these seems like a one-off task, but they have a trickle-down effect that transforms your place beyond that little touch.
⎆
A Relaxing Home is Within Reach
Whatever you do, don't get overwhelmed by the process of transforming your space into a relaxing home. Instead, take it step by step, focus on the little details, and consider every room before you dive in. The little details add up, so start small, and focus there before moving onto the next thing. Ultimately, the transformation will be worth the wait – and the effort.
Other Posts You Might Enjoy:
5 Interior Design Tips for a Healthier & Happier Home
Kitchen Design: 10 Ways to Personalize Your Space
A Bathroom Transformation from Dingy to Coastal Bliss