Open walls just feel good and that's why people are choosing to have invisible walls designed into their homes. Maybe it's my claustrophobia that kicks in when I am in a room without windows, but I feel stifled. As a kitchen and bath designer, I find more and more people looking for ways to open up their space by adding windows or enlarging an existing window. This brings the outside inside and allows natural light to enter the room which enhances the colors and the mood of the room, thus the mood of the occupants.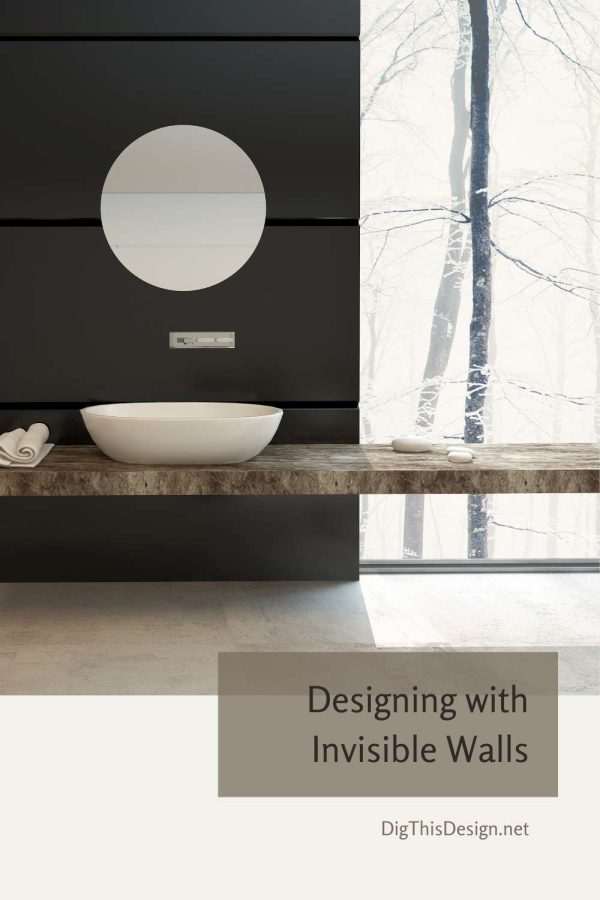 Designing with Invisible Walls
I have seen a trend in bathroom designs to create an outdoor experience while bathing or showering. The perfect way to do this is with an invisible wall made of glass that either opens or is fixed. Of course, you want to consider the view and possibly create beautiful landscaping to enhance the experience. Privacy is a must and must be designed into the overall concept.
Recently, I worked with a client on a remodel of an old condominium and the master bathroom was windowless. The master bedroom had a large window with a view of the Atlantic ocean and I knew I needed to find a way to open the bathroom up to the view. Privacy was not a problem as the condo was on the 16th floor. The wall between the master bedroom and the shower I knocked out and replace with a floor to ceiling commercial clear glass window giving her a spectacular view from her bathroom shower.
Folding Invisible Walls
Using a folding glass wall system will open a narrow small room to an outdoor living space and visually increases the size of the room. The folding system that I am familiar with is the NanaWall system, offering eight systems of connected bi-fold door panels giving hundreds of fold-and-stack configurations.
Sliding Glass Invisible Walls
A sliding wall system allows you to completely open up to the outdoors and the wall simply slides out of the way. This design will need a long enough wall to accommodate the wall sliding open. Not all rooms will have this and that is when the bi-fold option might work best.
No matter what size your bathroom is, big or small, a clear glass invisible wall shower enclosure will visually open up your space 100%. If you have a solid wall around your shower you are visually reducing the size of the space and why would anyone what to do that?
Images Courtesy of Canva.
Other posts you might enjoy:
Repairing and Modernizing Leadlight & Stained Glass Windows
Enhance Your Home with Beautiful Bay Windows
Home Design – Consider Your View Through the Window
Share This Story, Choose Your Platform!