Incorporating a design material or technique with a rich several thousand-year-old history could be just the thing to add character, drama, and individuality to your home. In case you want to consider a leadlight window; I'll cover some basic but often misinterpreted definitions, inspiration from interior design professionals who have used leadlight windows in their contemporary style projects, and what to do if your leadlight windows need repair.
What is the difference between leadlight and stained glass windows?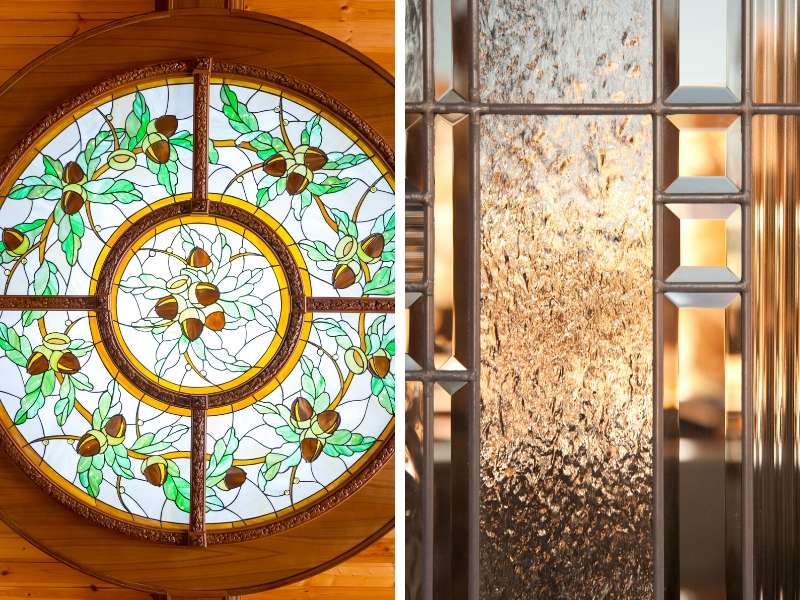 Although the terms leadlight and stained glass are often used interchangeably to describe ornate, colorful glass, there is a difference between the two. Leadlight or leaded light windows refer to the technique where decorative glass is held together by lead (or other metals) dividing strips. These metal glass dividers also have a name, it's "cames". Stained glass is colored with metallic salts and typically made from flat panels. Basically, the difference is that glass does not have to be stained to be leadlight and inversely, it does not have to be held together by metal cames to be stained glass.
A leadlight window in a modern setting
In an entry, a lightly colored and ornate leadlight window can be appreciated when surrounded by the bright white siding and casing. The bold front door color is not too bold to repress the leadlight windows, instead it serves to accentuate this entry focal point.
Australian interior designer Kim Pearson accomplishes a similar design goal. The leadlight windows in her designs have a lot more color and give a better pop because of their white surroundings and ample light.
How is a leadlight window repaired?
It can be daunting to see your beautiful leadlight work shattered in pieces, but don't worry, all hope is not lost. Because of the segmented nature of this design technique, damaged pieces of glass can be swapped out for matching replacements. As soon as the damage happens, tape the area so the glass doesn't hurt anyone. This is the type of repair best done by a professional who is completely familiar with cutting and modifying the glass and metal in leadlight windows. This is especially true if your window cames are made of lead, the scraping that is necessary for a repair will release the toxic substance into the air, so please be careful.
https://digthisdesign.net/wp-content/uploads/2015/09/Repairing-and-Modernizing-Leadlight-Stained-Glass-Windows1.jpg
1080
1080
Stephanie Davis
http://development.digthisdesign.net/wp-content/uploads/2016/11/OLD_DigThisDesign_logo.jpg
Stephanie Davis
2015-09-23 03:27:45
2020-07-10 19:05:59
Repairing and Modernizing Leadlight & Stained Glass Windows