Serious gamers seek the ultimate gaming room. If you or members of your family are into gaming, you know about enhancing your gaming experience by dedicating time, money, and energy to building an excellent gaming space.
Follow this 6-point checklist for creating the ultimate gaming room to ensure success.
6 Steps to Creating the Ultimate Gaming Room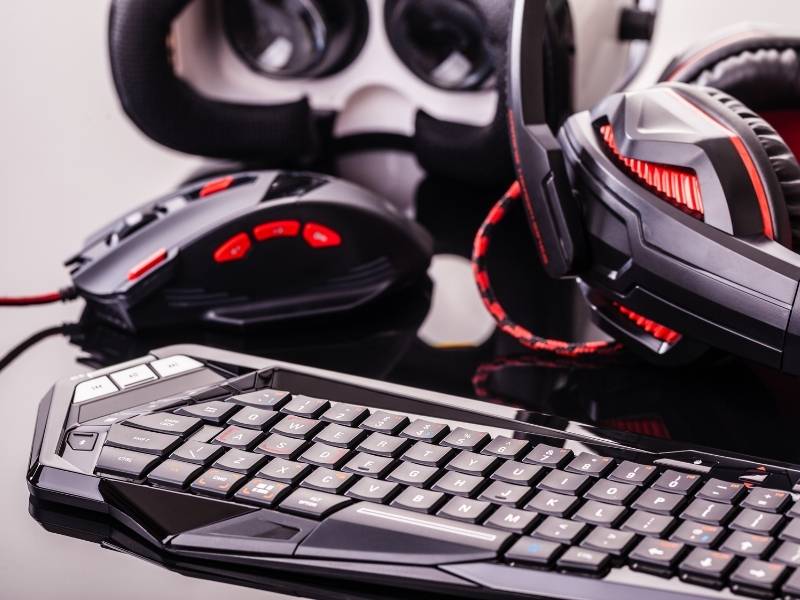 1. Determine Your Budget
Determine your budget for creating the ultimate gaming room. This is important to do first before you end up overspending or purchase things you don't really need.
To this end, it's also important to do your research about the latest technology for gaming. In so doing, you can create a realistic budget that covers what you want and need in your ultimate gaming room.
Of course, you don't want to spend absurd amounts of money, but you do want to spend enough money to purchase quality products and create a special place.
2. Choose a Style
Choose a specific style to develop the ideal and ultimate gaming room. Then, think about what fits with your style to heighten your gaming room and experience.
What styles and decor do you prefer?
Is there a theme you want to focus on?
What are your favorite colors?
How can you uniquely highlight your gaming room?
Accentuate the technology, select a modern design, and create a mood with certain colors. You might also emphasize favorite games with vintage posters.
Then, shop around to find the best deals for styling and decorating your ultimate gaming room. But remember to perfect the space by choosing a style that suits your personality.
3. Install Lighting
Lighting is incredibly important for creating the perfect gaming experience. So, carefully plan the lighting for your gaming room to guarantee it cultivates the ideal atmosphere. Consider the main overhead lighting, lower level lighting, and any additional lighting options.
Also, ensure that the lighting in your gaming room is good for your eye health. Therefore, make sure it's not too dark or too bright, so you won't strain your eyes. Additionally, according to preventblindness.org, the blue light from computer screens, TVs, and other digital devices leads to digital eyestrain. So, you might want to consider special glasses that are treated to counteract the effect.
Also, choose lighting options that involve dimmer switches to better control your lighting. Additionally, you can install lights that rotate colors to easily alter your ambiance.
4. Find Quality Furniture
Of course, you want to seek out quality furniture to establish an excellent gaming room setup. However, it's highly important for your body to purchase a gaming chair that improves your comfort and overall health. Choose the right gaming chair by researching options to meet your specific needs.
Next, you need a desk to display your monitors and gaming systems. A spacious and sturdy desk will allow plenty of space to set up and store your gaming equipment. So spend some time in selecting a desk or entertainment center to complete your gaming room.
5. Purchase Gaming Essentials
A variety of gaming accessories help create the perfect gaming room. Primarily, look for a top-notch gaming monitor. Look for a quality monitor with an excellent display to suit your needs and gaming system. Carefully research your specifications to find optimal PS5 gaming monitors for you.
In addition, there are many gaming accessories to consider including:
Headsets
Headset adapters
Controllers
Remotes
Keyboards
Charging stations
External storage devices
Steering wheels
So, be sure to stock up on numerous gaming accessories to elevate your gaming room experience to the next level.
6. Consider Extras and Accessories
Finalize your gaming room by purchasing additional extras and accessories that align with your preferences. Consider adding extra furniture, such as gaming storage or additional seating. Or, for healthy snacks at a moment's notice, install a mini-fridge or snack station.
If you're interested in creating the ultimate gaming room, follow this 6-point checklist to guarantee success.
If you have any questions or suggestions to add, please do so in the comments below. You will also find below other links leading you to more excellent articles about all things design.
Images Courtesy of Canva.
Other Posts You Might Enjoy:
4 Top Picks for Your Best Gaming Chair Ever
Trending Basement Developments in Calgary
Website Design 101: Choosing the Right Color to Increase Engagement
Share This Story, Choose Your Platform!