When I am evaluating a plan or even a remodel it is so important to me to consider the windows in each room. Their orientation, shape, and the view will impact the home design. In looking at a new plan I have options to change things that I see could be tweaked for the best outcome. If I am dealing with a remodel I need to think about how a change could impact the overall budget and if it is worth it. Many times changing a window makes the design and that is why the windows of a home matter to me the designer.
Home Design Through the Window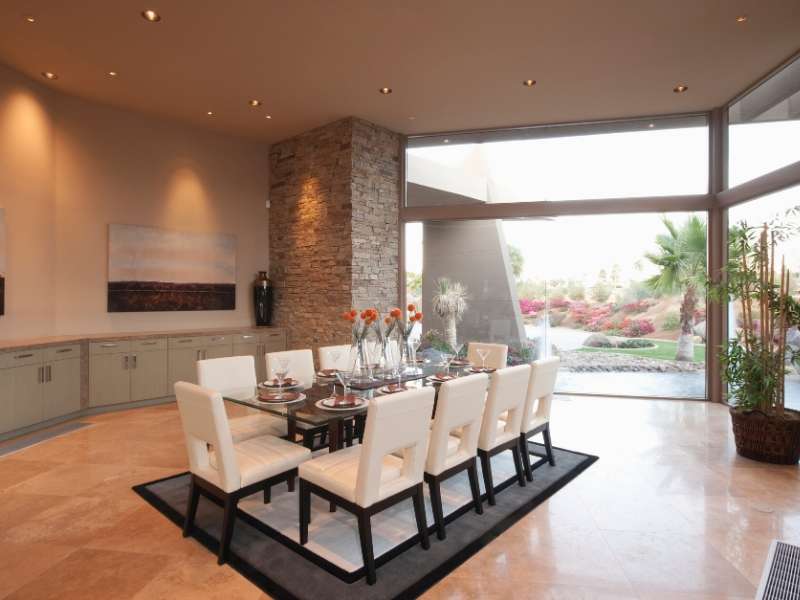 Windows Bring the Outside Inside
The architect did an amazing job by designing the floor to ceiling windows in this family room. The floor to ceiling design is the right scale to the room. I like that the header aligns with the bottom of the second floor, it gives a cohesive feel. If it did not it would create a visual friction in the room. The dark window frames seem to create a picture to the outside scene so that colors from the outside are brought into the interior finishes. I believe in matching the elements of the outside with the inside décor, it works beautifully!
Windows Should Compliment the Architecture
My clients wanted to build an authentic old Mediterranean style home. When I first viewed the plans I noticed in the kitchen a large arched window and that just didn't feel right to me. If we were going with the old Mediterranean style I felt it necessary to do three narrow windows so we could add gas lanterns in between. The window design helps me to elaborate the character I am trying to convey in a design, so little tweaks like this make all the difference in the world.
Consider What is Viewed Outside
This was a home in West Palm Beach that I was hired to remodel. The front entryway was glass with an elaborate design. I wanted to play off of the glass and not fight with it. I did this by selecting a glass chandelier. It was important that I hung it so it would be seen through the transom window from the outside and make a big design statement as you drove up to the home. The chandelier complimented the glass door entryway and did not fight with it.
Some Images Courtesy of Canva.
Other posts you might enjoy:
Repairing and Modernizing Leadlight & Stained Glass Windows
Window Treatments 101: Spruce Up Your Windows
Enhance Your Hine with Beautiful Bay Windows
Share This Story, Choose Your Platform!