When buying paint, have you ever found yourself getting confused and overwhelmed by the terminology used on the front of the paint can? For instance, what is contract paint?
When you buy white paint for your walls, how do you know what makes a durable matt better than a quick dry satin? Or, what makes a brilliant white emulsion any different than a plain white emulsion?
So, it's wise to avoid getting bogged down in paint categories. Instead, save a lot of hassle by highlighting one type of paint that works perfectly everytime.
It's known simply as contract paint, and here is everything you need to know about it.
Everything You Need to Know About Contract Paint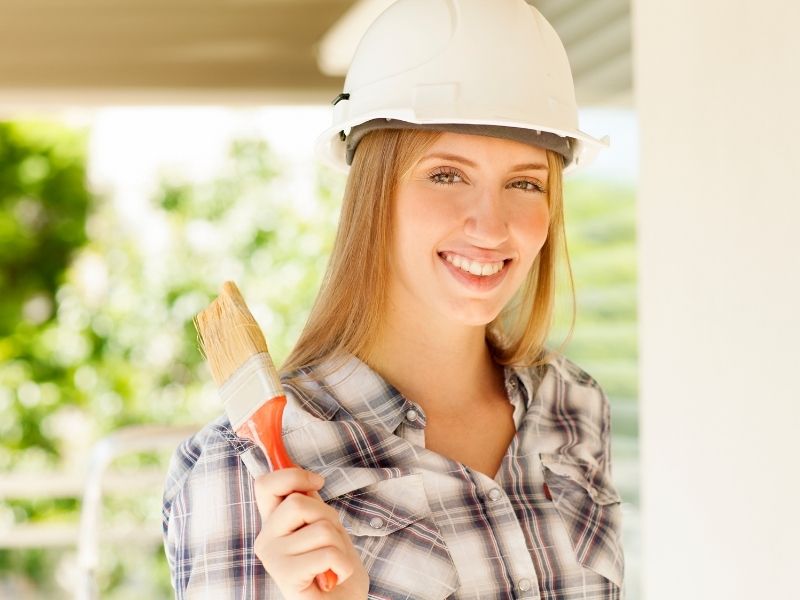 It's What Decorators Use
Some brands offer have small tins of paint in a shop that promise special features. So why is it that you see decorators leave a shop with just a big tub of paint and not the fancy stuff?
Well, decorators know good paint when they see it. Of course, this is because they don't want to perform inferior work, which is why they use contract paint for their work.
Normally painters use higher volumes of paint every day. In fact, they go through more cans in a month than most of us do in a lifetime. Paint brands know this, so they make paint that is best for decorators to use in large quantities.
Contract paint is always ready to be easy to apply, and quick to dry. Unless you want a specific shade by a designer paint brand on the wall, do as the decorators do, and buy the same paint.
It Goes by Many Names
While contract paint is the most popular term used, it may differ depending on where you live. It might be known as a factory emulsion, or warehouse emulsion if you're in a trade store.
In the UK, it's more commonly referred to as trade paint, due to the fact that it's used by tradespeople.
It's a Little More Forgiving
Because it's a paint used to scale, it must be adaptable and a little forgiving in the long-run. Whether you use it in a factory or an office, buy paint that has some degree of washability. This ensures that it can take a few scuffs here and there without chipping.
At one time, high glosses were the go-to. However, because they have a higher sheen, it might lead to the wall dulling down in some areas. It also might lead to a quicker discoloration around contact points.
Contract paint isn't like that. Even if you have something like the space around a light switch in a chocolate factory picking up dirt and marks, it is easier to wash away and tidy than most other paints.
It is Ideal for Touch-ups
There's a reason this type of paint is used everywhere from car showrooms to nurseries. That is, if there's a mark on the wall that you can't wash off, you don't need to buy a whole new tub of paint.
A decent contract paint can be painted on in sections. As long as it is blended in well enough, you wouldn't notice any difference after drying in. In fact, t's a prime example of painting smarter and not harder.
Get a Good Deal on Contract Paint
So where do you get started with this paint? Well, there's no need to make the trip to a DIY superstore. Like most things these days, shopping online is going to give you better options and prices.
If you're in the UK, I recommend visiting The Paint Shed for better deals on contract painting. A brand that many trusts is Armstead. Also, check out the latest articles in the Interior Design section of this site for painting inspiration.
Here's wishing you the best contract paint job ever for your beautiful home. If you have any questions or suggestions, please leave them in the comments below. Also, look below for links to other fantastic articles about ALL things DESIGN.
Images Courtesy of Canva.
Other Posts You Might Enjoy:
4 Stunning Paint Projects That Will Transform Your Kitchen
How Paint Color Makes Your Room Appear Spacious
Three Things to Know Before You Paint Your House
Share This Story, Choose Your Platform!