It's common for most people to spend their time outdoors, especially during the summer. They love the opportunity to play under the sun and spend time with family. If you're also looking forward to that time, you might want to consider building a patio. You can check out custom landscape design in Charlotte if you plan to have one soon. Below, you will find the benefits of installing a patio at home.
5 Reasons for Installing a Patio at Home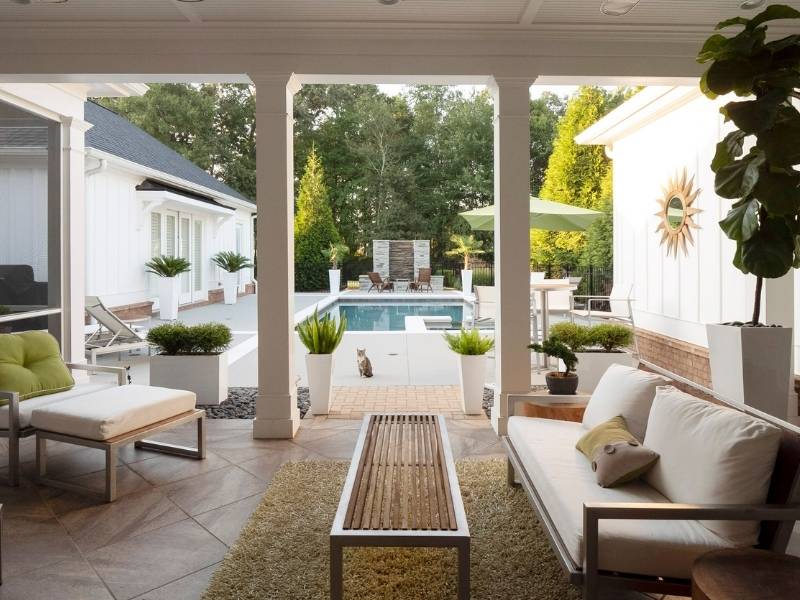 You can increase your property's value.
Since a patio is a popular home feature, you can expect more people to feel interested in buying your house if you have one. Patios also evoke joy. It's the tone most homeowners want to have at home.
1. Patios are an extension of the living space.
Your living room isn't the only place where the entire family can bond. You can also do the same on your patio. This area becomes an extension of your living room. It's a place where your children can play after school. You can also sit there while reading your favorite books. Then, add a couch to make the place more relaxing.
2. You can entertain your guests.
The living room isn't the only place where you can entertain your guests. You can bring them to the patio and enjoy each other's company. It's an excellent outdoor space with additional capacity for extra guests coming at the same time when your living room might not be enough.
3. Patios are easy to maintain.
The problem with adding another area at home is that you will spend more time maintaining it. You won't have to worry about your patio. It's easy to clean, and the area can withstand tough weather during the summer. As long as you buy appropriate outdoor furniture, you won't have a problem maintaining this area.
4. You can enjoy yourself outdoors without getting a sunburn.
Some people enjoy being outdoors during the summer. The only problem is that they don't want to experience sunburn. They also dislike being under the heat of the sun for too long. If you wish to enjoy the beauty of summer, consider installing a patio. You're still at home, but you have a better outdoor view. You can also feel the sun on your skin, but it's not too much.
5. It can be a storage area.
If you're thinking about having another storage area at home, you can replace it with a patio instead. This area can double up as a living and storage space. Purchase cabinets that can withstand being outdoors all the time and look great on your patio. Then, you can keep the things you don't usually need in these cabinets if you don't have an extra storage room.
Now that you understand the benefits of building a patio, you must start your project right away. It might be costly, but it's worth it. Call the builders now and ask for a quote. If you have any questions, please let us know in the comments below. Also below, you will find links to other useful articles about ALL things DESIGN.
Images Courtesy of Canva.
Other Posts You Might Enjoy:
3 Tips for the Care of Your Wooden Patio Furniture
10 Great Tips from San Diego Deck Repair Specialists
4 Inclement Weather Summer Design Solutions for Your Patio or Deck
7 Examples of Entertaining Designs for Winter Patio Enjoyment
Share This Story, Choose Your Platform!