People look forward to their retirement for many reasons but if yours is so you can kick back and relax in your wooden patio furniture, you're not alone. But, first, if you're not sure about whether you're ready to retire, read this article to help sort some pros and cons before you take the big plunge.
When you retire now or a few years later, everyone likes to know more about the care of their favorite wooden patio furniture. For furniture that gives you many years of use, keep reading to learn how to care for yours.
Wooden Patio Furniture Care

Protection from the Sun and the Rain
This is one of the most basic rules about wood furniture. Wood naturally stores enough moisture to keep from cracking but they get too dry if you live in a place where the sun shines a lot (read more). As a precaution, try to keep your wood furniture in shaded locations, or opt for a protecting furniture covers when not in use.
Conversely, too much rain can also damage wooden patio furniture, so if your deck or patio is uncovered, again, consider the use of furniture covers.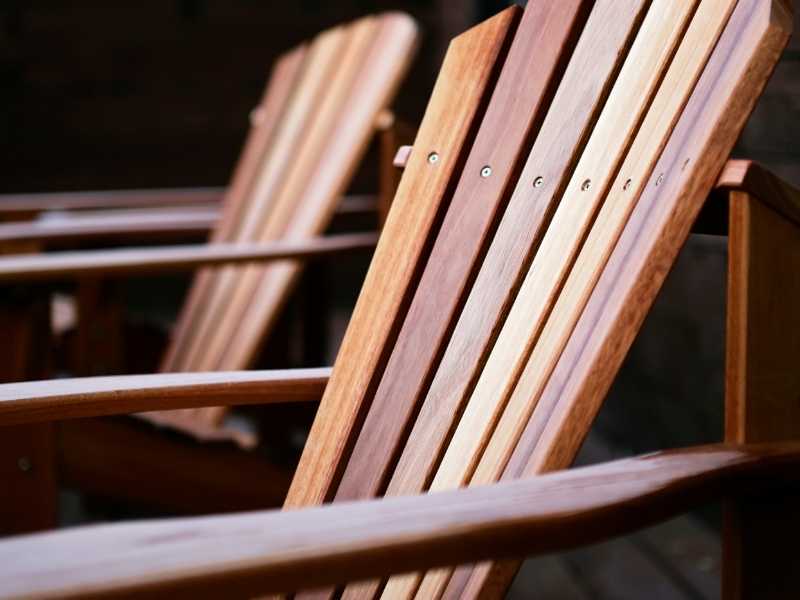 Understand Your Type of Wood
There are two types of wood from which to select – softwood and hardwood. Softwood is less expensive but requires more maintenance in keeping it clean and sealed or painted on a yearly basis.
On the other hand, hardwood lasts longer and requires less maintenance but you will still want to put covers on them during inclement weather. Moreover, a covering of sealant is always a good idea.
Protect Them With Sealants
As mentioned above, you can protect your wooden patio furniture with wood sealants. Sealants are applied in thin applications on the surface of wood furniture to protect it from direct moisture and heat. There are also sealants with that come in natural colors – from mahogany browns to red oak.
The purpose of sealants is to preserve wooden furniture by protecting it from common irritants like sunlight and heat. Additionally, if you use a good brand, the application wears for a longer time. To learn more about this, check out reviews of wood sealers by Dale Keese.
The Right Care for Years of Service
Follow these tips for years of excellent service from your beautiful wooden patio furniture. Additionally, always check the manufacturers care instructions and follow them carefully. If you have other tips you want to share, please do so in the comments below.
All Images Courtesy of Canva.
Other Posts You Might Enjoy:
Selecting Outdoor Furniture – 5 Things to Consider
How To Create The Perfect Outdoor Space In 2019
4 Tips to Create the Perfect Summer Entertainment Garden
Share This Story, Choose Your Platform!